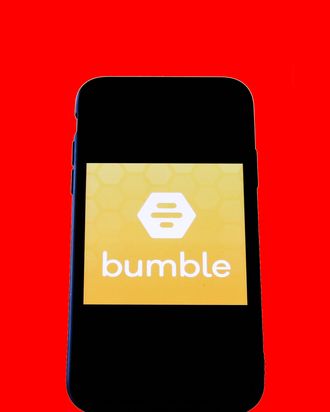 Photo-Illustration: by The Cut; Photos: NurPhoto/via Getty Images
An early slogan from Bumble encouraged users to "be the CEO your parents always wanted you to marry." Since its founding in 2014, the company has billed its app as the more empowering dating service for women — one where women message matches first, and women are in control. It's earned Bumble the moniker of "feminist Tinder." And Bumble has been more than happy to play into that marketing.
But almost a decade on, Bumble can still feel as tired and broken as other dating apps. And it often seems like that feminist twist is more marketing fodder than meaningful change to how our apps run our love lives.
Episode four of Land of the Giants: Dating Games explores how ex-Tinder co-founder and marketing executive Whitney Wolfe Herd built a company to rival Match Group by using feminism as a branding tool. We dive into Bumble's history with its financial backer, a Russian billionaire, and analyze whether the company has delivered on its promise to create a less sexist dating app or just capitalized on a moment when feminism was highly marketable.
"It was the girlboss-ification of dating, right?" says former Teen Vogue executive editor Samhita Mukhopadhyay, who's working on a book on the end of girlboss culture. "I girlboss my diet, I girlboss my exercise regimen, I girlboss my outfits every week. And now, with Bumble, I'm girlbossing dating."
And, in the early days, there was a sense that the so-called "feminist dating app" would be a real alternative to the cesspool that was Tinder. But while Bumble is still highly popular (it is currently America's second most-downloaded dating app — after Tinder — and its 2021 IPO made Wolfe Herd a billionaire), many users don't feel that it delivers on that promise. In fact, Bumble may have just shifted more of the labor of dating onto women.
Listen to the latest episode of Land of the Giants: Dating Games, a co-production between the Cut, The Verge, and the Vox Media Podcast Network. You can catch new episodes on Apple Podcasts, Google Podcasts, Spotify, or wherever you get your podcasts.