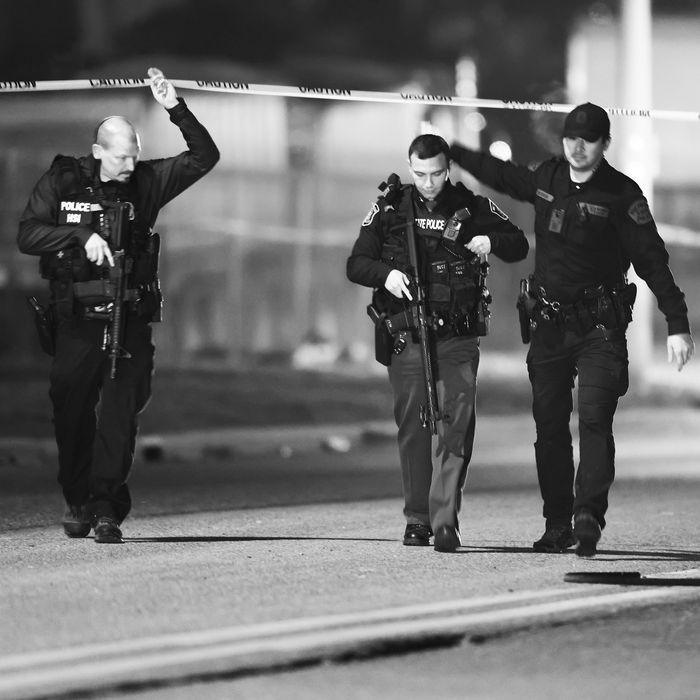 Photo: Rey Del Rio for The Washington Post via Getty Images
A gunman killed three students and wounded five others at Michigan State University in East Lansing on Monday night, the Detroit Free Press reports.The mass shooting sparked a three-hour-long manhunt and shelter-in-place order before the suspect, Anthony McRae, was found dead of an apparent self-inflicted gunshot wound, police said.
The gunman opened fire at two locations, causing panic across the university's sprawling campus. As hundreds of officers in tactical gear arrived at the school, students and faculty ran and hid. The campus is closed for 48 hours, and classes are canceled until Monday, February 20. Teresa K. Woodruff, interim president of Michigan State University, thanked the community for sheltering in place "for hours on end," calling the events "a day of shock and heartbreak."
Authorities are still investigating the shooting and have not commented on a motive. Here's what we know so far.
The gunman opened fire at two locations on campus.
Chris Rozman, the interim deputy university police chief, said at a conference on Tuesday morning that the gunman first opened fire at Berkey Hall just before 8:30 p.m. on Monday, killing two people. He then moved to the student union, a common area for students to gather, where he killed a third person. Rozman said that both buildings, which are minutes away from each other on Grand River Avenue, were unlocked and open to the public.
All eight victims were students.
Authorities said all of those who were killed or wounded were students.
Michigan State Police have identified Brian Fraser, 20, a sophomore from Grosse Pointe, Michigan, and Alexandria Verner, 20, a junior from Clawson, Michigan, as being among the three students who were killed. The Grosse Pointe school district identified the third victim as Arielle Diamond Anderson, 19, from Harper Woods, Michigan, according to the New York Times.
Authorities said the wounded students remained in critical condition and were being treated at Sparrow Hospital, according to the Lansing State Journal.
The gunman was not affiliated with the university.
Rozman said that McRae, 43, was not affiliated with the university and that it was not yet known why he was on campus on Monday. Rozman said authorities found a weapon but did not give further details. The Times reports that McRae was arrested in Lansing, Michigan, in 2019 and charged with carrying a concealed pistol without a permit.
McCrae's father told the Times that his son, who lived with him in Lansing, had become angry and bitter after his mother's death in September 2020. Per the Times, at one point McCrae lived in a homeless shelter in Cincinnati but had never been diagnosed with mental-health problems and was not on medication.
"He was so secretive, when he goes in that room — he won't let me in there. Video games all day long," his father said.
Some Michigan students have lived through previous school shootings.
Current college-age students are no strangers to on-campus shootings, having grown up at a time when shootings became rampant across the country.
Emma Riddle, 18, a freshman who was on the Michigan campus on Monday, was a senior at Oxford High School in the Detroit suburbs in 2021 when another student murdered four students and injured seven other people, including a teacher. "It's so surreal," Riddle told the Times. "We just went through this 14 months ago. What is happening?"
Jackie Matthews, a senior at the university, was at Sandy Hook Elementary School on the day of the 2012 shooting there. She told the Today show it was "incomprehensible" to have lived through two mass shootings in her 21 years.
"We shouldn't have to feel unsafe literally going to school," she said.
@nbcnews

Michigan State University senior Jackie Matthews was 11 years old when the Sandy Hook shooting occurred at a nearby school in her hometown of Newtown, Connecticut.

♬ original sound - nbcnews
Michigan's political leaders have pledged to introduce gun-control legislation.
Following the shooting, Democratic lawmakers in Michigan, who hold a majority in the state legislature, promised to introduce gun-control measures but did not specify what actions they would be taking.
Governor Gretchen Whitmer tweeted, "We know this is a uniquely American problem," a sentiment she repeated in a news conference on Tuesday. She noted that Tuesday was the fifth anniversary of the shooting at a high school in Parkland, Florida, in which a gunman killed 17 people, per the New York Times.
"As parents we tell our kids, it's gonna be okay. We say that all the time," Whitmer said. "But the truth is words are not good enough. We must act and we will."
This post has been updated.