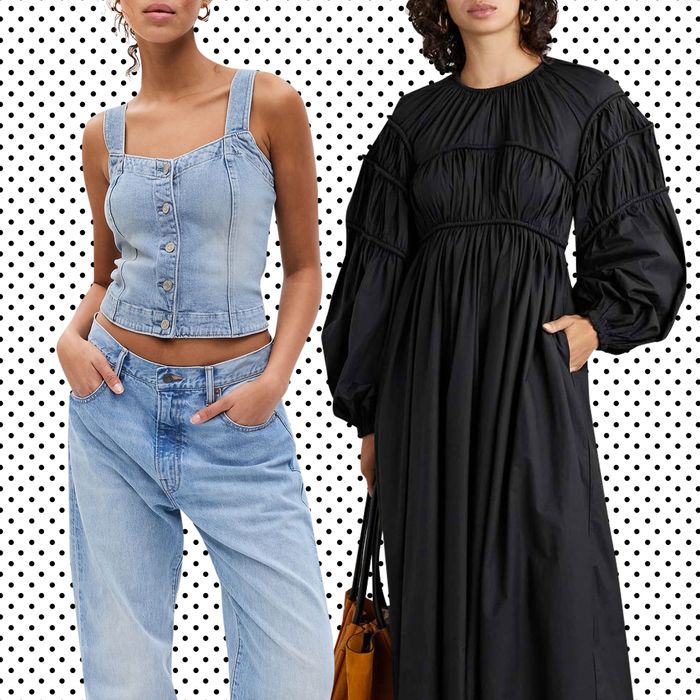 Photo-Illustration: by The Cut; Photos: Retailers
For more of the Cut's favorite fashion, beauty, and home finds, sign up for the weekly Cut Shop Newsletter.
We come across many sales while we're publishing our weekly Cut Shop content. But this week, our sale selects feel the most in line with spring. Daylight savings is this Sunday, March 12, which means the collective might be on their spring cleaning mind-set. So if you have some organization projects scheduled for the weekend — both for what's in your closet and your abode — and need a silly, lil' fizzy drink to hydrate your determined self, there's a sale for that, below. Out with the old, in with the new!
My favorite way of revamping my room without really spending a ton is by switching up my pillowcases. Picking one that complements your existing sheets and duvet cover instantly makes your room feel put-together and might actually motivate you to make your bed in the morning. Luckily, Brooklinen is offering 20 percent off its pillowcases until March 20.
Whether you buy new sheets or your sweaters are going to hibernate, you need some storage. The Container Store (a.k.a. storage heaven) is offering up to 25 percent off select items until the end of the month.
Your sweatpants probably need a refresh, too. We know you opted for soft pants all through winter, because we did as well. However, you don't have to spend more than $25 on your new pair thanks to Richer Poorer's current spring sale. The drawstring and synched cuffs make these pants chic and look tailored, without having to make any alterations.
If you can't beat them, join them. We're here to announce that Poppi's Prebiotic Soda is as good as the internet says it is. To celebrate the brand's third birthday, it is offering 20 percent off its selection on Amazon until March 20.
This sale ends on March 11, so think fast. If you're a Nike member, the brand is offering 25 percent off select women's styles with the code WOMEN25. Just make sure you're signed into your account before purchasing. We're partial to these socks since we're all about a sock and sandal moment for spring.
Until March 31, Aurate is offering 30 percent off its whole site with the code WHM30.
Yes, spring might be on the horizon, but these puffer pants can still be worn with the right light jacket. Plus, they are more than half off.
Any sale that requires me to spend money to be able to save money gets a side-eye from me. However, the selection from Net-a-Porter's current Spend to Save sale is just too good to pass up. For example, this perfect spring dress from Ulla Johnson is 20 percent off, since it's over $500. Don't worry, if you don't want to drop that much money on one item, you can opt for two spring pieces and still be able to get that discount.
Did you know you can add on sale codes while checking out at the Gap? Now you do. So make sure you read the fine lines after you add the code ADDIT to get 10 percent off regular priced items.
Is it a silly purchase? Yes. Do we still want it? Also yes. If you're not a fan of corn, though, Urban Outfitters is offering 30 percent bedding, pillows, and more until March 14.