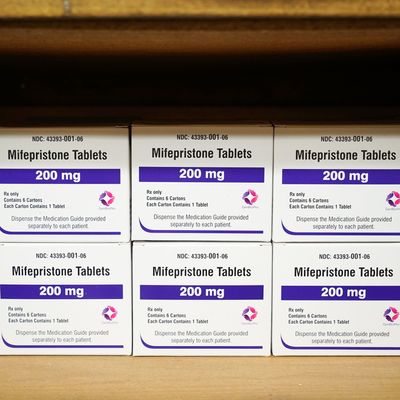 Photo: Allen G Breed/AP/Shutterstock
Walgreens has confirmed that it won't sell abortion pills in 20 states, including some where they are still legal, Politico reports. The decision comes a month after Walgreens and CVS, the two largest pharmacy chains in the country, received a letter from attorneys general in the same 20 states threatening legal action if the companies sold mifepristone, one of the two drugs typically used to induce a medicated abortion. CVS has not yet commented on whether it will sell the medication or not.
"There is currently complexity around this issue in Kansas and elsewhere," Fraser Engerman, Walgreens' senior director of external relations, told Politico. The company added that it is not distributing the pills anywhere in the country yet but is working to get the certification necessary to do so in some states, though it did not specify which.
The states where Walgreens won't distribute the drug are Alabama, Alaska, Arkansas, Florida, Georgia, Indiana, Iowa, Kentucky, Louisiana, Mississippi, Missouri, Montana, North Dakota, Ohio, Oklahoma, South Carolina, South Dakota, Texas, Utah, and West Virginia. In some of these states, including Alaska, Iowa, Kansas, and Montana, the pills are legal.
The news comes after the Food and Drug Administration finalized a rule change making abortion pills available in brick-and-mortar pharmacies and mail-order companies in January. The change was seen as having the potential to broaden access to medication abortion across the country.
Prior to that, mifepristone could only be dispensed by a subset of specialty offices and clinics, as well as a few mail-order pharmacies. Now, any pharmacy that agrees to accept prescriptions and goes through the certification process to dispense the pills can do so. Patients still need to have a prescription from a certified health-care provider. The second pill for a medication abortion, misoprostol, already has fewer restrictions and has been accessible in pharmacies through a usual prescription process.
Following the Supreme Court's decision to overturn Roe v. Wade last June, abortion pills have been in high demand. At least 13 states have effectively banned abortion, and in those states, the new rule change will not override the existing bans and restrictions. Legal experts expect there to be court battles over access to the pills as abortion-rights proponents bring test cases to challenge state restrictions for years to come.
This post has been updated.