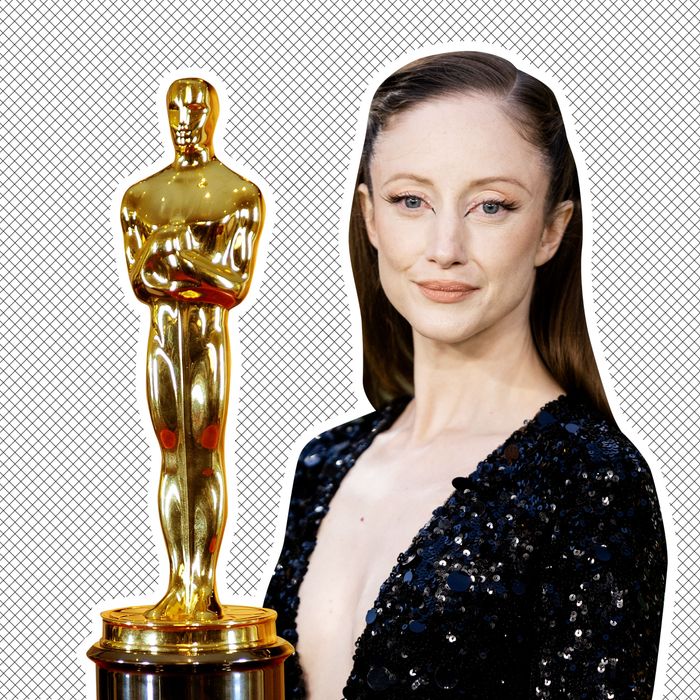 Photo-Illustration: by The Cut; Photos: Getty Images
By the time the Oscars roll around, pretty much anyone who cares about awards season can guess who will and will not be nominated. But this year, the Academy of Motion Picture Arts and Sciences threw fans for a loop by nominating Andrea Riseborough for Best Actress.
Riseborough, a British actress known for her supporting work in Birdman, Nocturnal Animals, and W.E., earned her nomination for playing an alcoholic single mother trying to get her shit together in the 2022 independent film To Leslie, a performance and movie that have been completely absent from all other awards consideration. So how did she make it all the way to the Oscars? The answer, reportedly, is a grassroots campaign that utilized the famous connections of Riseborough, To Leslie director Michael Morris, and Morris's wife, actor Mary McCormack.
Following backlash to the nomination, the Academy announced that it would be investigating the nominations process. Though it did not specifically call out Riseborough's surprise nod at the time, the Academy later confirmed that it convened to discuss To Leslie's campaign. In a statement, the Academy announced that it had decided not to retract Riseborough's nomination. While appearing on Good Morning Britain ahead of the Oscars, Academy president Janet Yang said that the Academy "felt that Andrea had earned her nomination fair and square," according to the Daily Mail.
Still, the saga sparked a conversation about opportunity and racism in Hollywood and could have major consequences for how Oscar campaigns are run in the future.
What was so controversial about Andrea Riseborough's Oscar campaign?
What distinguishes Riseborough's "For Your Consideration" campaign from those of Cate Blanchett or Michelle Williams is money. While studios often (though not always) fund aggressive Oscar campaigns leading up to the nominations, including mailings to Academy members, private screenings, billboards and ad buys, and aggressive media pushes in print and on talk shows, To Leslie didn't have a major studio behind it to fund such an operation. Riseborough did not appear on the cover of magazines leading up to the nomination voting window, nor did she make the rounds on daytime television. Instead, Morris and his wife reportedly took matters into their own hands and called all the actors they knew who might have connections in the Academy. Only members of the actors branch in the Academy vote for the nominations in the acting category, so they focused on actors like Charlize Theron, Kate Winslet, Jennifer Aniston, Courteney Cox, and more, reaching out personally and asking them to watch To Leslie and consider Riseborough's performance.
According to the Los Angeles Times, Morris and Riseborough reportedly worked with a team of publicists who called the director's network of celebrity friends throughout the holidays, right before voting for Oscar nominations was going to start. The result was a massive wave of support from Riseborough's peers. Gwyneth Paltrow reportedly hosted a screening of the film in January. Demi Moore, Kate Winslet, and Amy Adams were enlisted to lead post-screening Q&As as voting was taking place. Others, like Edward Norton, Helen Hunt, and Susan Sarandon reportedly championed Riseborough's performance on social media. Cate Blanchett even gave her a shoutout at the Critics Choice Awards.
Given the fact that award shows are known for being a popularity contest, this might not sound out of the ordinary. Of course, people want to support their friends, and even actors who benefit from the massive PR machine leading up to awards season acknowledge the unfair advantage studio films have over independent movies. However, not everyone sees Riseborough's nomination as a victory for word-of-mouth campaigns. In the week after the nominations were announced, some speculated that the campaign might have broken Academy rules against lobbying members for nominations or votes.
What Academy rules might have been broken?
Last month, the Academy announced that it would be "conducting a review" of the 2023 Oscar nominations process, per Deadline, to "ensure that no guidelines were violated, and to inform us whether changes to the guidelines may be needed in a new era of social media and digital communication." This vague statement is in line with what had been reported: that the Academy was looking into how the Riseborough campaign used social-media posts to boost visibility, specifically by asking other celebrities and Academy members to boost the film on Instagram and Twitter if they liked it.
A report from Vanity Fair theorized that the campaign might have violated the Academy's rule against lobbying, which states, "Contacting Academy members directly and in a manner outside of the scope of these rules to promote a film or achievement for Academy Award consideration is expressly forbidden." There are also rules that limit the amount of "mail and email" sent to Academy members, and the content of such mailings. For example, mailings may not include "pleas to watch the film" or "extolling the merits of a film, an achievement, or an individual." Other rules forbid organizing luncheons or screenings specifically for Academy members to boost a film, which McCormack, the director's wife, allegedly did. However, it's possible that these rules only apply to "film companies," and people directly associated with the film. McCormack is neither.
In their statement regarding the investigation into the campaign, the Academy did not specify what rules they suspected To Leslie's team to have broken. However, they noted, "We did discover social media and outreach campaigning tactics that caused concern." The statement continued, "These tactics are being addressed with the responsible parties directly." It's likely this has to do with the rule against mentioning other nominees in promotional material, or "attempting to cast a negative or derogatory light on a compelling film or achievement." As reported by Variety, the official To Leslie Instagram account came under scrutiny for a post that seemingly singled out Riseborough's performance in contrast to Blanchett's. The post has since been deleted. (Actor Frances Fisher has also gotten some backlash for specifically naming other actresses competing for the nomination in her pro-Riseborough Instagram posts.)
What could Riseborough's campaign mean for a more diverse Oscars going forward?
Riseborough will be able to keep her nomination, though the Academy stated that "it is apparent that components of the regulations must be clarified to help create a better framework for respectful, inclusive, and unbiased campaigning," and that it expected changes to be made "after this awards cycle." These potential policy shifts notwithstanding, Riseborough's successful grassroots campaign could have implications in the years to come. On Good Morning Britain, Academy president Yang called the incident a "wake-up call" for the Academy, adding that after the Oscars, they will "look at campaign regulations and make sure they reflect our changing environment."
It's exciting to think that the Oscars might be less beholden to big studio-funded campaigns, as this, in theory, could open up the Academy Awards to a more diverse pool of nominees. However, as some have suggested, it could also result in a more insular, and frankly white, Hollywood. "Power and influence are very valuable in the awards race," tweeted Vanity Fair's Rebecca Ford. "And because of the systemic issues that still plague Hollywood, some people have less access to those things. It's best to remember how that affects who gets lifted up by others."
Riseborough's nomination has also received backlash from critics who had hoped to see a more diverse set of Oscar nominees for Best Actress. Viola Davis (The Woman King) and Danielle Deadwyler (Till) — both of whom reportedly did receive studio help with Oscar campaigns — didn't make the cut. The fact that the category is overwhelmingly white, coupled with Riseborough's surprise nomination, had some fans accusing the actor of taking Davis's or Deadwyler's spot. (It didn't help that Fisher, a member of the Academy, explicitly noted on her Instagram that Viola Davis, Michelle Yeoh, Danielle Deadwyler, and Cate Blanchett were "a lock," implying that they didn't need support from voters — which turned out to be a miscalculation.) The idea that Riseborough might have "stolen" a spot is both impossible to prove and a bit simplistic given the Academy's abysmal history of nominating actors of color. That said, the juxtaposition of Riseborough's nomination with the Davis and Deadwyler snubs calls into question whether a grassroots campaign would work for a Black actor in Riseborough's position.
A majority of the Academy members reported to have helped bolster Riseborough's campaign are white women — a reflection of the almost all white winners of the Best Actress Oscar. (As of 2022, Halle Berry remains the only woman of color ever to win that award.) Speaking with the Washington Post about her support for Riseborough, Winslet, who recently worked on a film with the actor, said that she was simply motivated to support a great performance. "In our industry female actors are profoundly supportive of each other, but that's rarely written about," she said. "We all look out for each other." It's a nice sentiment, but, if Riseborough's campaign becomes a new blueprint, it's worth asking which actors are giving and receiving this support.
How has Riseborough responded to the controversy?
Apart from some initial interviews celebrating to her nomination, Riseborough remained quiet throughout the Academy investigation. It wasn't until a February profile with The Hollywood Reporter that she addressed the controversy. Although she didn't discuss whether or not her campaign broke any Academy rules, the actor did weigh in on the idea that her nomination reflected the racism ingrained in Hollywood. Admitting that she is still "coming to terms with what the nomination means, for me and for others," Riseborough said that she supported the "necessary" conversation her nomination inspired. "The film industry is abhorrently unequal in terms of opportunity," she said. "I'm mindful not to speak for the experience of other people because they are better placed to speak, and I want to listen." She went on to say that the conversation "deeply impacted me."
As for how her campaign might affect the future of the Academy Awards, Riseborough said, "I do not yet know which measures will best encourage meritocracy." For her part, she added, "I've been working toward discovering them and will continue to."
This post has been updated.