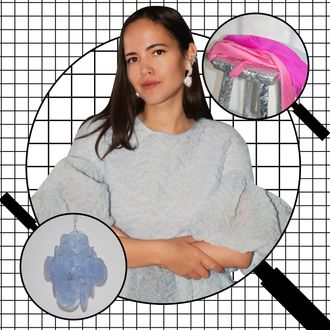 Photo-Illustration: by The Cut; Photos: Genevieve Lutkin, Anna Jewsbury
For more of the Cut's favorite fashion, beauty, and home finds, sign up for the weekly Cut Shop Newsletter.
Anna Jewsbury is all about contrast. "I like to make classic pieces, which have this strange or futuristic element that makes you look twice," the artistic director of jewelry brand Completedworks explains. While this is a key part of her work, she also incorporates it into her personal life. "With décor, you can have vintage pieces but then have some contemporary pieces to contrast. Otherwise the balance is a bit off," Jewsbury explains. "I like when you walk into a room and your eyes dart around and there are unexpected things going on and a lot to discover."
However, shopping is a more thoughtful process. She spends time browsing thrift shops and sites like 1stdibs and focusing more on things that will last a long time. "I'm always trying to buy something that I really love and feel expresses me in a moment," she explains. "Something I can imagine myself still wearing when I'm 70. That's really important to me."
We caught up with Jewsbury over Zoom to see where she got the pieces that made it into her curated lifestyle.
Where did you get the inanimate object that brings you the most joy?
I got my Murano-glass chandelier from a place called Alfies Antique Market. I bought it from a mid-century-Italian dealer. As soon as I saw it, I knew it was the one. I thought, Either I can afford this or I'm going to leave a bare, hanging light bulb until I can afford it. (I have this, like, all-or-nothing attitude for things.) It's this perfect lilac shade. Where it hangs in the house, it's above our central staircase. In the mornings, the light reflects off of it, and it's so beautiful. It's one of the first things I see every morning, and it makes me really happy when I see it. Which is what you need from the things in your house — they make you smile.
Where did you get what's on your nightstand?
My nightstand was made by my friends. They have a metal foundry in Scotland. My house is a former pub, so it has history. We've got these industrial elements, like an aluminum kitchen. Then in the bedroom, we've got these metal wardrobes. I wanted the nightstand to have that kind of finish to it. It's got this really beautiful, wavy brushed finish that they did by hand. It's almost imperfect in a way that I really love.
It fits loads of things. I have space for my water glass, my big pile of books (I'm currently reading Outline by Rachel Cusk), and my jewelry box. I have this terrible habit of taking off my jewelry in random rooms, so I like to have something around that I can put it in and not lose it.
Where did you get your signature scent?
I get Incense Kyoto by Comme des Garçons from Dover Street Market. I buy fragrances for my husband as birthday or Christmas presents, then I'll sneakily go in and spray it on myself. Luckily, he seems to like the same scents as I do.
Where did you get the item you splurged on the most?
I bought a huge painting recently by an Irish artist named Sian Costello. It's in my living room. It's the only place it works in the house. I could spend so long looking at it. There are many things to discover in it. My husband paints as a hobby, and he spends so much time on the details. Everything there is meant to be there, and I love that.
Where did you get the item you've had for the longest time?
I love the shape of this briefcase my mom bought in the 1980s. It's quite small for a briefcase, and I remember talking to my mom about it, and she said most briefcases were quite, like, big and manly and bulky at the time. She liked the delicateness of this one. She let me have it, and it's still in perfect condition. I've only used it once or twice. I love having it in my bedroom as an object. It reminds me of my mom, and I love to imagine her walking around with it. She has always been someone who dresses how she wants. I learned a lot from that growing up.
Whenever I go out, I like to have a small bag. I find it more comfortable to have very minimal baggage. I have this Jil Sander bag, and you can really only fit two things in it. It forces me to go with what I need and nothing more. I'll bring a tiny Embryolisse moisturizer that I use on my hands and face. I also love the Aesop hand cream. I'm a sucker for nice packaging.
Where did you get your favorite item to layer?
I went to Japan at the end of 2018 and fell in love with these Pleats Please Issey Miyake trousers. They're so versatile! You can roll them up in a suitcase, and they travel so well. You don't have to dry clean them. You can just wash them normally. I always feel great wearing them. I love the idea of having a uniform when it comes to dressing, and if I could, it would be Pleats Please everything.
Where did you get your favorite piece of clothing?
My silk skirt is from Tove. I'm a friend of the designers, so I bought it from the website. The way it flows is so beautiful. You can pair it with a simple, crisp white T-shirt and throw on some jewelry. The skirt is a beautiful quality, and you don't need much else going on when you wear it.