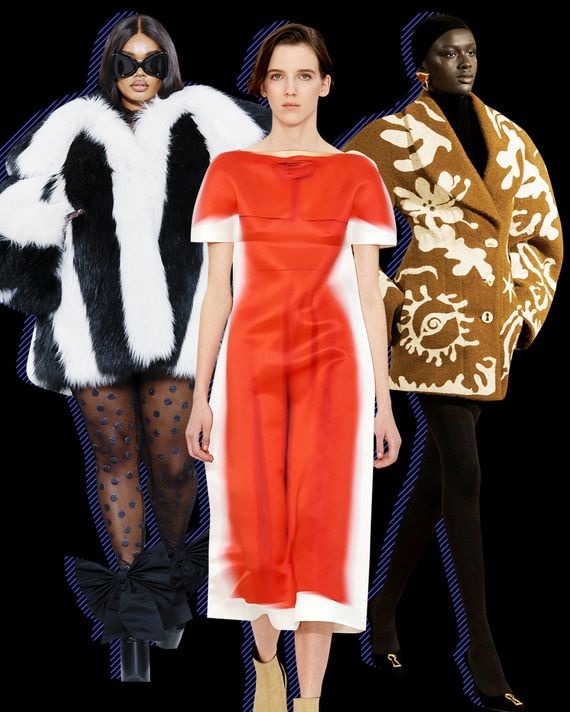 From left: Nina Ricci, Loewe, Schiaparelli.
Photo-Illustration: by The Cut; Photos: Courtesy of Nina Ricci, Loewe, Schiaparelli
It's tough to focus on things, as Jonathan Anderson's stunning collection for Loewe makes clear. Gerhard Richter's blurred paintings inspired fuzzy digital images of dresses printed on T-shirt dresses made of the most luxurious duchess satin. But the ambiguity doesn't stop there. A turquoise cardigan that clings to the model is self-adhesive paper, like stick-on wallpaper, while a cropped light blue jacket has the plastic smoothness and precision of a Playmobil figure. "It is what it is," Anderson said of the jacket, which is vacuum-molded leather. That's a favorite expression of Richter's.
These and other designs in Loewe's fall 2023 collection can be read as commentary: the faded and jittery dress images on the fragility of memory in the face of new visual sensations; the peel-off sweater as a symbol of mass-produced luxury and waste (you really can't wear a sticker garment more than once); the flawlessly smooth jacket on our ability to manipulate our appearances, either digitally or cosmetically, and how normal that has become.
But for Anderson and his design team, the main quest was finding modernity in fashion. This is the fourth collection they have produced since Anderson decided that Loewe needed to strike out a new direction. Art and crafts have always been a big influence, and the first two collections after the change drew on Surrealism. The clothes also exposed the body in ways that Anderson hadn't before. That allowed for more eroticism. Of the four recent collections, the one he showed on Friday in a bright-white tented space on the grounds of Château de Vincennes is far and away the most simplified. And perhaps, too, the most resolved.
The brightness was hardly incidental. Many designers like to show at night, for the glamour of it, or in semi-dark spaces or with puffing fog machines. But Anderson felt it was important for the clothes "to exist in broad daylight," he said. Placed around the room were vividly colored cubes of compacted confetti — the work of the artist Lara Favaretto, known for her "momentary monuments." There was the thought, even hope, that one of the monuments would suddenly collapse during the show, but all remained intact. An Italian maker of wedding confetti supplied the stuff.
In that celebratory spirit were basic-looking tops and shorts (or pants) embroidered with goose feathers in neutral tones or shades of peacock blue and lavender. A sense of lightness and play ran through the collection, with an attitude or shape imposed in knitwear. The hiked-up look on a red v-neck knit dress? That's built into the knitting. Dresses, in black leather and hammered white silk, include a chain over the shoulder — and the drapery and the chain almost mimic the stance of a woman shouldering her handbag. They look cool without that interpretation. Less evident in photos are the textures of many materials. A shearling coat in buttery beige was shaved as close as a poodle. Jeans were flocked to a velvety smoothness, and some suede pieces felt like a nineteenth-century tradesman's apron. "We brushed it, dyed it, washed it," Anderson said.
As for the sticker cardigans, they will be reproduced for stores — on big sheets of paper. "I kind of like it as a Utopian idea,"  he said. Who can say for sure? Anderson, though, has become remarkably good at offering things just a little beyond our immediate grasp and approval. That's one of the first qualities of fashion — it has to feel a bit strange. So many luxury brands now give you what you already know.
That was certainly the case with Harris Reed's debut at Nina Ricci. He may have attracted stylists for big celebrities (Law Roach for Zendaya) but every spray of tulle, opulent feathered puffball, and campy sex-bomb gag has been done a million times before and with more finesse. One hopes that Reed has more in his creative tank than this.
After his ready-to-wear show for Schiaparelli, Daniel Roseberry said he has been watching "Kingdom of Dreams," the documentary series about the rise of designers like Alexander McQueen and John Galliano, and savoring the creativity of that period. Roseberry also observed, in press notes, "So often in this town (and in this industry), the product becomes less creative the higher you go."
To that end, Roseberry wanted to give his ready-to-wear an exaggerated elegance — in the spirit of Elsa Schiaparelli — and, at the same time, affirm the shapes and details he had laid down for the brand. He did that very well with great-looking workwear-inspired trousers with a sharp jacket, an off-white cashmere turtleneck with a matching skater skirt, bustier dresses in velvet or satin, novel fake furs, and a deluge of the Surrealist gold and enameled trimmings that have become a house signature.
More From Paris Fashion Week
See All