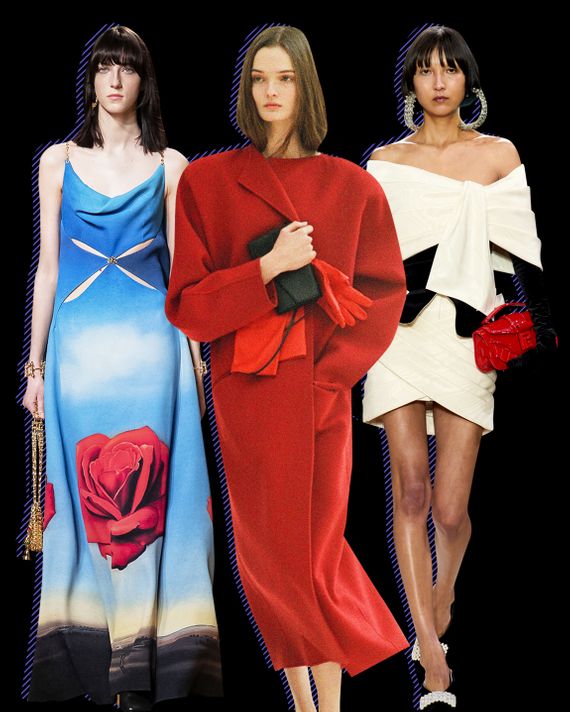 From left: Paco Rabanne, The Row, Balmain.
Photo-Illustration: by The Cut; Photos: Yannis Vlamos /Courtesy of Paco Rabanne, Courtesy of The Row, Courtesy of Balmain
At this stage in the evolution of The Row, the label founded in 2006 by Mary-Kate and Ashley Olsen, people entering their building — a former private mansion near the Place Vendome in Paris — know what to expect. Nonetheless, there is a sense of anticipation as you go up the marble stairway to the first floor, where the sisters hold their shows in a series of high-ceiling, parquet-floor rooms filled with sunlight and no décor to speak of. At most fashion houses in Paris, you get artwork on the walls, expensive upholstery, a logo somewhere. The Olsens seem allergic to all of it.
In a lot of ways, they are like the Dutch of the 17th century, the so-called Golden Age, when Vermeer was making his portraits of domestic life in his native Delft. At the time, the court of Louis XIV of France was the showiest in Europe. It was learning how to become the fashion leader. But the Dutch, while rich and successful in their own right — from shipbuilding, international trade — refused to make a display of it. Their clothing was relatively simple, in solid hues of brown, black, Delft blue and deep red, with starched white collars and shirts that evoked the cleanliness that the Dutch admired. Today, the French are still showing off with their giant fashion-show tents planted in the middle of Parisian public spaces.
There's a major Vermeer exhibit now at the Rijksmuseum in Amsterdam.  When I looked at The Row's long and austere ponchos, its coats with an extra wrap at the shoulders, a slim dark turtleneck dress with a square-cut yoke, its classic pantsuits in gray and black with open-necked white shirts, and a single blood-red coat, I saw the gestures and tones of Vermeer. That's just a surmise, of course, but it's another way to understand the difference of the Olsens' work in our own aggressive age.
Although they revealed the body with a long evening shift in pale-green organza (it looked like it was made from clusters of folded paper) and strapless wool (or cashmere) dresses, the collection was mostly covered up, to the point of being hidden, with black oxfords and two styles of low-heeled pumps that were once standard feminine dressing but have become almost impossible to find. The Olsens evidently know that. They're also attuned to discreet gestures of sex and glamour, be they European or the kind the American novelist John O'Hara brilliantly invoked — that of a woman wearing a plain wool coat and clutching it shut with one hand and wearing a pair of those nice-girl, low-heeled pumps. Could she have nothing underneath? Quite possibly.
In general, there's been a stripping away of material effects. We saw it at Prada with those stark black dresses and trim wool pants and pullovers; at Dior, which was a reduced version of the house's historical Tulip Line and full-skirted romance, drawn from life in Paris in the austere '50s. Although Dries Van Noten's show in a concert hall failed to adequately convey the sense of intimacy he was after, the collection itself did the job, with pieces that looked mended, rich but faded fabrics, and a natural ease in the fit.
Apart from a finale of archival '60s dresses at Paco Rabanne — a nod to the pioneering designer who recently died — and a noisy passage of metallic and plastic frocks of his own, the brand's creative director, Julien Dossena, also toned things down a bit. He based a visually strong group of long dresses on Dalí's paintings, with references to the rugged landscape of Cap de Creus in Spain.
Jun Takahashi of Undercover sensitively threw a light on the musical artists Terry Hall, the lead singer of the Specials, and the German composer Manuel Göttsching, who died in December while Takahashi was working on his collection in Tokyo, and who had influence on his younger self. He called his new work "Enjoy Yourself," and that was the feeling evoked by draped hoodies, thick knits and fake-fur coats in blotchy — camo? — patterns, and swing skirts embroidered with a crone's withered hands, the nails lacquered red. Takahashi remains the best at one-of-a-kind outerwear. The standout look this season was a belted black leather coat made more interesting by a few down-filled panels, also in black leather.
But for me, the hero of the moment is Olivier Rousteing of Balmain. He made his name nearly a decade ago by dressing the Kardashians and being an early adopter of social media. More recently, he has done over-the-top shows worthy of a stadium — his choice of venue last fall, complete with a cameo appearance by Cher — and clothing with a heavy street and pop-cultural influence.
Well, good-bye to all of that.
Before an audience of roughly 200 people, on plush white seating, Rousteing presented his smart and lively interpretation of Balmain's original tailoring and glamour — the cinched waists, the necklines that expose the shoulders, the spree of polka dots, the off-kilter bows, the dome-shaped hats from the mid-'60s (the work of Stephen Jones).
I love when a designer has the fearlessness to make a big shift, who refuses to let himself to be defined by a brand or the industry. But, also, Rousteing consistently injected a sense of humor and joy into the suits and dresses; they weren't static archive looks. He showed the clothes with great accessories, including slides, rhinestone-studded mules with spike heels, and quirky bags, in a brown archival print, that spoofed the leisure class.
At the point of the tears backstage, Rousteing said, "I just want to renew myself and find a new chapter for the house. Everybody knows me for my interest in pop culture, but at the end of the day, I'm more than that."