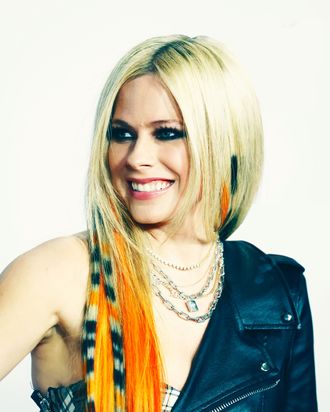 Photo: Frazer Harrison/Getty Images
In February, Avril Lavigne was spotted leaving dinner at Nobu in L.A. with rapper Tyga in what looked like a potentially romantic situation. The speculation about whether or not they were dating was a little jarring since, last we knew, Lavigne was engaged to singer Mod Sun, who proposed to her last April in Paris. Nearly a year later, it seems that they have broken up and Lavigne has officially moved on with Tyga.
According to TMZ, Lavigne and Tyga got dinner with a group in February and left in the same car after they were photographed hugging outside of the restaurant. While People claimed Lavigne and Tyga were "genuinely friends and nothing more," Lavigne's reps confirmed to "Page Six" that she and Mod Sun had broken up and ended their engagement. An "insider" told People that Lavigne and Mod Sun had been "on and off for the past two months but are no longer together as a couple."
That all sounds like usual celebrity-relationship business, except that — oh God — Mod Sun might not have been aware his engagement was over? When news of the breakup broke, his reps told several publications that, as far as he knew, he and Lavigne were "together and engaged as of three days ago, when he left for tour, so if anything has changed, that's news to him."
A week later, Mod Sun seemed to have gotten up to speed. In an Instagram carousel of tour photos, he wrote, "In 1 week my entire life completely changed … I just know there's a plan for it all. I'll keep my head up + always listen to my heart, even when it feels broken."
Meanwhile, Lavigne and Tyga gave us a little kiss. A few days after making another public appearance together at Leonardo DiCaprio's party at Kuku in Paris (which, as tabloids have been quick to point out, is the same city where she and Mod Sun got engaged), they were photographed holding hands and kissing at a Paris Fashion Week party.
This rapid turn of events prompts the following question: What the hell happened here? Did Mod Sun miss a very important voice mail, or did Lavigne think she could break up with her fiancé via tabloid? Doesn't she know that's worse than leaving a Post-it note?
This post has been updated.