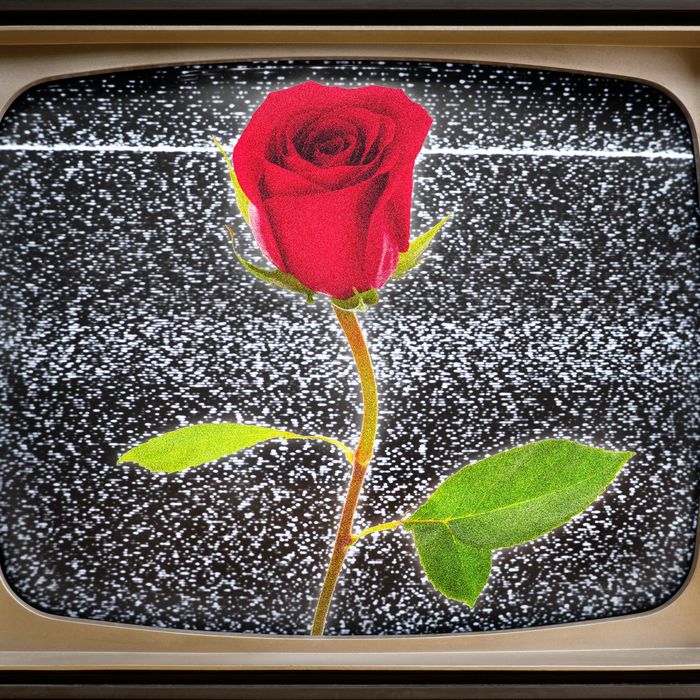 Photo-Illustration: by The Cut; Photos: Getty Images
On tonight's season finale of The Bachelor, leading man Zach Shallcross, 26, will most likely propose to one woman at a romantic resort in Thailand. Will it be Gabi, the 25-year-old account executive he slept with during last week's Fantasy Suite dates after loudly proclaiming he wasn't going to have sex with any of the women? Or will it be Kaity, the 27-year-old ER nurse he didn't sleep with, but humiliated anyway by telling her on-camera that he slept with Gabi? It's a tough choice, and I'm sure the women are on pins and needles waiting to find out which one of them will be stuck with him, possibly forever. Thankfully, we'll all get to witness this special moment together.
"Winning" The Bachelor doesn't sound as good as it once did when the show premiered in 2002. These days, it often seems like the special woman who makes it to the end of the Bachelor's journey to find love is actually getting the short end of the stick. She has to stay in a relationship with the Bachelor for at least a few months, while the rest of the contestants are free to date other people (including, potentially, other celebrities), make deals to appear on other reality shows, and launch careers as influencers.
These are the kinds of opportunities that keep 20-somethings auditioning for a show that has produced only three lasting marriages in the last 20 years. (The Bachelorette has a slightly better track record.) Why do contestants really keep signing up to date mediocre white men on television? Probably for one of the following reasons.
To audition to be the Bachelorette.
In almost every instance in the last decade, producers have cast the Bachelorette from the pool of women they originally cast to date the Bachelor. The role of the Bachelorette is far superior to the role of the Bachelor's fiancée in many ways: You get an entire new season's worth of screen time, and you get to pick your possible life partner from a pool of 30 mostly eligible men. Being the Bachelorette comes with bonuses, too: You get paid (reportedly around $100,000), and you get automatically plugged into the ABC/Disney system, which means you might get to appear on Dancing With the Stars or a Disney holiday special. Contestants know this: On Colton Underwood's season of The Bachelor back in 2019, contestant Caelynn Miller-Keyes caught flack for discussing her chances of becoming the Bachelorette with other contestants. (Her rival during that season, Hannah Brown, ended up getting the gig, which she said "hurt" her.)
This season, third runner-up Charity Lawson is the lucky gal to make it out of the Bachelor mansion and into the leading role of the Bachelorette. Did she sign up for the show solely for that purpose? Maybe not, but I'd argue she's in a much better position than Kaity and Gabi right now.
To audition for Bachelor in Paradise.
There can only be one Bachelorette, but there are plenty of slots for female contestants on Bachelor in Paradise, the raucous, almost-anything-goes spinoff set at a Mexican resort where members of Bachelor Nation attempt to find love with each other. Over the past few years, it has become clear that some contestants are more interested in getting cast on this show than ending up with the Bachelor: It offers more screen time (which can translate into more brand deals) as well as more potential partners.
Getting cast on this show has become such a high priority for contestants that in 2021, two hopefuls who had already secretly started dating each other off-camera went on the show in hopes of drumming up more publicity for themselves. When they were caught out by their castmates, they left the show and ultimately lost Instagram followers (oops).
The cast of next season of Bachelor in Paradise has yet to be announced, but if you watched The Bachelor's "Women Tell All" episode, you know that several women are gunning for spots, even those who didn't make it past night one on season 27 of The Bachelor.
To launch a career as a dating and relationships expert.
A select few former contestants have built personal brands that have stood the test of time. What do these winners have in common? They have all appeared on The Bachelor, The Bachelorette, and Bachelor in Paradise as many times as possible. The prime example here is Nick Viall, who was the runner-up on two separate Bachelorette seasons before appearing on Bachelor in Paradise and then, ultimately, as the Bachelor. Though he did not end up with anyone from Bachelor Nation romantically, he has made quite a career as a "dating expert," launching a successful podcast and publishing an advice book titled Don't Text Your Ex Happy Birthday: And Other Advice on Love, Sex, and Dating.
Ashley Iaconetti, better known on the show as "Ashley I.," has charted a similar path: She appeared on The Bachelor, two separate seasons of Bachelor in Paradise, and one experimental season of The Bachelor Winter Games before ultimately marrying another Paradise contestant named Jared Haibon. Iaconetti and Haibon now share advice about marriage and parenting (they have a 1-year-old son) on podcasts and social media.
To simply rack up Instagram followers.
Perhaps the easiest post-show path for a Bachelor contestant is to become a mid-level Instagram influencer. This season, one contestant accused another of bragging that women who made it to the top 14 would take home "at least 50,000 Instagram followers." Zach ultimately sent her home, and she is now sitting pretty on just 30,000 Instagram followers.
According to Suzana Somers, the data analyst behind @bachelordata, this is part of a larger trend. It used to be that Bachelor contestants who made it to a certain point in the show could count on racking up followers. But since the rise of TikTok in 2020, average Instagram follower gains for Bachelor and Bachelorette contestants have dropped by a whopping 70 to 75 percent.
This is because TikTok has become exponentially more popular than Instagram. Today's contestants will have to work much harder on creating viral content to become social-media influencers — gone are the days when women could stack up Flat Tummy Tea brand deals just because they made it to the top ten on the show. That doesn't mean contestants aren't trying: Christina Mandrell, a contestant from this season who made it just a few weeks before getting sent home, has garnered 137,000 followers on Instagram by posting several videos about her limited time on the show.
To find love.
Perhaps Zach's final two women, Kaity and Gabi, went through the casting process for The Bachelor for no other reason than to fall deeply and exclusively in love with Zach. If that is the case, my condolences to whomever is leaving Thailand without a Neil Lane diamond engagement ring.
My guess, though, is that neither of these women were ultimately hoping to get engaged on The Bachelor, because in the 20 years this show has been airing, that stated goal has become less and less appealing. Whether the "journey" is worth it probably depends on whether or not you get that next reality TV contract.