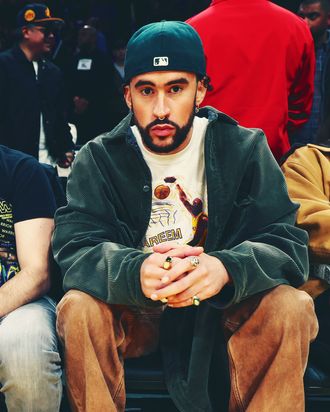 Photo: Jim Poorten/NBAE via Getty Images
Bad Bunny's dating life is certainly getting a lot of attention these days. While his apparent fling with Kendall Jenner has group chats in shambles, he's also having ex problems: Earlier this month, he was sued by his ex-girlfriend, Carliz De La Cruz Hernández, who claims he used her voice in two songs — the 2016 single "Pa Ti" and 2022's "Dos Mil 16" — without her permission. Hernández filed a lawsuit in Puerto Rico seeking over $40 million in damages.
According to court documents, Hernández says she and Bad Bunny started dating in 2011 and went to the University of Puerto Rico together the following year. Bad Bunny was working on music while they were at school, and Hernández allegedly weighed in on the creative choices, scheduled parties, and handled invoices and contracts. Sometime in 2015, she says, he asked her to record herself saying "Bad Bunny, baby," which she did in the bathroom while staying with a friend. In 2016, the couple got engaged, but broke things off several months later after Bad Bunny was signed to Rimas Music and Hernández got into University of Puerto Rico's law school. The suit claims they briefly got back together in 2017.
Then, per the lawsuit, one of Bad Bunny's reps called Hernández in May 2022 offering her $2,000 to buy the recording of her voice, which she declined. She claims that she was also offered money for the snippet by someone at Rimas Music, who told her the recording would be used in Bad Bunny's upcoming album, Un Verano Sin Ti. Hernández claims they never reached a deal and the clip of her "distinguishable voice" was used without her consent — both on the album and also in "promotions and worldwide concerts, on television, radio, social media, and musical platforms." The suit says that Hernández gets comments about the sample both in public and on her social-media accounts, making her feel "worried, anguished, intimidated, overwhelmed, and anxious." Bad Bunny's manager, Noah Kamil Assad Byrne, is also listed as a defendant.
The Cut has reached out to Bad Bunny's reps for comment and will update this post when we hear back.