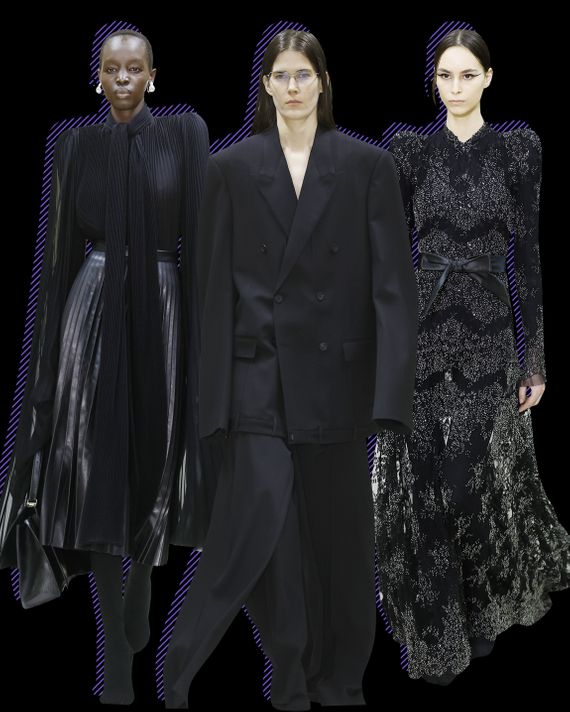 Photo-Illustration: by The Cut; Photos: Getty Images
There's enough drama around fashion without the need to create more or to lose one's perspective in a controversy. I'm talking, of course, about Balenciaga, the brand accused of promoting pedophilia because of the contents of two advertisements published last November, and which on Sunday held its first runway show since the scandal. Several media outlets have suggested that the show would be "a make or break" moment for the luxury company and its creative director, Demna.
For sure, the mistakes Balenciaga made were huge, beginning with the fact that it initially refused to accept full responsibility. The whole episode was a series of bad judgments. First, there was the decision to produce a tacky bunch of holiday gifts, including a plush teddy bear bag, and then feature young children in the ad. And there was a stunning lack of oversight in questioning the concept and then reviewing the final images for the ads.
Hubris may have also been involved. Until the controversy, which engaged the internet and conspiracy theorists, Demna was behind some of the most provocative and interesting fashion of the past three or four years. He energized Balenciaga, a house founded after the First World War, in ways that few fashion insiders could have imagined. He brought his own aesthetic to the elegant traditions of Cristobal Balenciaga, and somehow — magically, with a great deal of work and daring — he made the past and present Balenciaga come alive as one. The apex was his first haute couture collection for the house in July 2021, followed by the collaboration with the creators of The Simpsons and the so-called Red Carpet show, a hilarious spoof on celebrity culture and self-obsession.
Demna could seemingly do no wrong even as some had begun to question the wisdom of his association with Kanye West — long before West's downfall — and his own spectacle of wearing a full black mask in public. Last fall, he did a show in a giant, manmade mud pit. You could hardly see the clothes. Indeed, they seemed incidental to the scenery, and in those choices, people perceived cynicism from Demna. He was used to being a provocateur, and a good one, but in all likelihood, he either was flying so fast last fall that he didn't look hard enough at the contents of the ads before they were published, or he thought he could sit on the edge of provocation.  Both he and the company have since offered their explanation and mea culpa.
But the idea that his fall 2023 show could be a "make or break" moment is ridiculous. It ignores what Demna has achieved for the brand, and it underestimates his ability to right things and put the controversy behind him and the company. Other journalists, as well as designers, have asked me if I think Demna can survive this — that is, continue at Balenciaga — and I've said yes.  I said that if Demna can have a great show in March and another one during the July couture collections, people will forget and move on. The man is too talented, he is still young, and he has made a project of Balenciaga. Despite the sheer number of fashion labels, there are very, very few designers today who are capable of being creative directors of major houses. Demna, thanks to his vision and ingenuity, has brought Balenciaga to the estimated $2-billion-mark in annual sales. How many young and unproven designers have the know-how to take the brand to the next level, to $3 billion or $5 billion?
Plus, Demna has a unique story to tell about how he sees individuals and self-presentation today. And that story has only become clear in the last few years. Kering, which owns Balenciaga — along with Gucci and Saint Laurent — would be foolish to part company with him. And I don't get the sense, based on conversations in recent days with both Demna and the chief executive, Cédric Charbit, that the brass wants to rein him in and urge him to do more conservative or "safe" fashion.
"I'm not the right guy for that," Demna told me. "I would be bored to death."
Charbit said, "What happened [with the ads] was not intentional." He added that he's confident Balenciaga can get past its mistakes. "The brand has existed for 105 years dealing with impeccable values. We have a beautiful heritage and Demna is one of the most talented designers of his generation." He added: "He's creative. I don't want to lose that."
On Sunday, Demna set the stage as a clean slate: a long and luminous room lined with muslin — the off-white material used for making the first samples in couture and better ready-to-wear. The setting was in the sleek lower level of the Louvre, where most fashion shows used to be held before brands got so rich and insisted on having their special venues. Chanel, Dior, and even Saint Laurent used to show under the Louvre. The director Robert Altman filmed scenes for "Pret-a-Porter" there.
Demna transformed his particular space by dramatically lowering the ceiling and making it off-white, like the walls and runway. As the first models came out, led by Balenciaga regular, the artist Eliza Douglas, the effect was like looking down the long concourse of a modern airport.
The collection was divided into three segments — deconstructed tailoring; inflated biker jackets, puffers, hoodies; and evening dresses. Demna said beforehand, and also on a card put on guests' seats, that he had felt the runway spectacles were getting out of hand. "The mud show was a climax of my set collections, but I also realized people didn't see the clothes," he told me. In December, to distract himself, he began making garments at home from cut-up pants. The coats and jackets in the first part of the show were all made from trousers.
They are perfectly made — painstakingly assembled and pressed sections of trousers that hardly look deconstructed, even at close range. The coats and jackets have the slightly oversized, broad-shoulder look that Demna has established at Balenciaga. And a few coats — hard to tell from photos — have that subtle potato-sack shape that is classic Cristobal. In short, the method of deconstruction is an advance of the technique, partly because it's so constructed. He showed the jackets with double trousers — meaning two pairs sewn together, with the empty pair in front. It sounds weird, but, because of the craftsmanship, the style isn't ungainly. It suggests the movement of a skirt.
Demna typically has sportswear in his shows, and the difference this season is that a number of the styles use a kind of airbag technology found in gear for equestrian and motorsports. It inflates to protect the athlete from impact — or, here, to give a fashion-forward person an extreme shape. A biker jacket, viewed face-on, looks hourglass in form; but from the side, it's a cocoon. Balenciaga will sell a small electric pump with those garments. Of course, you can wear the style deflated, too.
In the end, it was great to see the clothes without drama — and to see how Demna added to his language at Balenciaga and offered enough new fashion. One of those differences is a smaller, rounded shoulder that he modified from a mid-sixties Balenciaga design and which is most striking on the rather minimal evening dresses. These are mostly knit and beaded all over, one with tiny black strips of material tipped with beads. Demna says it reminds him of a crow — a very imposing crow.
As usual, the music was the work of Loïk Gomez, who goes by the name BFRND and is Demna's husband. He told me that the opening of the composition, a guitar riff, was the first piece of music he had ever created and that he included it to mark his own story with the designer and a deeply emotional time.