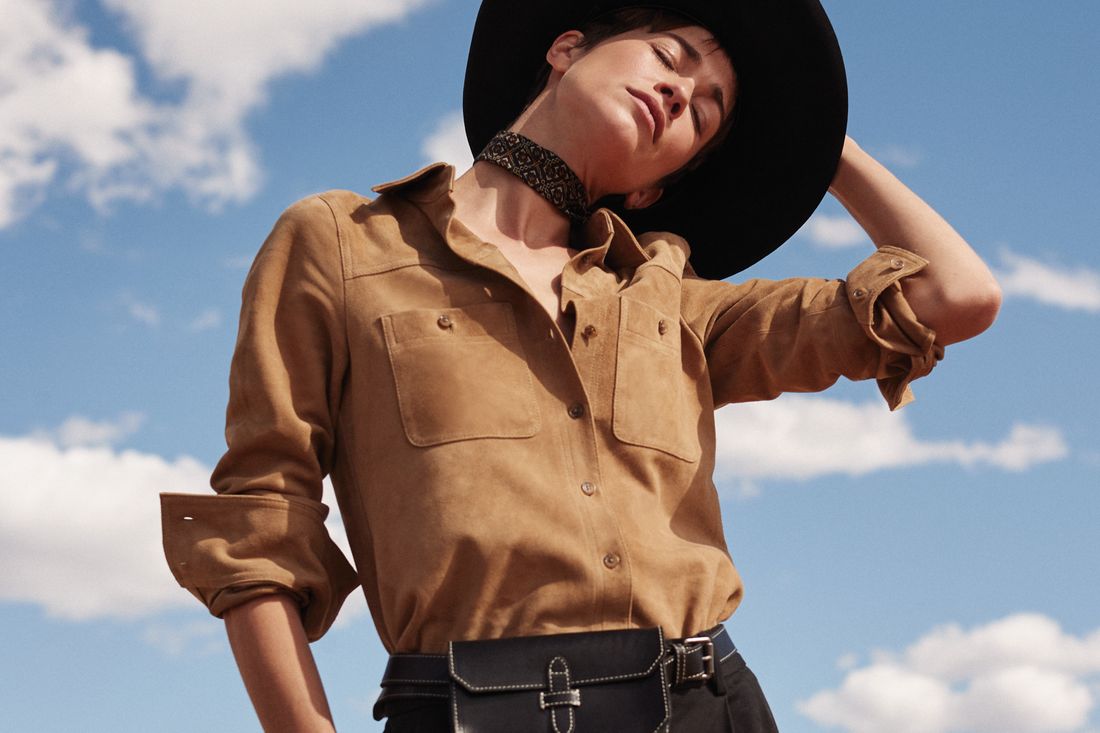 Resolved to spend the start of spring crawling out of the deep black hole that is your closet? Often, with the turn of the seasons comes an impetus to trade winter blacks and grays for something, well, not black or gray. But if bright blues, jewel purples, and hot pinks aren't exactly your thing, rest assured: You can still add color to your closet without feeling like a traffic cone.
The best way to start incorporating color into your spring looks is with earth tones like muddy browns, terracotta reds, creamy beiges, and celery greens — most of which you can mix and match to your heart's content. In fact, earth tones are so neutral-adjacent they almost make it feel like you're not even wearing color at all.
Camel Button-Down Shirt
This '70s-inspired utility button-down looks just as chic with an ultra-feminine maxi skirt as it does with your favorite straight-leg jeans.
Olive Midi Dress
Totême might be popular among the minimalists, but this olive green ribbed-knit dress is a great neutral-adjacent option for anyone looking to branch out.
Camel Wrap skirt
This asymmetric jersey cotton wrap skirt is so soft and lightweight, it could almost double as pajamas. (The camel color makes it perfect for year-round wear, too.)
Taupe Striped Maxi Dress
For the truly color-adverse, ease into spring with an airy cotton poplin maxi dress with a taupe stripe.
Ecru Floral Slides
Florals aren't inherently earth-toned, but Gucci's take on the trend includes a monogrammed motif in ecru, sage, and rose tones.
Turmeric Tee
A lettuce-hem baby tee might seem like the pinnacle of early-aughts realness, but nobody's telling you that you have to wear it with low-waisted jeans. (You absolutely should.)
Khaki Jumpsuit
Throw on a jumpsuit — like this khaki utilitarian style — when anything else just feels like it requires too much thought.
Sage Handbag
The intrecciato weave on this sage green bag from Bottega Veneta is the perfect shade for spring.
Terracotta Pants
Until it's time for shorts, these terracotta-colored cotton culottes are a solid warm-weather alternative.
Olive Sweater Tank
Layer this lightweight, sweater tank under your trench on chilly spring mornings — and wear it alone with jeans when it finally warms up.
Dusty Blue Sandals
Pair these dusty blue sandals with a coral jumpsuit for a color-blocked look that signals the start of spring.
Beige Cropped Blazer
London-based brand ROKH is known for putting a twist on the classics. This cropped, tie-waist blazer offers an easy way to incorporate earth tones into your tailored separates, too.
Khaki Handbag
The easiest way to incorporate subtle earth tones is with a chameleon of a crossbody bag. This one comes in a rich tawny shade that goes with just about everything.
This advertising content was produced in collaboration between Vox Creative and our sponsor, without involvement from Vox Media editorial staff.