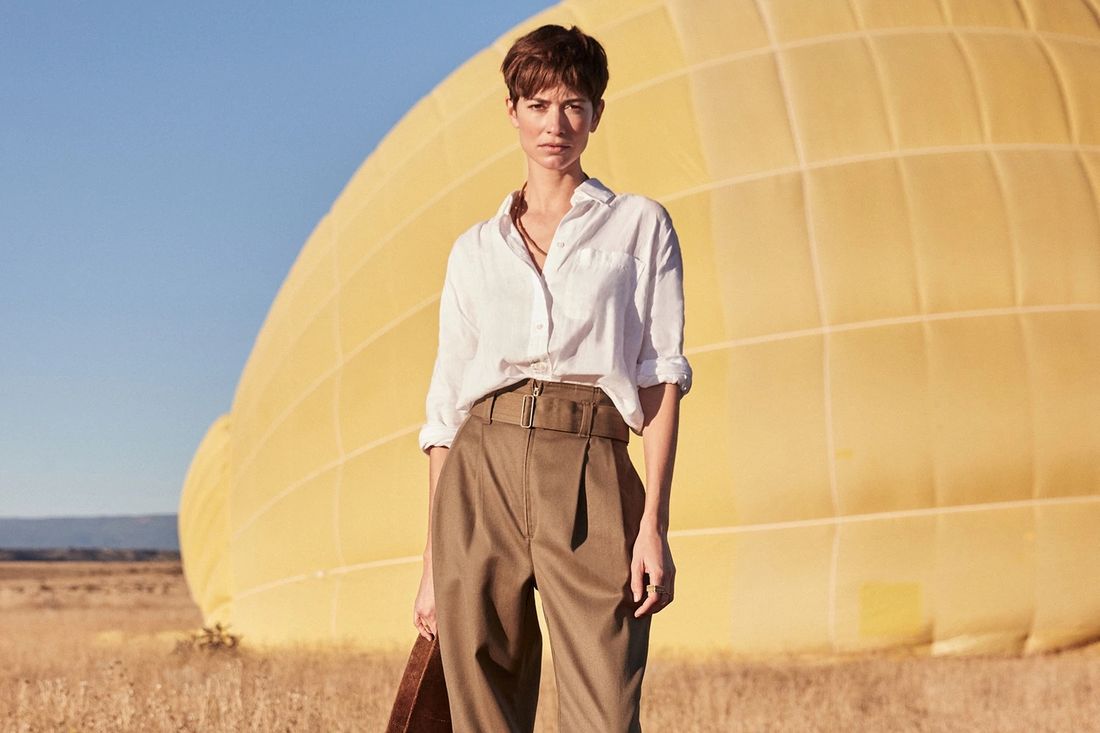 Say what you will about the ever-erratic first weeks of spring, but nothing brings a renewed motivation to get dressed in the morning faster than mellow sunshine and a near-zero chance of frost. While you may not be ready to tuck away your heavy layers for good just yet, it's officially time to prep your wardrobe for warmer days ahead. Whether your spring and summer plans include a beachside trip abroad, an alfresco date night, or just a few commutes into the office, linen should be your go-to fabric of the season.
The best linen pieces for spring are ones that lend an airy, effortless vibe — so effortless, in fact, you might not feel like you're wearing anything at all. Made from the fibers of the flax plant, linen is breathable, durable, and it gets softer over time, making it a smart choice for warmer, stickier weather.
Ease into the new season with a tailored linen blazer, like one from Banana Republic's new spring line, or commit to comfort with a body-skimming A-line maxi dress.
The Midi Dress
There are few things that scream "I'm breezy" like an A-line linen wrap dress. Wear it with heels for a visit to the office or with ballet flats for a daytime date.
The Midi Skirt
This charming pleated scalloped midi skirt is made from a crisp and breathable linen blend — and it's the pinnacle of femininity.
The Sweater
You'd be hard-pressed to find a springtime sweater that's both lightweight and warm, but this linen-blend crewneck is the best companion to your jeans until true T-shirt weather shows up sometime in June.
The Matching Set
Sure, you could lounge around the house in this checkered linen set, but why keep this eye-catching duo to yourself? Wear each piece on its own for a more subdued look or pair them together if you want to make an entrance.
The Mini Dress
The drop-waist on this spaghetti-strap dress — which is crafted from a lightweight cotton-linen blend — makes it feel that much more special than a regular mini dress.
The Oversized Shirt
Everyone has that one piece in their closet that just happens to go with everything. This is it. The loose, oversized fit makes it a great makeshift jacket for cool spring nights ahead, but until then, give it the half-tuck treatment with your favorite pair of jeans.
The Occasion Dress
Who says linen can't be fancy? This striking off-the-shoulder dress from Colombian designer Johanna Ortiz is made for any beach wedding on your calendar.
The Trousers
Even if you're not planning a trip to Ib-i-tha this summer, you can still look the part with this bright trouser. Size up and wear it with a silk bandeau for more of a '90s vibe — or keep your usual size and pair it with a button-down for more of a toned-down look.
The House Dress
If "doesn't touch my body" is on your list of must-haves for warm-weather clothing, look no further than this body-skimming scoop-back dress from Another Tomorrow.
The Blazer
A linen suit jacket — especially one like this double-breasted style with a darted waist and relaxed lapel — is the perfect springtime topper. (The silk lining and hidden interior pockets are just a nice bonus.)
The Maxi Dress
"Crinkle-finish linen" is fancy talk for "pre-wrinkled," so throw this bright halter dress in your tote bag after a long day beach day to head straight to après-surf drinks. Throwing anything else on a warm summer day just feels wrong.
The Tank Top
Forget your favorite white tee. This romantic lace-trim top is about to be your new go-to spring staple.
The Floral Dress
Perfect for the office, the farmer's market, date night, a weekend errand run — try to think of a place where you can't wear this floral wrap dress. (Just wait until you see the matching petal-shaped buttons along the cuffs.)
This advertising content was produced in collaboration between Vox Creative and our sponsor, without involvement from Vox Media editorial staff.