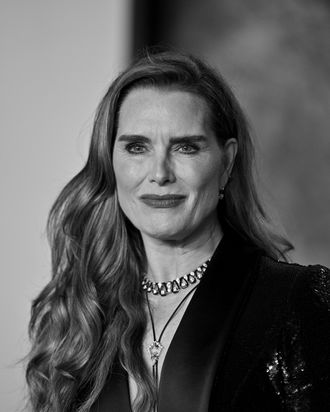 Photo: Lionel Hahn/Getty Images
In her upcoming documentary, Pretty Baby: Brooke Shields, the actress reveals she was sexually assaulted by a powerful Hollywood executive more than 30 years ago, People reports. At the time, Shields says she told only two people about the assault because she feared that no one would believe her, she explained to People. "People weren't believing those stories back then," she said. "I thought I would never work again."
Shields told People that when she was in her 20s, she had dinner with an unnamed movie executive, believing she was getting a film role. According to Shields, after dinner, the man suggested that she use the phone in his hotel room to call a taxi. When they got to his room, she says he assaulted her. "I didn't fight," she reportedly says in the documentary. "I just froze."
Shields said that, like many survivors of sexual assault, she blamed herself and questioned why she had not fought back. "I kept saying, 'I shouldn't have done that. Why did I go up with him? I shouldn't have had that drink at dinner,'" she says.
Shields said that she's sharing her story now because she hopes to help other survivors of sexual assault to not feel alone. "It's taken me a long time to process it," she said. "I'm more angry now than I was able to be then."
Pretty Baby chronicles Shields's life from the time she was cast as a child prostitute at the age of 12 in the movie Pretty Baby through today. The documentary was directed by Lana Wilson, who also directed Taylor Swift's Miss Americana, and will be available on Hulu on April 3.