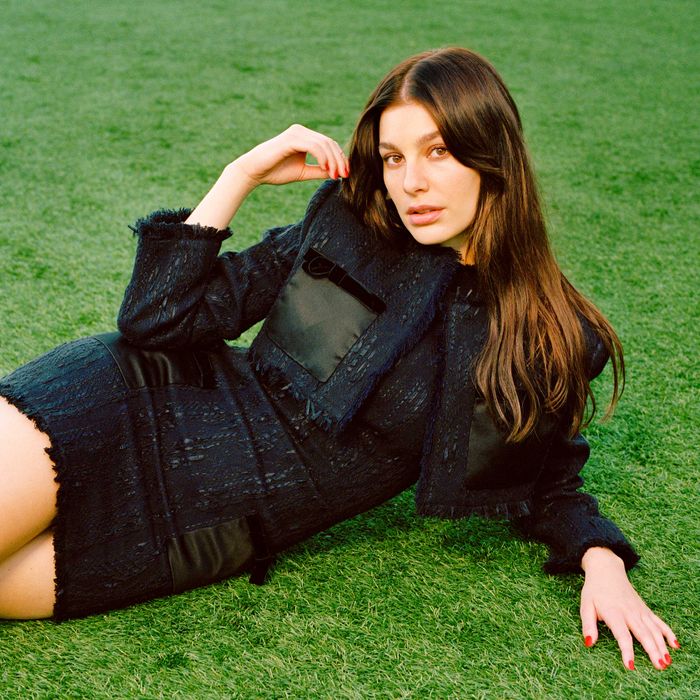 Winding through Laurel Canyon on my way to Beverly Hills is the closest I'll probably get to time travel. The historic neighborhood, with its bright, hand-painted signs calling for peace and love and charming Spanish- and cottage-style houses, was the epicenter of '60s and '70s counterculture. A one-time home to Joni Mitchell, Frank Zappa, Mama Cass, and Jim Morrison, the Canyon leads to Sunset Boulevard, which is currently plastered with billboards for Daisy Jones & The Six. The décor is fitting: the area figures heavily into the series adaptation of the popular novel by Taylor Jenkins Reid, which follows the origin, come-up, and downfall of a fictional '70s rock band with Fleetwood Mac levels of fame.
A few miles southwest, and about five decades through time, Camila Morrone, who stars in the series, strides through the doors of a Beverly Hills café. Flanked by two large, blond dogs, she introduces herself as Cami and is dressed head to toe in black: a tiered maxi dress, a chunky leather belt accentuating her waist, Adidas Gazelles, a cashmere sweater covered in dog hair (courtesy of her shedding rescues, Jack and Sally), and a quilted Chanel hobo bag.
"What can I get you to drink? You're meeting me at my local coffee shop!" she insists. We strike up a deal — I'll watch the dogs while she gets the coffee. This seems more than amenable to Jack and Sally, who plop down on the floor, unbothered. She returns with our iced beverages despite the frigid 59-degree weather, which, by L.A. standards, may as well be sub-zero temps. "Cheers," she offers, clinking our plastic cups.
We had initially planned to meet near the Canyon for a hike, but Jack and Sally were eager to be taken on "a quick walkie," one of the everyday tasks Morrone relishes when she's not traveling for work. She points out a flower shop next to the café and proceeds to gush at how "gorgeous" and "endearingly staged" the floral arrangements are in the boutique.
Although she's clearly settled in Beverly Hills now, Morrone, 25, has called all corners of the city home. This deep familiarity with L.A. is a by-product of having divorced parents who came to Los Angeles from Argentina shortly before Morrone's birth and raised her everywhere from the West Side to the Valley. "I was never able to have a base anywhere or a solid, consistent group of friends. That was hard for me," she says between sips of her iced matcha latte. "Growing up, I had a little bit of jealousy toward the kids that had known each other since pre-K."
Perhaps that was a blessing in disguise: The constant upheaval of her childhood is what helped Morrone acclimate to her unpredictable line of work, leading her to eventually star in indie films like Never Goin' Back and Mickey and the Bear. "It is what prepared me for the lifestyle of a nomad, picking up and relocating, and picking up and relocating, which I actually enjoy because it makes me feel like a citizen of the world," she says. As someone who has worked professionally since her early teens, Morrone emphasizes the importance of having financial independence as an adult. While her Daisy Jones character takes agency over her life in a way that will surely be controversial to fans of the book, for the actress, feelings of "empowerment" arise from making her own decisions about the roles she auditions for, the friends she surrounds herself with, and running her household. "Believing in myself gives me that feeling of, Wow, maybe I can achieve the things that I want to achieve."
Soon after our meeting, Morrone will take off on yet another grand adventure. First, she'll travel to London to begin the press tour for Daisy Jones & The Six. Afterward, the cast — which includes Riley Keough, Sam Claflin, and Suki Waterhouse — will continue onto L.A., New York, and Austin for South by Southwest. "I have the jitters," she says of her impending trip. "It doesn't stop until the finale of the show." (Unfortunately, Jack and Sally will sit out the tour; Morrone's friend will dogsit in the interim.) In spite of her nerves, she is overflowing with excitement at the thought of reuniting with her castmates, who haven't all been in the same room together since filming wrapped. The group is used to digital communication, though; after filming was shut down by the pandemic, the crew kept in touch via WhatsApp. "If someone peeked into this group chat … there's some content," she says coyly, likening the group dynamic to that of adult summer camp. "We were like hyenas, laughing uncontrollably. No one could focus. It's like when you put all of us together in a room, we just get the giggles."
Morrone's character — also named Camila — is not a member of the titular Six, but she is the nexus of the band. "Daisy is the flashier character," she says of her foil, played by Keough, "but I really found this beauty in Camila that was palpable and powerful. This woman was soft spoken and consistent, but had a real impact on people." As the wife of the Six's front man, Billy Dunne (Claflin), Camila spends much of the series in her husband's shadow, supporting her partner's creative endeavors while working to make her own name as a photographer and taking up the mantle of less glamorous responsibilities. Morrone doesn't have to look far to draw inspiration for the character: last summer she was subject to much scrutiny after ending a years-long relationship with a titanically famous boyfriend. When asked about the obvious parallels, Morrone remains diplomatic. "With any character that I play, I try to bring what I know from my real life," she says. "That's the main thing that I learned in acting class, how to tap into moments in your life that were impactful. So I don't think it's any different for Camilla, I just tapped into what I knew. I do see her as incredibly independent, despite Billy being a rock star."
Today, Morrone can't help but feel like she's on the precipice of something big. Maybe it's because this time tomorrow she'll be en route to London to promote her first major show, backed by every publicist and advertiser in Amazon's arsenal. But perhaps it's something more universal that comes with age. "I've never learned so much as being 25 years old," she says. "I am just starting to feel like a woman. But I also feel little in a lot of senses." (It's no surprise that her taste in literature reflects this theme: She is looking forward to reading Milk Fed by Melissa Broder on her flight and hopes to tackle Ottessa Moshfegh's My Year of Rest and Relaxation when she finds a free moment in her increasingly busy schedule.)
Jack and Sally are attracting far more attention than their owner, with passersby rubbernecking to catch a glimpse of the two beautiful dogs splayed out on the tile floor. "This is what I like to call a foster fail," Morrone says, thrusting her chin in the direction of her pups, whom she adopted early in the pandemic. "I really did not foster them with the intention of adopting them … Here I am with two Siberian Huskies." As we prepare to part ways, Morrone glances down at Jack and Sally, who are resting at her feet. She coos and snaps a few photos before she stands to her feet. It's time for walkies.