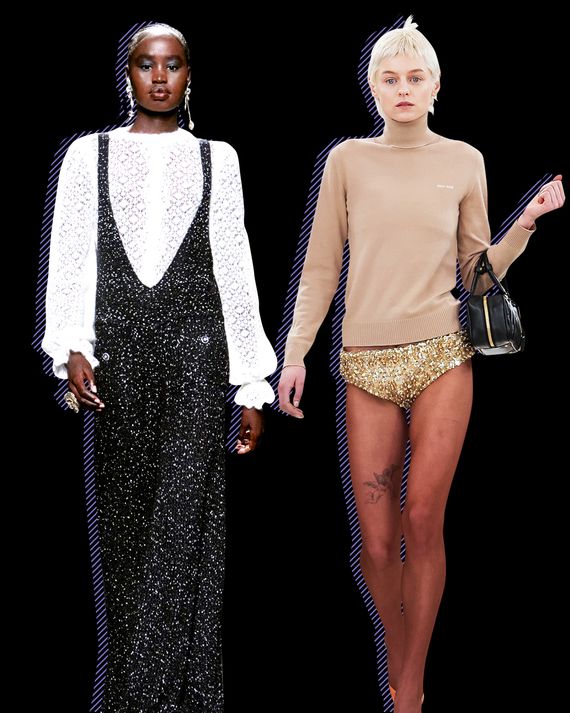 From left: Chanel, Miu Miu
Photo-Illustration: by The Cut; Photos: Courtesy of Chanel, Miu Miu
Designers often like to hide their clues about a collection in plain sight. Think of the bunches of white lilies on Prada's runway for a show that drew on weddings. Or the chocolate-brown-spotted, pale-green carpeting at Bottega Veneta, based on a gelato flavor, for a collection about the Italian custom of parading. The secret to Virginie Viard's ultrasweet clothes for Chanel was also out front — in the giant camellia sculpture in the middle of her circular runway on Tuesday, the last day of the fall shows.
Not the camellia, per se, which has long been a Chanel motif, used as fashion trim and for packaging. Rather, the black-and-white video images of Nana Komatsu, a Japanese actress and model, played at the entrance to the show and then on the creamy petals of the sculpture. Created by the photographers Inez & Vinoodh, the video — about a Japanese girl in Paris — was based on William Klein's 1966 cult film Where Are You, Polly Maggoo? In a way, Polly was the original Emily in Paris. But who are Chanel's younger and aspirant customers more likely to think of when they see beautiful Nana in a black velvet shorts suit adorned with camellias? Dear old Polly? Or the popular Netflix series?
In that sense, Viard's show was clever. The storyline helps account for the girlish amounts of frippery: the overload of camellias on shoes, in knitwear designs, as an almost asteroidal explosion on a black bouclé jacket; the white feathery puffs that dot black jackets and sweaters; and the floor-dragging swags of tweed, which inexplicably hobbled some other suits. Viard has a stubborn fondness for shorts, however unflattering. This season, she offered not only culottes (which looked okay) but also bloomers and a tight version of Bermuda shorts, which is a harsh proportion. She also had wide-leg pants in quilted satin, which some women might find perversely cool in their boffo Chanelness.
Years ago, Karl Lagerfeld shocked his audience by putting Chanel jackets with black leggings — "Where are the pants?," people clucked. And later, he showed black boy shorts made of nothing more than stretch chiffon. Once on the body, you couldn't see anything underneath.
Today, no one could be shocked by the sight of a person in tiny shorts, like the beaded underpants, styled over pantyhose and with a plain turtleneck, that Miuccia Prada sent out at Miu Miu on Tuesday — on the actor Emma Corrin, among other star models. Yet there's a distinct sense that designers still want a shocked reaction. They might even get it because people don't remember anything anyway — unless they are in their 20s and the fashion is new for them.
My problem with Viard's style is that I feel like I'm missing the radical ethos of Coco Chanel. It's disappearing in the frippery and quirky looks. I get that she is charmed by very different things than what amused her predecessor and that she must also feed the beast of Chanel, which is believed to have annual sales of around $15 billion. But there's a danger, in the churning out of novel looks and asteroidal camellias, that you lose touch with the core of Chanel and what makes people, over the long run, admire it.
For the past three or four seasons, Miu Miu's takedown of classic sportswear — your basic bro khakis reduced to five-inch minis — has been incredibly influential. Prada and her design team wanted to make a shift, and the result was a collection that played with ladylike codes and, as well, some of Prada's skimmy and embellished slip dresses and underthings from the '90s.
That sense of the familiar served as a powerful agent in the show, especially with pieces like wide-wale corduroy jackets and knitted coats that looked oddly stiff and structured. (They were bonded or, in the case of the knits, stitched onto a material to give them body but little extra weight.) But, ultimately, the designs weren't as refreshingly bold as those of recent Miu Miu collections. Plus, the molded technique used for mundane garments like hoodies and cardigans is associated with Loewe and Balenciaga.