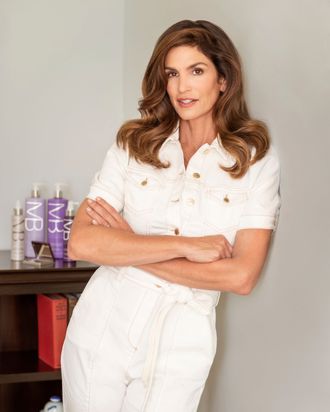 Cindy Crawford isn't one to gatekeep her beauty secrets. The model and beauty entrepreneur, who started Meaningful Beauty with Dr. Jean-Louis Sebagh in 2004, has recently expanded the brand into hair care — anti-aging, to be more specific. After realizing her hair has changed with age, Crawford turned to the ingredient-focused brand to restore the luster in her hair. Instead of just products for masking grays, the line focused on scalp care, as well as repairing and strengthening.
The brand is less about fighting aging and more about "age maintenance," as Dr. Sebagh has dubbed it. Crawford describes it as doing what she can to protect her skin while restoring it. The concept, she explains, "felt chic and achievable, like cleaning your house and taking care of things."
Anti-aging for hair is really an untapped market; what made you decide to create products for specifically for the hair? What's the feedback been like?
I'm my own guinea pig. As women, we're prepared to get little wrinkles and grays. But I don't think we're prepared for the other changes that happen to our hair. That was a shocker for me. When I finally felt like I had a handle on my hair, like I could give myself a decent blowout, all of a sudden, my hair changed. A lot of it was after having kids, from coloring my hair and getting older. My hair was thinner, it was breaking more, more brittle. We went to our team and said that the same way we think about our skin aging, let's think about our hair aging.
I didn't think about my hair in my 20s. I could put a rubber band on a wet ponytail and I wasn't thinking about it breaking my hair. I would work out and blow-dry my hair every day, and now I'm trying to make a blow-dry last. I sleep with my hair pinned up. I don't want to abuse it any more than I have to. There are many days now where I just let it air-dry because my hair has some natural wave to it. When we brush it when it's wet, we disrupt that natural wave. So I'll use a wide-tooth comb and I won't really brush it out and that helps it keep its integrity. My hair takes about four hours to air-dry because I have a lot of hair. If I'm going out to dinner and I want to look slightly more polished or put-together, I can enhance a few curls.
There's been a huge resurgence of '90s beauty, from blowouts to supermodel makeup. What do you think about this?
Makeup artist Hung Vanngo always says, "Oh, you '90s girls, you love blush." Women do tend to resonate with when they first started experimenting with hair and makeup; that's their comfort zone. I try not to get too stuck, but at the same time, I know what I'm comfortable with. I pulled out my Velcro rollers again a few weeks ago because I wanted that style that only Velcro rollers can do. My husband's like, "I haven't seen those in a while." I always liked that kind of hair.
Is there any part of your routine that hasn't changed at all since then?
Neutrogena has a body oil that I put on sometimes, and that totally reminds me of being 25 years old in New York. My skin needs have changed. My workouts have evolved. We evolve. I've liked dry brushing for a long time. I started in my 20s and I'm more religious about it now than ever.
There's also been a lot of discussion around supermodels; how would you define a supermodel?
Well, I didn't define it. I remember when I first heard that phrase and I thought it was so silly: Do we wear capes and change in phone booths? No one in the industry would have used that phrase back then. What I would say now, since it's become such an accepted term, is that it means that you have that name recognition as well. It was unique in the '80s and '90s. We didn't have social media, we were just two-dimensional images on the covers of magazines. They didn't say your name, and people didn't know who you were. The few women that were able to break out of that and people knew their names and were interested in what they were doing, who they were dating, and what they were wearing, that was much harder to break through 30 to 25 years ago.
Do you have any beauty hacks or secrets you do?
Someone got me on to tongue scraping; you have to do it first thing in the morning, don't even drink water. I do my tongue scraping, my dry brushing. I do the sauna and then I'll do the cold plunge maybe once a week because I hate being cold. My husband goes in for three minutes, but you feel like an endorphin rush after you do the hot and the cold.
Skin really is all about stuff that we know but just doing it. I always say put on sunscreen; that's why our moisturizer has SPF in it, you don't even have to think about it you're covered. I wear a hat, I don't smoke, and I try to drink enough water. Consistency over time makes the biggest difference.
Setting realistic goals and having consistency over time is what you notice over the years. With food, I try to be 80 percent good, 80 percent of the time. I'm not going to say I work out every day; I try to work out three to four days a week, and some weeks I don't even get that.
Even when my kids get overwhelmed, I tell them when you're cleaning your closet or house, you don't start with the hardest thing. Start with one small thing, and when you do that, that gives you the confidence to tackle the next thing. I do that in all areas of my life.