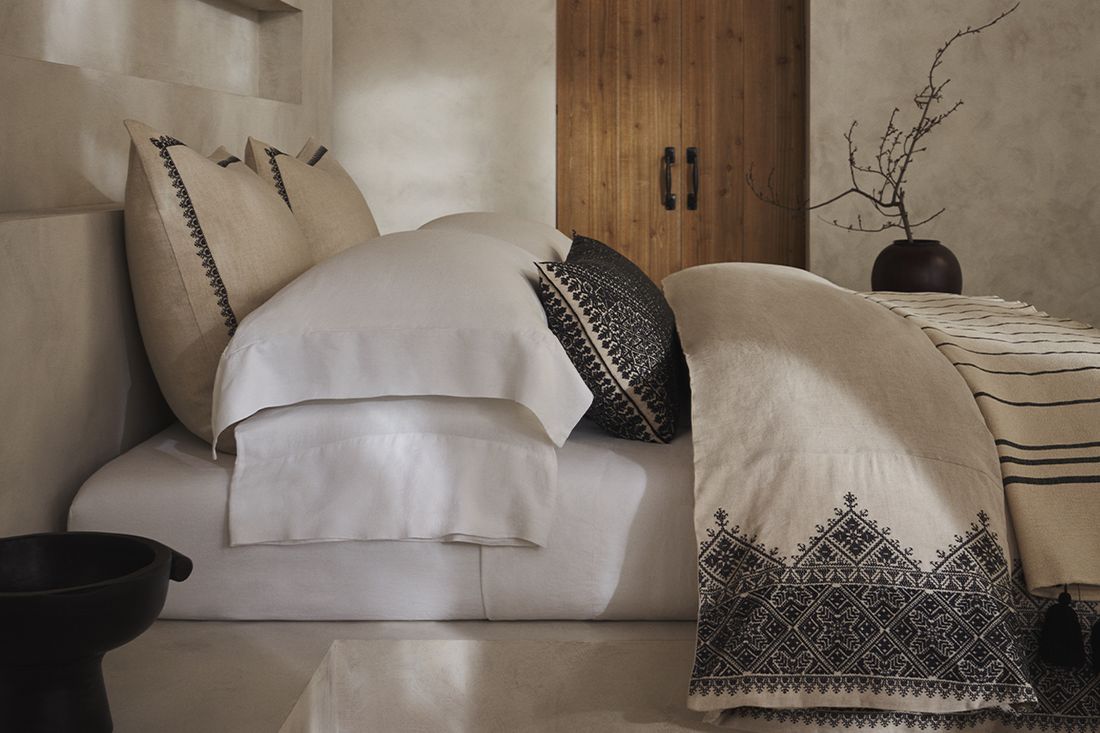 Ever take a look around your space and feel stuck? Whether you're a renter or you own your home, making changes can feel overwhelming — especially when an entire overhaul is too expensive and timely to consider. But your home should be your sanctuary, and just a few stylish upgrades can be the difference between cluttered and curated.
These luxe home decor finds span furniture, soft goods, lighting fixtures, and other trinkets and are guaranteed to make your space feel that much fresher — just in time for spring.
Moroccan Rug
This hand-knotted Moroccan rug offers such a stunning foundation that it almost won't matter what the rest of your bedroom looks like. Made from natural, un-dyed wool, each rug is crafted by artisans in the Middle Atlas Mountains of Morocco. Layer it over carpeting for a quick fix — or take the weekend to uncover the laminate underneath.
Unique Vase
Maybe you didn't have a borosilicate glass vase inspired by the life stages of a snail (yup — seriously) on your must-buy list. But you absolutely should.
Bouclé Daybed
The iconic Barcelona tufted daybed is great and all, but this bouclé-and-burl style is an unexpected and modern addition to any living room or study.
Elevated Glass Set
You'd be surprised how much better it feels to drink out of a cup that resembles a piece of art. You can also repurpose one as a makeshift rosebud vase, too.
Linen Pillows
Sure, this heavyweight linen pillow is technically made for the bed, but the refined, garment-dyed taupe hue can make any couch or daybed look that much more indulgent.
Bauhaus Toilet Paper Holder
Maybe you've never thought twice about your toilet paper roll. (If so, more power to you.) This Bauhaus-inspired one will upgrade your powder room in seconds.
Linen Curtains
If you've yet to upgrade your window treatments, say hello to your new weekend project. These semi-sheer natural flax curtains let light in while providing a natural hint of dreamy luxury to any room.
Playful Stool
Ditch the cheap foldable step stool that's shoved in the nearest corner. Instead, keep this Konstantin Grcic-designed style next to your closet for hard-to-reach items. (And when it's not in use, add a vase with fresh florals and it becomes a makeshift nightstand.)
Arched Headboard
Ditch the dust collectors that are you nightstands for this two-in-one headboard and watch the way your entire bedroom transforms.
Linen Sheet Set
Linen sheets are a warm weather must-have thanks to their cooling effect, but this taupe hue adds a hint of delightful warmth, too. (Even more: The luxe natural texture only gets better with every wash.)
Rattan Basket
For the love of all things good, please hide your wires.
Pendant Light
Recess lighting is great, but why not design your dining area more intentionally? This large-scale pendant light is crafted from recycled water bottles, and is made to evoke a dress mid-twirl.
Coat Rack
Have a small space with no room for a coat rack? This wall-mounted hook trio offers an artful solution.
Linen Duvet Cover
Don't stop at the sheet set. A matching duvet cover completes the bed — and makes even the most cluttered room feel put-together. For that lived-in effect you see in magazines, crumple the duvet in arbitrary sections after it's on the bed.
Checkered Bath Mat
Stop putting down a ratty towel every time you take a shower and indulge in a cushy (and machine-washable) bath mat instead.
This advertising content was produced in collaboration between Vox Creative and our sponsor, without involvement from Vox Media editorial staff.