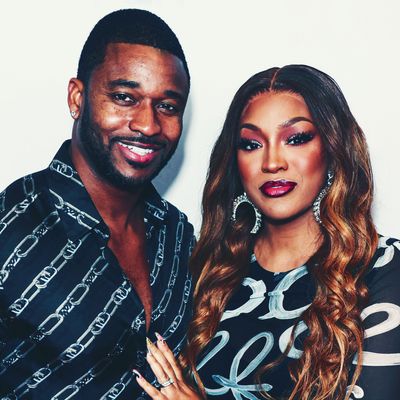 Photo: Image Press Agency/NurPhoto/Shutterstock
When news that Ralph Pittman had filed for divorce from singer and Real Housewives of Atlanta star Drew Sidora broke on Wednesday, fans were confused and upset: How could it be that Pittman, who has become all too famous for talking over Sidora, belittling her and regularly dismissing her concerns about their relationship, was the one who filed for the divorce?
Fortunately, TMZ obtained the divorce petitions from Gwinnett Co. and later reported  that the court stamped Sidora's filing at 1:10 p.m. on February 27. Pittman's was apparently stamped at 2:11 p.m. on the same day, meaning Sidora technically filed first —  a huge relief to Bravoholics everywhere.
Per Us, in her filing Sidora accuses Pittman of being a "serial cheater and adulterer" who "allowed his multiple paramours to have direct contact" with her to "flaunt" his affairs. She also alleges that, while married, she considered "filing an application for a Temporary Protective Order" and taking their kids to Chicago, where they "could feel safe." The couple has been married since 2014 and has two children together. Sidora also has a son from a previous relationship. She also alleges that Pittman was "financially abusive" throughout their marriage and that he recently withdrew a "large sum of money" from her bank account.
"For three years, the Pittmans welcomed millions of viewers into their home as they struggled to repair their marriage," a representative for the couple told Us. "Despite undeniable differences, they agree that their marriage is irretrievably broken and are going their separate ways."
Online, RHOA viewers said they were sad that a marriage was ending but relieved that Sidora could move on from what was visibly an unhappy marriage. The series showed the couple going to therapy and trying to work through their issues, which largely revolved around Pittman's confusing communication style, which many fans viewed as simply gaslighting. In one episode of the show, Sidora called Pittman out for a text message he'd received from his assistant offering to give him a massage. Instead of addressing Sidora's concern, he said the massage was for his back pain. In another instance, he went on a three-day trip to Tampa without telling anyone in his family. Over two seasons, anytime Sidora raised concerns about their relationship, he would find creative ways of making the problem her fault, often leaving her in tears.
Sidora previously said that she and Pittman often experienced the "high highs and the low lows."
As always, Housewives fans are left wondering: Were cameras rolling?