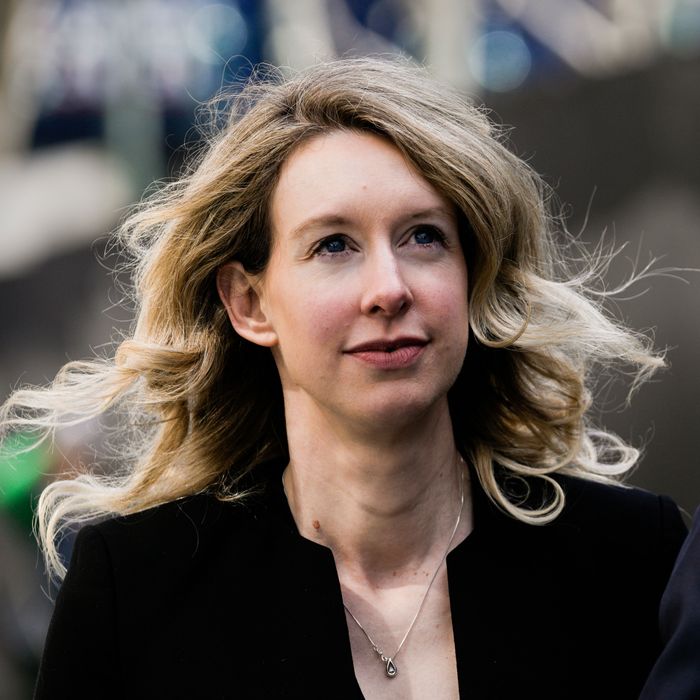 Elizabeth Holmes
Photo: Philip Pacheco/Getty Images
A very long prison sentence apparently isn't the only problem blood-scammer Elizabeth Holmes faces these days: According to CNBC, she may still owe upward of $25 million to creditors for her failed company, Theranos. The outlet reports that a lawsuit accusing Holmes of executing three unpaid promissory notes surfaced on Friday while the disgraced founder was in court, trying to sidestep the penalty for her fraud conviction.
"A man holding the lawsuit approached Holmes at her attorneys' table inside the courtroom," CNBC said. "The man, who increasingly grew agitated, was removed by marshals. It could not be immediately confirmed if he was a process server trying to serve the suit on Holmes."
The promissory notes reportedly came to $9,159,333.65 in August 2011, $7,578,575.52 at the end of that year, and $9,129,991.10 in December 2013 — all when Theranos was still seen as a promising start-up. A decade later, the complaint alleges, "Theranos ABC [a company representing Theranos creditors] has demanded payment of Promissory Note No. 1 and Promissory Note No. 2 from Holmes, but Holmes has failed to pay any amounts on account of Promissory Note."
As a quick reminder, Holmes founded Theranos in 2003 while still a student at Stanford; by 2015, the company was valued at $9 billion. She claimed to have created a device that could complete a suite of tests with just one drop of blood, a promise that stood to revolutionize lab analysis but ultimately proved hollow. The machines didn't work, and knowing this, Holmes and her business-partner-slash-lover, Ramesh Balwani, enlisted third parties to stage blood tests for investors. The wheels fell off in 2018, when prosecutors charged Holmes with 11 counts of criminal wire fraud. In January 2022, after repeated delays due to the pandemic and Holmes's first pregnancy, a California jury found her guilty on four counts of fraud. She was sentenced to over 11 years in prison that November, and the following month, she appealed the conviction. She also asked to remain free during the proceedings on grounds that she was not a flight risk — despite that one-way ticket to Mexico she booked for January 2022.
Since that filing, Holmes has given birth to a second child, which her attorneys are now citing as another reason she should be allowed to defer the beginning of her sentence (scheduled to start on April 27). She was in court to make her case when the man with the lawsuit showed up on Friday. According to CNBC, Theranos's board of directors already issued extensions on the promissory notes in 2016, when the first two were originally supposed to be paid, but Holmes never came through. Those signed in 2011 would've been due in 2021, while the third one comes due in December. On top of all that, Holmes is trying to get out of paying the $900,000 in restitution prosecutors are asking. Meanwhile, as the tab grows and her sentence looms, prosecutors say Holmes and her husband (hotel heir Billy Evans) have been living in a home on the grounds of a $135 million Silicon Valley estate, the monthly upkeep of which is estimated at $13,000.