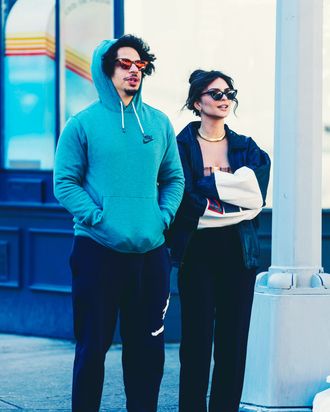 Valentine's Day is a full month behind us, but some of us are still recovering from the havoc wreaked by an annual day of romance. Personally, I had an uneventful February 14, but one image from the day has remained seared in my brain: those photos of Emily Ratajkowski and Eric André, who appeared to confirm their relationship by documenting one of their recent hangs.
In the pictures, André reclines joyously on a miniscule velvet loveseat, his nude body censored with a heart emoji, a stemless wineglass clutched in his right hand. Ratajkowski can be seen taking the photo in an enormous trifold mirror set up behind André's couch. On the carpet between them are discarded, inside-out clothes, an open bottle of wine, and another stemless wineglass.
While these images did provide some insight into this duo's relationship status, they left me with a more general sense of confusion. Why, exactly, is the furniture arranged like that? Did they stage this tableau of chaos during a tipsy naked evening? Who curated this art? And why is that couch so small?
The photo also raises the fundamental question of whose apartment this is. Although the haphazard furniture composition exudes the strong vibe of a straight male comedian's place of residence, a little sleuthing suggests otherwise. The bigger couch and coffee table reflected in the mirror look nearly identical to those previously photographed in Ratajkowski's house in L.A., and the love seat, mirror, and lamp pictured behind André have previously appeared in photos of her homes.
I'm not entirely sure what to take away from this diptych — beyond a warning for all of Ratajkowski's future houseguests to sit on her couches at their own risk. Thankfully (or not, depending on your tolerance for this energy), André explained the context of the photos in a recent interview with Rolling Stone. To give you a general sense of the interview's vibe, when André was asked about the relationship, he responded: "I don't kiss and tell, bro!" [Takes a whippet.]
When asked specifically about the photos, he explained:
I was really in the moment. I was drinking wine, she started dying laughing, and she was like, 'I have to take a picture of this.' She took the picture, we both started cracking up, and she was like, 'This is iconic.' She kept saying 'iconic.' We both agreed this was a beautiful image that we had to share with the world.
When the reporter likened the photos to Titanic's romantic painting scene, André added, "Art is not intellectual; it's primal. It has to speak to your hormones as much as it speaks to your mind. The beauty of that was the spontaneity."
One thing is clear: This is a celebrity hard launch I'll never forget.