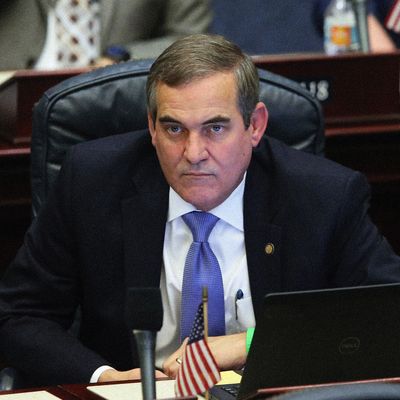 Florida lawmakers don't want girls to talk about — or, apparently, learn about — their periods. Not only do Republican leaders in the State House of Representatives not want teachers to educate students about menstruation before the sixth grade, they also want to prohibit elementary-school students from having any conversations about periods during the school day, as outlined in a new bill.
The bill says that education about sexually transmitted diseases and human sexuality, which includes menstrual health, can only begin in sixth grade. The bill would also require schools to teach that "sex is determined by biology and reproductive function at birth" and that "these reproductive roles are binary, stable, and unchangeable," as reported by the Washington Post.
In a recent committee meeting, Ashley Gantt, a Democratic state representative, pointed out that girls often get their periods before sixth grade. She asked Stan McClain, a Republican who is championing the bill, to clarify if the new bill would prevent these girls from talking about their experiences at school. "If little girls experience their menstrual cycle in fifth grade or fourth grade, would that prohibit conversations from them since they are in a grade lower than sixth grade?"
McClain responded, "It would."
As Gantt pointed out, many girls get their periods before sixth grade. Keeping them from talking about their menstrual health promotes stigma and shame about their bodies while limiting their education. It could harm their personal health. Effectively censoring students' freedom to talk about their bodies is just Florida's latest effort to politicize girls' and women's bodies and limit their autonomy. The bill aims to rewrite Florida's sex-education curriculum and is part of the broader effort by Governor Ron DeSantis to curb what he describes as "woke ideology." It comes after the Florida High School Athletic Association tried to pass a rule that would force athletes to submit their menstrual histories to the state and weeks before the Republican-led legislature is set to vote on a bill that would further restrict the state's abortion ban to six weeks of pregnancy, which would prohibit abortion before many women even realize they are pregnant.
NBC reported that Gantt also asked McClain if teachers would be punished if they talked about menstruation with students below sixth grade, saying, "My concern is they won't feel safe to have those conversations with these little girls." McClain said "that would not be the intent" of the bill and that he is "amenable" to some changes to the language in the bill, but he did not provide any clarity about what the intent is.
"This bill is hurtful and broad, creating more problems than it solves," said Fentrice Driskell, a Tampa Democrat and the House minority leader, per the Tallahassee Democrat. "A young girl's body, and how it functions, are not a shameful dirty thing. They are part of life and the legislature shouldn't be creating more confusion and shame around it."