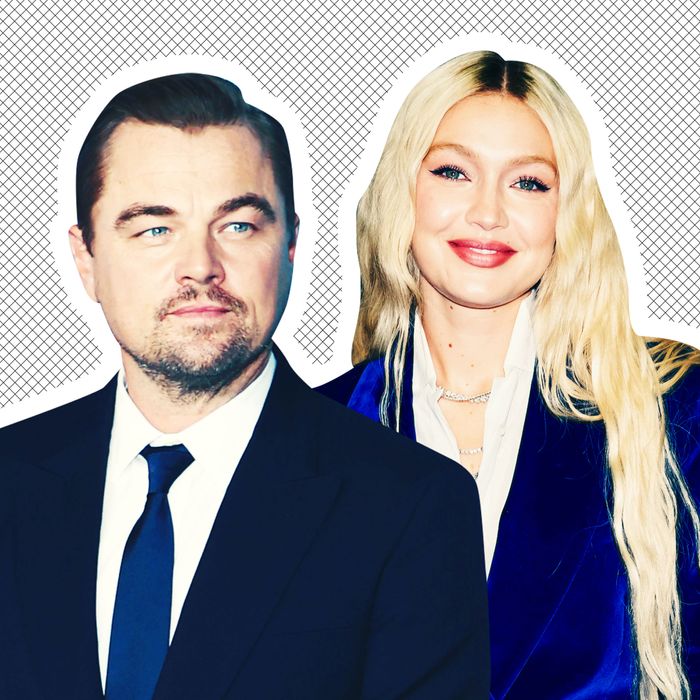 No!
Photo-Illustration: by The Cut; Photos: Getty Images
The tabloids are testing me. They are trying to make Leonardo DiCaprio and Gigi Hadid happen again, offering up anecdotes about the actor and the model attending the same event and passing them off as evidence the pair is rekindling a relationship that never was. A weird thing to do considering that whatever connection may have flickered between these two "fizzled" out months ago. Why are the publicists so obsessed with them? Will we never know peace?
Unlikely. Exhibit A: During Fashion Month, TMZ ran photos of Gigi and Leo "leaving the same place while overseas." "Page Six" similarly suggested this outing demonstrated that "the pair are still seeing each other — at least as friends. An important caveat, because while the place Hadid and DiCaprio were seen leaving within a few minutes of one another in late February was Milan's Casa Cipriani, and while these two do seem to love a Cipriani, the reason they were there was not "an intimate date," as one "Page Six" photo caption asserted. No, they were there for "a massive group dinner celebrating Edward Enninful's birthday." Also on the British Vogue editor-in-chief's guest list? Kendall Jenner and Dakota Johnson, according to both outlets. Cute!
Still, the sources are saying that Hadid and DiCaprio were interacting amicably until they realized the paps had noticed them; at that point, TMZ reports, Hadid attempted to hide behind her bodyguard. I cannot blame her for that because any time they enter into the same enclosed space, gossip magazines start spinning the same narrative. Exhibit B: "An insider tells People the two were spotted together at Darren Dzienciol and Richie Akiva's pre-Oscars party" on March 10. "Leo and Gigi were tucked away in a tented area trying to stay low key. There was no PDA, but they were together nearly the entire night and barely moved from their spot," one of People's sources reports. Meanwhile, another (whom I am inclined to trust more) countered with "The two were in a group of over a dozen people in the VIP section who were hanging out." Who else was at the party? "Baz Luhrmann, Wiz Khalifa, James Franco, Robin Thicke, Eiza González, Tyga and Tobey Maguire," per "Page Six."
Sounds like they were "together" in the literal sense of being in the same place at the same time, which doesn't feel like particularly novel behavior for two celebs. And yet we have been trapped in this news cycle since September, when the gossip magazines started talking about how our guy had "his sights set on Gigi," even though she hadn't "shown an interest." Nonetheless, the tabloids started shipping them, going so far as to float the label "DiGi." But were they dating? Please feel free to review these pics of them speaking to each other during a party at Soho's Casa Cipriani, and separately leaving the same Paris hotel during fall Fashion Week, and existing at the downtown Cipriani with a third person; you can judge for yourself.
True, DiCaprio is said to have taken a party bus to a Brooklyn Halloween party with Hadid and some of her friends in October, and to have worn a "scary mask" for the occasion, which sounds a little more compelling than the rest of the would-be evidence. But then, Hadid did not attend her alleged love interest's 48th birthday party two weeks later, so truly who knows. It also feels notable that someone in the Oscar winner's camp (perhaps DiCaprio in his "scary mask"?) has spent the past couple of weeks grousing to the tabloids about how unfair it is that he has this reputation for only dating women who are younger than 25, even though — statistically speaking — the man certainly does seem to have a preferred demographic. But whereas the model DiCaprio was seen dining and partying with the day before Enninful's birthday dinner, Josie Redmond, is 21, Hadid will be 28 in April, thank you very much.
Anyway, I will grant that these two had a lot of overlap for two people who weren't hanging out. Yet it seems possible to me that one of these people persistently pursued the other for a couple of months, and ultimately it didn't go anywhere. ("She just decided that she was done with him," someone explained to People of the ending.) But dating as in romantically together in some sort of semi-official capacity? Please leave me alone!
This article has been updated.