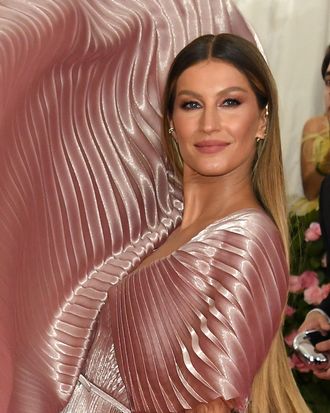 Photo: Jennifer Graylock/PA Images via Getty Images
Gisele Bündchen is back in Costa Rica with her jujitsu instructor, Joaquim Valente. A month after the two were seen in Brazil celebrating carnival together, People reports they were spotted on a walk on Monday. In the new pics, Bündchen is wearing a bikini top and skirt — not exactly workout clothes — fueling monthslong rumors that the two are more than just fitness partners.
Bündchen and Valente were previously photographed horseback riding in Costa Rica in January. Though the two refrained from any PDA, they definitely were not practicing jujitsu, prompting more speculation about the nature of their relationship. But sources who claim to know Bündchen have told People that she and Valente are just close friends.
"Gisele adores and trusts [Joaquim] and has been spending a lot of time with him, but I don't think it's a traditional dating scenario," a source told People in January. "They have a deep personal relationship, and he is a teacher to her and the kids. Whether or not it will ever become more than that rests on the table."
The two were first linked in November, shortly after she officially announced her divorce from Tom Brady, when they were reportedly seen grabbing dinner with her kids in Costa Rica. Sources were quick to shut down any romance rumors, with one of them telling People, "He and his two brothers are Gisele and the kids' martial arts teachers. They are not dating." Bündchen and Valente have been spotted together a few times since. A few weeks ago, they were photographed jogging together and seemed close enough to be sharing a pair of AirPods.
As Bündchen enjoys her friendship with Valente and rides horses in Costa Rica, her ex is settling into retirement. Since leaving the Buccaneers, he has been podcasting, experimenting with posting thirst traps, and reportedly considering a career in comedy. Maybe it's time for Brady to take a cue from his ex wife and just take a vacation.