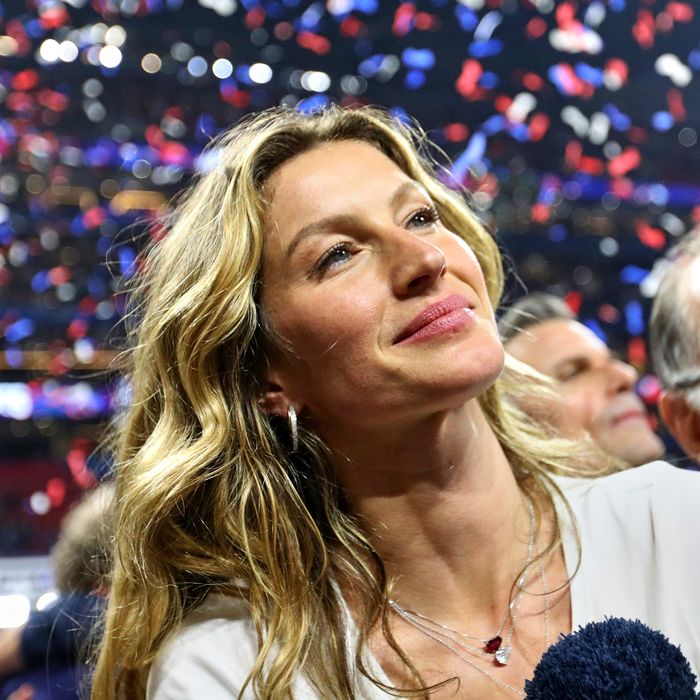 Prayer-hands emoji to football
Photo: Rob Tringali/Sports Illustrated via Getty Images
Since Gisele Bündchen filed for divorce from quarterback Tom Brady last fall, there has been this narrative floating around that she gave him an ultimatum — Me or football — and he chose football. According to this tabloid line, their marriage broke down in large part because one party refused to retire and instead committed himself to a game that not only threatened his neurological health, but also kept him from spending adequate time with his kids. According to this version of events, Gisele grew to resent her husband's sport — a ludicrous idea, she told Vanity Fair in a recent profile.
"Are you kidding me? I learned about it!" she said of football. "I used to joke that I was going to be able to be the ref because I've watched so many games. And I loved it."
For much of their nearly 14-year marriage, she was a steady and enthusiastic presence on the sidelines, cheering on Brady. But then came last season's opener, and Gisele's conspicuous absence, and the Elle cover story ("Gisele Rides Again") in which she encouraged Brady to "follow his joy." In that interview, the supermodel frowned on the idea that she was "desperate" for her spouse to retire for real, but said, "Obviously, I have my concerns — this is a very violent sport, and I have my children and I would like him to be more present. I have definitely had those conversations with him over and over again." At the same time, "I've done my part, which is [to] be there for [Tom]," she continued. "I moved to Boston, and I focused on creating a cocoon and a loving environment for my children to grow up in and to be there supporting him and his dreams."
"At this point in my life, I feel like I've done a good job on that," Gisele added. "I feel very fulfilled in that way, as a mother and as a wife. And now it's going to be my turn."
When the split became official in October, tabloid sources claimed that Gisele was "the one steering the divorce," and that the root problem was a ten-year-old disagreement over different priorities, i.e., too much football. But speaking to Vanity Fair, Gisele described the suggestion that she made her ex choose as "the craziest thing I've ever heard."
"Listen, I have always cheered for him, and I would continue forever," she insisted, confirming that she used to prepare him nerve-calming baths and bestow upon him protective stones ahead of big games. "If there's one person I want to be the happiest in the world, it's him, believe me. I want him to achieve and to conquer. I want all his dreams to come true." According to her, none of the reports have gotten their breakup right. "What's been said is one piece of a much bigger puzzle. It's not so black and white," Gisele told Vanity Fair. "When you love someone, you don't put them in a jail and say, 'You have to live this life.' You set them free to be who they are, and if you want to fly the same direction, then that's amazing."
Some sources are saying that Brady now wants to fly back to his family. Having retired for good in February, he has begun posting underwear selfies and (reportedly) thinking about stand-up comedy, possibly in an attempt to win over Gisele … ? Who has mostly decamped to Costa Rica with her jujitsu instructor. Prayer-hands emoji to her!