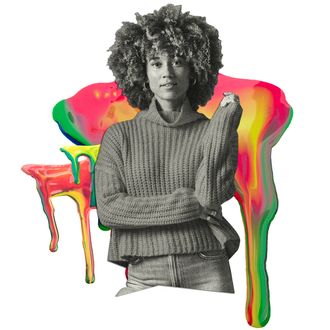 Photo-Illustration: by The Cut; Photo: Courtesy of Ally Love
As someone with five different jobs, every day is different for Ally Love. But there's an element of performance in everything she does, whether that's waking up before sunrise to lead a high-energy Peloton class, MC-ing a Brooklyn Nets game, or modeling for an Adidas campaign. Her latest gig, as the host of Netflix's new reality series Dance 100, is no exception. She describes it as a marriage of what she's done hosting for the Nets and the ESPY awards and Peloton. The show challenges eight choreographers to create sequences for an ever-growing group of dancers (including themselves), culminating in a final performance with 100 people. Onstage, Love has to be a one-woman hype machine — a role she's uniquely suited to as both a dancer and someone who motivates millions of people to spend 45 minutes sweating it out on a bike. "I wanted to be an energy provider," she says. "Even in rehearsals when there was no studio audience, I was that fan." The job is a marker of how far she's come since she was hit by a car at 9 years old and told she would never walk the same again. She lives in New York with her husband. Here's how she keeps her energy high for herself and others. 
On her morning routine: 
I teach morning classes, so I'll get up at 4:45 or 5 a.m. I don't press snooze, ever. The noise of hearing my alarm clock go off two to three more times puts me in a bad state. Then I hydrate right away. I have a really old-school water bottle beside my bed with one of those scrunchie straws that changes colors when you fill it up with cold water. On the days that I don't work out, I do my own routine to get myself mentally prepared. I light my Palo Santo or my candles, walk around and pray. Every morning I ask myself, "How do I want to feel today?" Some days I might be a little more quiet, other times I might say, "I want to be very productive."
On juggling several roles and projects:
It's great to have a routine, but I think it's even more powerful if you can find fluidity in that routine. There may come a point in the morning where having hot water with honey doesn't tickle my soul. If I keep asking myself questions, it puts me in a position to make the changes I need to. That being said, I am big on preparedness and thoughtfulness. I prepare my tote bag and pick out my clothes for the next day like I would if I was in fifth grade. I set up my week so that Tuesdays are my hard days, Wednesdays are easier, and Thursdays I try to be social. The more I can get ahead of what's coming up next, the better.
On managing anxiety:
A lot of my life is novelty. I'll do a press event where I'm on TV for the first time in a while, or I'm meeting new people and performing at the same time. I do get anxious about it the night before, so when I wake up I try to be active. I'm not only talking about working out; I'll listen to an audio book — I like self-help — or a sermon. I don't go on social media in the morning because that's passive. I don't want people dictating what I'm feeding my brain or my senses. I'd rather be controlling that narrative. I also anxiety bake. My husband and friends would tell you that I'm not the best baker, but they'd also say, "She tries!" I'm obsessed with baking bread. I want to have a signature recipe at some point that my grandkids can smell and say, "Oh, those are grandma's biscuits."
On what makes for a good ride:
In each of my favorite classes, there's a section that's really hard. The ability to push through safely, no matter how you're feeling, is empowering. I can be a perfectionist, but I bring a natural messiness to class. I noticed that people like the honesty when I say, "If you are feeling like you don't know if you can complete the next 20 minutes, I'm with you." I think that kind of vulnerability shows through the camera. I love when the music is telling a narrative so I don't have to. Songs like "Hold My Hand," by Jess Glynne, or "Came Here for Love," by Sigala, have words that put me in the zone and tell a narrative so I don't have to. A lot of Peloton parents have adopted something I say on the bike — "Yes or yes" — in their homes. I'll say, "Are you ready for this climb, yes or yes? Those are your options." So now parents will say at home, "Alright, are we ready to clean our room, yes or yes?"
On being recognized:
I've been teaching for about seven years. At first the classes were small. During the pandemic, there was an explosion of Peloton bikes in people's homes, so they became very connected to us instructors. I might be in London walking down the street, and someone's screaming, "Ally Love, I love your classes!" Or I might be in CVS picking up some cereal in aisle three, and homegirl's like, "You're Ally Love! I spend more time with you than with my parents!" It's refreshing and surprising. I do think for most folks who have some kind of public profile, there's a decompression that needs to happen. Quiet time is also important. When I'm on the train, I'll put my AirPods in and listen to spa music. If I'm in a car, I just sit in silence.
On influencing:
So this word has a bad rap. I do influence people, but I am very aware of what impact I can have. My social responsibility is important. I'm not saying that everything that I do is so structured and serious. I do things for a kiki all the time, right? I like to have fun and make a coin just like the next person. If someone wants to post thirst traps, there's nothing wrong with that. But when I do a partnership, I think about whether I can articulate why I've aligned with this brand. I don't post anything I wouldn't put in front of my grandma.
On the people who help her get it done:
Jordan, Hannah, and Christine, my agents at CAA, and Amanda, my publicist at the Lede Company, make my life much easier!
This interview has been edited and condensed for length and clarity.