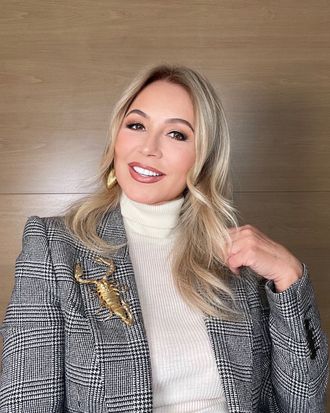 Anastasia Soare has watched the evolution of eyebrows over the years: from super-skinny in the early aughts to, now, defined and feathery (thanks to trends like lamination and microblading). She's followed beauty trends so closely that in 2000 she made a product that defies them: the Anastasia Beverly Hills eyebrow pencil. Over the years, she has expanded on this product and built an eyebrow empire, which includes pens and pencils to perfect the shape and highly pigmented pomades to sculpt the brows into any shape you desire. Soare has spent over two decades growing her company into more than just brow products, while gathering a clientele full of Hollywood's most famous. (You might have seen photos of her 25th-anniversary party, which included Oprah Winfrey, Kim Kardashian, Jennifer Lopez, and Sofia Vergara — all at one table.)
In her 30s, Soare moved to California from Romania, barely knowing any English. She got a job at a beauty salon, where she would learn the craft. "I used to go to the hair salon and do eyebrows on the shampoo girl, receptionist, and hairstylists for free, because it was a walking advertisement," she says. However, Soare's salon experience wasn't limited to grooming brows; she's also a certified aesthetician. "Taking care of my skin has always been very important — our skin is our largest organ," she says. Three years later, she opened her own salon, where she introduced brow shaping. Now, at 66, Soare is the founder and CEO of a multimillion-dollar brow brand. Her self-care routine starts with Romanian spring water every morning. "I know where it comes from and what is in it," she says. When it comes to her skin-care routine, her lineup is full of products from friends like Kim Kardashian and beloved luxury brands such as Dr. Barbara Sturm, with a handful of anti-aging products. But to be clear, she doesn't consider herself aging; she calls it "getting wiser."
Here, Soare's expensive yet effective routine:
Soare wakes up at 7:30 a.m. and admittedly sits in bed to check her emails and scroll Instagram before hopping into her day. When 8:30 hits, she gets up to open her window and take in some fresh air before hopping in the shower, where she starts her skin-care routine with Kim Kardashian's SKKN exfoliating scrub, which gently resurfaces the skin. She prefers to go straight into exfoliating and skips cleansing in the morning, because she focuses on that at night.
Following her exfoliator, Soare lays the hydration onto her skin with SkinCeuticals Hyaluronic Acid Intensifier, a blend of hyaluronic acid that improves the skin's texture while amplifying moisture. She's been loyal to SkinCeuticals for about 20 years. Soare's Beverly Hills salon was the very first salon to carry the brand at a time when the founder, Dr. Pinnell, was only selling his products to dermatologists.
Continuing her loyalty to the brand, she uses the SkinCeuticals vitamin-C serum as her next step. With a potent blend of 15 percent pure vitamin C, this formula brightens her skin.
Next, she goes in with eye cream to keep her under-eye area hydrated and plump. Since her skin gets used to a certain regimen quickly, she likes to alternate between her favorites. Her go-to eye cream is SKKN's peptide eye cream, a lightweight cream that she says reduces the appearance of puffiness under the eye.
Soare's other eye cream that she reaches for frequently is Dr. Barbara Sturm's, which she says not only treats puffiness but also dark circles.
Before moisturizing, she uses a triple lipid treatment, an anti-aging cream that is said to replenish the skin with nutrients like vitamin E and lipids that the skin doesn't create as much naturally as one ages.
Soare says she has very dry skin, so it needs all the moisture it can get. She follows the lipid treatment with Dr. Barbara Sturm's anti-aging rich cream, formulated with ingredients said to firm the skin.
To finish, she applies SPF. Soare uses Dr. Barbara Sturm's sun drops, which is sunscreen in serum form blended with hyaluronic acid to boost moisture and provide ample protection.
Soare is also keen about treating her neck and décolleté; it's one of the areas of our skin that shows signs of aging the quickest. This cream leaves the neck looking more youthful and toned with its blend of hydrating ingredients like hyaluronic acid and Dr. Barbara Sturm's signature prickly pear.
At night, when she does in fact cleanse, she uses Amore Pacific's cleansing oil. It's formulated with botanical oils to dissolve makeup without stripping the skin.
On her wellness routine.
Soare compares taking care of herself to shopping. "I don't like to shop too much, but when I shop, I shop. I treat exercise the same: I commit to it," she says. She has an Olympian Greek trainer, Savvas Konstantinidis, whom she sees three times a week for an intensive workout. Other days, she walks on the treadmill or in her Beverly Hills neighborhood. She enjoys getting natural vitamin D from the sun as another way to care for her skin, but she also takes a host of vitamins and watches what she eats. She's an intermittent faster who doesn't touch too many carbs or sugar, and she only eats meat when her body is asking for it: "I just listen to my body, but I'm also disciplined; my mom has always been disciplined, so I grew up like that."
On her favorite part of aging.
"The only person important in your life is you, and of course, your family. But you don't try to please anyone and you have goals. I don't stress much or beat myself up about things. When you are younger, sometimes you feel like, Oh my God, I could have done this, or that was a mistake, or I shouldn't have done that. I don't care anymore, and I think that's what comes with getting wiser. You learn from your mistakes and you just do whatever makes you happy."
On keeping Anastasia Beverly Hills in business for 25 years.
In the past 25 years, we've seen a lot of change, but Anastasia Beverly Hills has sustained itself. How? "Listening and being in tune with our customer," says Soare. She credits the success of her cosmetics brand largely to her early days as an aesthetician, because she was able to work directly with customers and hear their likes, dislikes, and concerns. "It was a genuine desire of mine to offer my clients something that would make them look and feel beautiful," she explains.
On her specialty: eyebrows.
Soare has a technique dubbed "the golden ratio", which is knowing where the eyebrow should begin and end so the shape brings the perfect balance and proportion to the face. "The eyebrow is one of the most important features on our face, and if it's shaped correctly, it balances everything out and is so attractive," she explains of her artistry. Eyebrows go through so many trends now, especially on TikTok, and Soare thinks it's cool and expressive: "You constantly have to come up with new things as an influencer on TikTok or Instagram; people should explore and be creative. As long as they don't over-tweeze their eyebrows, I think they should play. I admire young people who are trying everything — they should. It's just makeup, it's painting, it's expressing yourself."
On building confidence in her craft.
"My confidence is what makes me most powerful," she says. When it comes to her craft, she was dedicated to understanding the science behind brows, going beyond just the technique. "At the beginning of my career, I just wanted to pay my bills and feel comfortable, but the most important thing was to become a master at my craft and be the best at what I was doing," she says. "I worked tireless hours and hours and hours to be perfect. Once you are a master of your craft, you are confident. What was very important to me was the biggest celebrities coming to me repeatedly to get their eyebrows done. That made me believe that I was good at what I was doing. I thank them, because that gave me confidence."