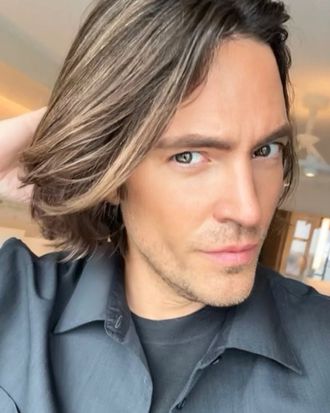 Ivan Pol turned 30 and started "drinking the Kool-Aid," he says with a laugh. What does that mean for people working in beauty? Botox and fillers. "Let's pump the lips, let's pump the cheeks, and let's all be frozen," Pol says, reminiscing on that time in his life. Today, almost 16 years later, he doesn't feel that way. And although there's a trending aesthetic treatment daily — Botox, buccal fat, Morpheus 8, the list goes on — there are also non-invasive alternatives available that breed similar results. That's why Pol created his "Beauty Sandwich" facial technique — a non-invasive and nontoxic alternative to Botox and filler using a proprietary radio-frequency method to firm, sculpt, and tighten the skin without using needles and lasers. And it's painless.
Before Pol began snatching jawlines, he was a makeup artist for over a decade. He loved the transformative aspect of his artistry, but his passion for it dwindled. "I wanted to find something that would give someone a foundation so you felt really good in your skin before putting on the makeup," Pol says. He also wanted something safe and efficacious for all skin tones and types. Most of his clients with melanated skin tones couldn't do laser treatments because the laser isn't made for them. "I think they gravitate to me because I'm able to give them a confidence boost with this treatment," Pol says. In addition to his popular treatment, you can experience Pol's skin-care philosophy through his "Secret Sauce," his ideal skin recipe bottled up in a thoughtful formula that includes wild rose and jasmine. (It sold out after launching on Moda Operandi beauty and quickly became a best seller.)
During the treatment, Pol shares three pillars of affirming and high-vibrational messages: "I am love. I am beauty. I am energy." These mantras are used to set intentions before he starts each treatment and the words he lives by. Although setting intentions became a habit for him later in life, every morning, he wakes up and sets his intentions by journaling, meditating, then drinking a liter and a half of Mineral water (his go-to is Austrian Alps). Finally, it's time for his skin-care routine, and he likes to keep it simple.
Here, Pol's routine:
He doesn't believe in a harsh cleanse in the morning and he likes to keep his skin's pH balanced, so he goes in with Chanel's cleansing micellar water, a light and refreshing formula.
Next, he hydrates with Dr. Barbara Sturm's cult-favorite hyaluronic serum.
Some days he swaps his hyaluronic acid out for Dr. Sturm's exoso-metic face serum, which is an efficacious and intensive serum featuring vitamin E ingredients that renews radiance and has a firming effect.
Of course, he lathers on his secret sauce, a blend of oils, but according to the brand, "the 'Secret Sauce' is not a serum, oil, or moisturizer," it's a unique formula that promotes cell turnover while repairing and protecting the skin and leaving it soft and firm. It's to be used in between serums and moisturizer.
Following his sauce, he uses Gravity Fix, a lightweight fluid cream that keeps his skin feeling firm throughout the day.
He admits that he stopped using retinoids for eight years because of how drying they can be to his complexion, but he's recently started picking up this resurfacing treatment formulated with amino lipids. "It's a gentle formula with clinical results," he says.
While these products are a part of his daily routine, Pol deals with bouts of rosacea from time to time. He'll reach for Dr. Sturm's calming serum, made with sweet almond oil, to soothe and rebalance his irritated complexion.
On early mistakes he made with Botox:
 "I would get a tiny wrinkle and I'd be like, Oh my God, let me go do my botox. Then I realized I was putting a toxin in my body, but I was eating organic and taking care of myself so I asked, Why am I doing this to myself? Why am I pumping my face with a toxin every three months? If a pregnant woman can't use this during pregnancy, why is it okay when you're not pregnant? Why am I doing a chemical peel all the time? Those are the questions I started asking myself and that's when my love of cleaner beauty dawned on me. I started to think I'm going to go in a more nontoxic direction, one that's non-invasive and natural. There's nothing wrong with looking unnatural or done, we also have to be respectful about that too because there are a lot of celebrities getting slack for choosing that aesthetic, it's just not my lane.
On advice for a snatched face:
The first thing Pol says everyone should do is learn their face because we all have different features. What does this mean? Discover where your facial bones and muscles are by studying your face in the mirror. While he thinks at-home face tools are great, Pol says the ultimate tools are our hands, or even a gua sha. Lastly, release the tension in your lower face, if you find yourself clenching your jaw line often, because it will help snatch the upper face. 
On why he thinks people love the Secret Sauce so much:
He knows how secretive people used to be with their facial treatments. There was a time when it was taboo to say you had work done, but saying you've been sandwiched is something his clients shout from the mountaintops. Why? "It's a natural version of yourself," Pol explains of his technique."It's just you, but elevated. You're snatched, lifted, and you just feel good."
On developing his skills:
 Pol's mentor, Dr. Martin Zaiac, is the head of dermatology at Mount Sinai Hospital in Miami Beach and helped him hone on his craft 12 years ago. "He took me under his wing and really taught me how the skin worked. I learned why they were using Botox the way they did. I'm so grateful to him because he gave me artistic freedom. He saw the gift that I had of artistry and sculpting the skin," Pol says. He also learned about the science and technology pillars under Dr. Zaiac. "The wonderful thing about having been a makeup artist is that you have to do makeup on everyone and make them look good. I had so many faces that I would work on, so those skills transferred over into the aesthetic field."
On what he tells his clients to have the healthiest skin:
"Hydrate, hydrate, hydrate. Drink that water, get your beauty sleep, and be gentle with your skin care, but also gentle on yourself. Love on yourself."