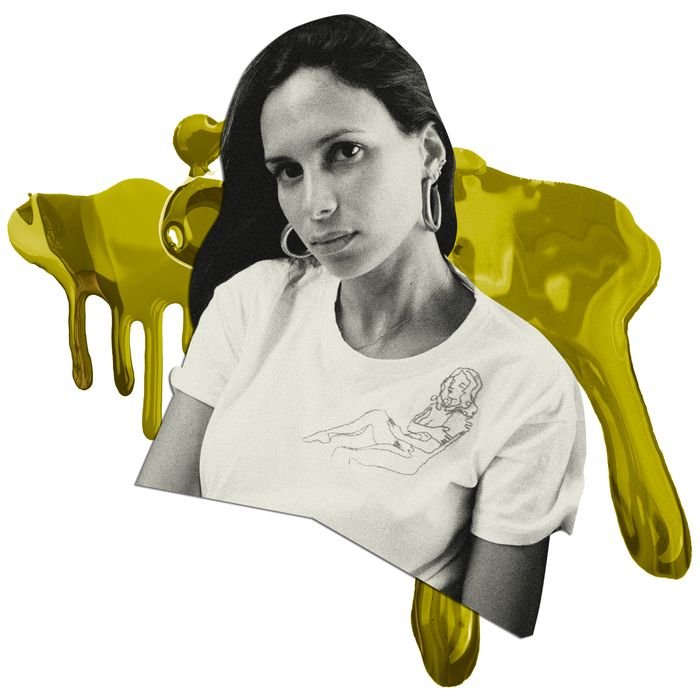 Photo-Illustration: by The Cut; Photo: Coralie Colmez
For this special edition of "How I Get It Done," we're asking successful women about how they're making their return to the "office" as new moms work for them.
Zohar Benjelloun has spent several years as a leader in luxury fashion with roles at Tiffany & Co., Oscar de la Renta, and, most recently, Christian Dior Couture, where she's the senior director of e-commerce and digital. In the past two years, she's also given birth to a daughter, who's 22 months old, and a son, who's 5 months old.
Two weeks ago, she returned to the office from maternity leave with her son, a reentry she describes as "a really hard time." "I was so willfully ignorant about what it meant to have two small babies," she says. "Now that I have two, it's like — one child was a walk in the park. It was vacation." 
Life is far from a vacation now as she juggles work and caring for her children. Benjelloun talked to the Cut about navigating life with two babies while still thriving in her career, including why community is so important, the moments when she forces herself to disconnect and be present with her kids, and how difficult it was for her to return to work after leave.
On her morning routine: 
Mornings are a blur. I never wake up at a set time. Our alarm clock is our children, and I think they secretly compete to see who can get up first. Last night, my son woke up at 4 a.m., so he won. As soon as I'm up, I take a shower, and I have time for very light skin care. My son's nanny comes at 8 a.m., and we take our daughter to our neighborhood coffee place. It's our fun little ritual before we start our days. My daughter has had a nanny since she was 4 months old, who she absolutely adores. (We share both of the nannies with other families. The nanny shares are like a mini-daycare; they get to be with other kids their age instead of with each other since there's an age gap, and it's less expensive for us.) I'll make her a plate of fruit, then rush to work to make it there by 9:30 a.m. at the latest. I was afraid before returning from maternity leave of how much time I'd spend commuting because I live in Bed-Stuy and my office is on 53rd Street, but it turns out that it's actually the only time I get to read. It's the silver lining of commuting.
On returning to work after parental leave: 
With my daughter, mat leave was a vacation. It was the best time of my life. It was this isolated moment in space, this bubble that doesn't exist any other time in your life. You're just there to take care of your kid, and no one is bothering you. Everyone respects what you're doing. I went to Morocco to be with my mom and family, so that afforded us some help and some relief. With two kids, mat leave is a huge question mark, like, How did I get here? It wasn't vacation or time off — it was work. I had two under 2 with no child care. I just returned back to work two weeks ago after having my son, and it's hard. It's really hard to get your footing. You have no more time for yourself, really. I feel like things are constantly on the edge of chaos. I think it's important for us to say that it's hard. It's a period in your life that you have to get past and work through, and it's a lot of work to juggle that and be present as a parent. That's my personal experience. I think others find it easier, but for me it takes a lot of adjusting.
On the best parenting advice she's received: 
Surprisingly, it's from my mother. She told me that, at the end of the day, a child doesn't really need much. You can have the best educators, the fanciest toys to develop their motor skills, all these friends and activities, and all they really need is your undivided attention. I just finished watching the show Fleishman Is in Trouble and there's a part where Jesse Eisenberg's character says, "We spend so much time trying to have children and then spend so much time trying to get rid of them with child care." That resonated with me because it's true. I see how parents end up dumping our kids on other people, me included. It's so important to understand how being present with your child helps. My mom taught me that, at the end of the day, you have to spend the time and put in the work with your kids.
On her grounding moment of the day: 
We're all so addicted to our phones. It's a problem. They always say, "Don't be on your phone when you're with your kids." The only way for me to really do that is to engage in an activity that makes it impossible to have my phone. For me, that's taking a bath with my children. I get in and make a huge bubble bath, and for 45 minutes, all three of us take an indulgent bath, and they both love it. It's super-grounding because I don't have my phone. There's a whole ritual around bath time because we have dinner right after. This hour is the one that's always guaranteed. It won't go anywhere, and it's when I'm completely unplugged and just present with them.
Then my husband and I watch a movie after the kids are asleep. Having kids has made me realize that there's just never a good time to do everything, so I finally enrolled in an online film program at NYU's Tisch School of the Arts. Leveling up on that passion of mine at what's a completely chaotic time in the day actually gives me so much more energy, perspective, and creativity to bring to my family, my work, and my friends.
On having supportive family and friends:
I can't underscore how lucky I am to have a co-parent, my husband, who calls himself the "house manager." He breaks up the Amazon boxes. He makes dinner. He washes the dishes. The invisible labor is real. We usually always have friends over, too. My father was a Moroccan diplomat, and we had people over almost every night for dinner. That's how I grew up, so it's what I'm used to. We try to do the same for our kids. It's a revolving door of guests staying in the house, and it's helped me tremendously in managing my day-to-day and general stress. I also have my best friend, Zara, who doesn't live far. Whenever I need someone to just hold my baby, if my husband is not around or is doing something else with my daughter, she'll come and take my baby for an hour while I go put cream on my face for the first time that month. [Laughs.] Then she gives him back to me and leaves.
On how her relationship with work has changed: 
I'm not less ambitious. It's just different. I treat things less hierarchically. I'm less concerned about these traditional benchmarks or milestones you have to hit and more concerned about the interpersonal aspects of work — the people, the nurturing, the empowerment. I like where my ambitions are now. I think they're healthy and work for me as a new parent.
This interview has been edited and condensed for length and clarity. This post has been updated to include additional context.