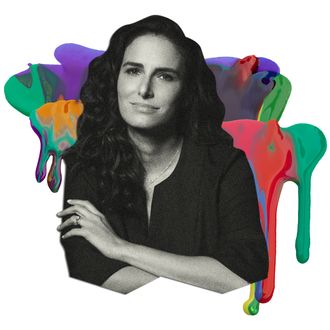 Photo-Illustration: by The Cut; Photo: Robyn Von Swank
Jessi Klein is a writer, actor, and stand-up comedian best known as the voice of the sardonic, hormonal Jessi Glaser on Netflix's Big Mouth. She got her start as a development assistant at Comedy Central during the heyday of South Park. From there, she started doing stand-up and writing on comedy shows, eventually landing at Inside Amy Schumer, where, as head writer, she won a Primetime Emmy in 2015. Around the same time, Klein also welcomed a child — which is the main focus of her second essay collection, I'll Show Myself Out. The book, which will be available in paperback on March 28, first came out last spring, the same week that Klein celebrated the release of the Showtime comedy I Love That for You, which she wrote for and produced. 
Klein lives in L.A. with her 7-year-old son. Here's how she gets it done. 
On her morning routine:
My husband and I are separated and do 50/50 custody. On the days my son is with me, we're up and at it at 6:30, and it's a mad dash to get him to school. There's a muscle-memory function of packing a lunch box with a PB&J and some Goldfish, and I have a little decaf espresso and usually some scrambled eggs and toast with jam. One good thing about getting him to school so early is that hypothetically, I'm then free to do some self-care. It's a bit of a crap shoot, but I try to move my body in some capacity for at least 30 minutes.
On her commute soundtrack:
My son has always really been into music. When I'm driving him to school, we split the playlist between favorite kid-type thing and the favorite grown-up-type thing. They've started to meld together a little bit. We both got really obsessed with the Netflix Matilda musical, so some days we listen to "Revolting Children" and sing that at the top of our lungs on the way to school. "Revolting Children" is a real anthem of, We're gonna attack this day. Rather than switching it to something else when I'm driving home alone, I keep listening to it. It's really good.
On managing her days:
When I'm working on a TV show, I have a regular schedule that's nineish to fiveish. But if we're in production, all bets are off and I'm doing 15-hour days. When I'm doing more freelance stuff — working on a book or movie or new idea — I have to structure my day myself, which is not my strong suit. I try to get out of the house to write. I'm a believer in the four-hour-a-day rule. If you spend four hours attempting to write, you can punch in and punch out. You've tried.
On celebrating a job well done:
It's really nice to acknowledge that something has entered the world. Especially in the business I'm in, things take so long. Writing my most recent book took three or four years, and it was written partially during the pandemic, which was very hard with a child. It came out the same week as season one of I Love That For You, which had been in development for years. I took myself over to 1stdibs.com and found this vintage gold Rolex Datejust for the most insanely great price. I had a moment sitting on my couch in my office on set where I was just like, I'm gonna make an offer. It was the ultimate indulgent purchase, but in that moment I felt like, I think maybe I actually did earn this? Lethal virus pandemic plus eight years respectively per project equals … a little gold watch? I love it, I wear it every day, and it reminds me to be proud of myself. I'll give it to my kid one day.
On learning from failure:
I spent a year writing on Saturday Night Live from 2009 to 2010. I really felt like I failed there. I wasn't getting much stuff on the show. It just was not a machine I was thriving in. It was a place I grew up admiring and loving so much, and I just wasn't as good at it as I wanted to be. That was a tough pill to swallow. But I'm really proud that I got that job. I learned a ton about how I work well and what I want to do. Being able to walk away head held high and move on after that was an important lesson.
On freelancing as a mom:
My son was born when I was working on my first book. I had a little office space I was renting, and he was around 6 weeks old when I first allowed myself to leave him. I was, like, Okay, I've pumped, he's fed, there's a very capable person here, and I'm gonna go to this office for three or four hours. I started walking down the hallway of our building and then I started running down the hallway of our building. I felt so excited to get some semblance of my former life back.
Overall, I've found the freelance schedule makes it easier to handle parenting, just to be able to check in with your child throughout the day. I'm not at an office where I'm unable to leave till six o'clock.
On writing about motherhood:
I battled with myself for a few months when I realized I wanted to write a book about becoming a mother. Those were the stories I was feeling compelled to tell. At the same time, I had an internalized bias against those stories. It's so clear that motherhood is diminished as a story in our culture. It's put on a pedestal as this thing you're supposed to do in this very angelic, perfect way, and then you're supposed to never talk about it, never complain about it, and it's not interesting. You're keeping someone alive — those are the stakes. You're also trying to keep yourself alive, both literally and figuratively. The feedback I'm really happy to get from so many moms who've written to me is just, "I feel seen." A lot of people feel invisible.
On the people who help her get it done:
We're lucky enough to have a really amazing full-time nanny. Without her we could not do our jobs and we would not have the careers we have now while raising our child. We're both from the East Coast, so we don't have that built-in family network around us. Our nanny, Lucy, is a huge part of our lives, and I'm very indebted to her for how hard she works and how much she loves our son. As a parent, the cliché is that it takes a village, but it truly does. You can't do any of this alone.
This interview has been edited and condensed for length and clarity.