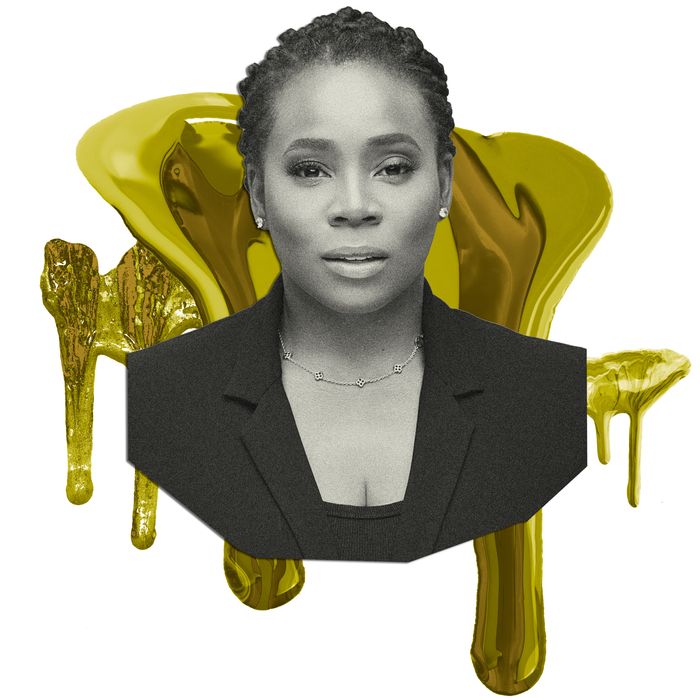 Photo-Illustration: by The Cut; Photo: DANIEL D'OTTAVIO
For this special edition of "How I Get It Done," we're asking successful women about how they're making their return to the "office" as new moms work for them.
Sharifa Murdock, Kith's chief impact officer, is just seven months into motherhood, and so far, she's having a pretty good time. "The setbacks honestly haven't hit yet," she says. "But I do think that I will have challenges put in front of me, and I will deal with it accordingly." She credits her positive experience to an excellent maternity-leave policy, a robust support network of family and friends, and, most of all, her husband. As she puts it, "having a strong partner, and being able to communicate with each other, is important."
Murdock's long and prolific career in fashion and philanthropy has led her to her current role at Kith, where she oversees the brand's recently launched in-house nonprofit organization, the Kinnect Foundation, and its Kinnect Scholars mentorship program. She's just recently back to work after six months of maternity leave, during which she spent as much quality time as possible with her son, Legend. Murdock is bursting with gratitude for the people in her life who were and continue to be there for her — "Yes, they're going to try to tell you what to do," she says of the family who showed up for her, "but it's the time for you to do things on your own and learn from the elders that you have in your family" — and for the ability to have had so much agency over her return. By the time she was back at work, she was ready to be there.
On her morning routine:
At 5 a.m., before the baby gets up, I pray — that's the number one thing — and just try to sit still for a little bit. Then I hang with my husband and baby, and get ready to go to the gym; I get there at 6 a.m. or earlier and I work out for an hour or two. I go to the gym really early because I want to be in my own space in my own mind-set. I don't want my phone ringing. I try not to have distractions at that time. That's my time. I do a lot of cardio there. I do a lot of walking, just so I'm clear, because a lot of people think that you have to go to the gym and run eight miles. I walk to calm my nerves and to maximize my physical benefits. Depending on the day, I'll lift weights, but every day is a cardio day for me.
My husband drops the baby off to day care at 7 a.m. I try not to get on social media until I'm done with my workout, which is a big thing for me. After the gym, I go to the office. I start my phone calls from the car, because I drive from New Jersey. I speak to my assistant Kim; she tells me what I have for the day and we go through the schedule. By the time I get into the office, there's a meeting about to start.
On receiving help:
My sister-in-law actually owns a day care, Elite Concierge Childcare Services, so she watches Legend every day and teaches him so many different things. I get videos every day, so I get to see him, and feel so much more comfortable knowing that he's with someone who I know and trust. I am so grateful to her, because she's a big, big, big reason why I'm able to come to work every day. I've also learned so much from my mommy groups. I'm a new mom, so I don't ever claim to know everything. But I can tell you what I'm going through. And we all exchange stories about what we're going through.
On maternity leave:
Kith has one of the best maternity-leave plans. I was able to take six months off, and to spend really great time with the baby. You get nervous as you go out of a job. But I felt very secure being able to leave and having the team I have work on everything and me coming back and just falling right into place with everyone. Kith also allowed me to transition back the way I thought was best. I first went back part-time, then came back full-time when I was ready.
When I was pregnant, I had a conversation with Ronnie Fieg, the owner and designer of Kith. I told him I was definitely coming back. And I think having that conversation, he knew what to expect, and it was easier for him to understand the way that I was coming back as well. It's about, hopefully, being able to be transparent with your employer — them understanding what your expectations are, and understanding also what their expectations are from you.
On her work ethic after becoming a parent:
Everyone's mind-set changes when they become a parent. But I think it's all in the individual. I am fortunate to have help. I have family members and loved ones who support myself and my husband, so they help us in any way possible. So our work ethic has changed, but not drastically. I am working daily. It's just looking a little bit different. No more being out all night. You go home at a certain time. You want to have your baby on a routine. My husband and I put the baby to sleep at nine o'clock. And it's more him, because he loves bedtime with my son.
On managing stress:
I make sure that I take care of myself because if I'm not good, then I can't do anything else. So I've been very serious about my wellness, my health, the things that I do, the people I have around me. Being able to have that good energy is how I manage all my stress.
After my son's asleep, I pack him up for the next day. I make sure his bottles are ready. Then I like to take a good shower, then relax. I watch some horrible TV. I like the sports drama All American, and crime shows Big Sky and The Cleaning Lady. My friends always think I watch the corniest shows, but I like to watch things that put me in a happy place. I want things to just be good around me.
On celebrating wins:
I go for a massage. That's my win. If I want to celebrate it with my team, then we'll go and get something to eat, but if I'm gonna do it on my own, I go for a massage.
On her favorite treat during a tough workday:
A caramel Frappuccino from Starbucks. Let me correct that — a caramel ribbon Frappuccino from Starbucks. The small one is my go-to. It makes me so happy.
On aging:
At 44, I am an older mother. Women are nervous about their biological clock, and I think that we don't have that conversation enough. How can we talk to each other about this? I tell all my friends and any woman who wants to have a baby, it's never too late. I want people to stay positive. I was married for ten years. I actually had Legend within the ten-year-anniversary window. I waited for a longer time than others. I went through the process of IVF. I do think that women need to know that there are other options out there for them, and I'm a big advocate and a big supporter for that.
On being back at work:
The transition coming back in was just easy. It just was really acceptable for me to do what I needed to do. And when I was ready and my body was ready to come back is when I did. When I got back, and I was really fully in, we hit the ground running. I love what I do. And when I come to work, it's fun. I love being able to do the things that we're doing. We're helping so many people here.