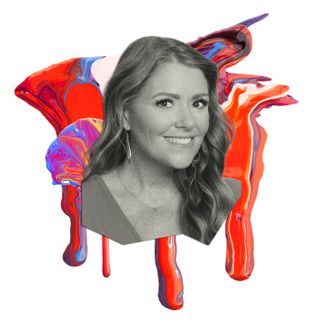 Photo-Illustration: The Cut; Photo: Courtesy of Tarte
Maureen Kelly founded Tarte over two decades ago from her one-bedroom apartment. "I wasn't a businesswoman or a makeup artist, so I never thought, I'm gonna start this company and grow it to be something really big," she explains. "I just wanted to make products that I was proud to give to my mom or my best friends." It goes without saying that it isn't easy keeping a company, let alone a beauty brand, running for so many years, the market being as saturated as it is, but Kelly has learned some things along the way. She prioritizes her family, she continues to push herself to try new things, and giving back is central to who she is. Today, Kelly calls Florida Keys village Islamorada her home. She lives with her husband and two teenage sons. Here's how she gets it done.
On her morning routine:
I get up around 6:30 a.m. I am not a morning person. I am always very tired. I have two teenage boys who are old enough to get themselves ready for school, but I make some eggs and just grab a quick bite with them. A lot of it is yelling at them to get out the door. Once my kids leave, I do either a hot-girl walk or a swim in the ocean. That wakes me right up. Then I come back and spend time writing in my five-minute gratitude journal. Setting intentions and being thankful is something I've done for a very long time now. Then it's time for a decaf almond-milk latte and getting some quick makeup on my face before I head out the door and walk five minutes to my Tarte Florida office.
On what grounds her: 
Praying. I've been through a lot of personal and business challenges in my life. My faith has given me the ability to get through it all. I firmly believe that treating everyone in my personal and my business life, whether they are my siblings, my suppliers, or my employees, like I would want to be treated has created a better environment and better life overall.
Having a family definitely helps because when I walk through the door, my boys don't really care to hear about what's happening at work. Starting dinner and trying to help them with their homework becomes a priority. So just like that, the stress of the day falls away because it has to.
On a typical workday: 
I try to abide by the 80/20 rule, and I put my focus and my effort on the things that give me the most bang for the buck. I don't always succeed at that, and naturally that stresses me out. I'm always generally focusing on product development. In the afternoon I'm doing marketing or socials. Now that's definitely a priority. So every day I think, Okay, I wanna do something for my own TikTok or for my own Instagram because I have so many Tartelettes that want to be motivated in some way, shape, or form. I try to go out of my comfort zone, and being in front of the camera on my own socials definitely did that. My sons remind me on a daily basis that I'm cringey, but I'm okay with that because I do feel like I've gotten such good feedback.
On the moments when she felt she'd "made it":
I'm very big on celebrating the wins, whether it be personally or professionally. Time passes quickly, and there's always that next hill to climb. Early on it was the Oprah O list.Then we became America's No. 1 concealer brand, which I'm very grateful for. What I'm most proud of was creating my own 501(c)(3) called Heart to Tarte. Giving back is my favorite thing. I had a CFO in the early days say, "Hey, we're not making any money. We just really can't afford to give back." I said, "Well, we may not be making money, but we still have more than other people." So in my first year we donated products to women's shelters and women who were struggling with breast cancer. Fast-forward to when we were able to eventually start Heart to Tarte, which really is just my pride and joy.
On dealing with online criticism:
No one likes pushback. I have to remind myself to take a deep breath and to try to just remember the reason why we're doing what we're doing. The Dubai trip, for example, was all over social media. There were so many conspiracy theories. We wanted to get to know some of these TikTokers in person, which is a strategic priority for us. We don't spend money on marketing budgets like a lot of other brands where they pay for Super Bowl commercials. Everything comes down to people. I couldn't afford traditional advertising to compete with brands in the early days, so I found ways to be scrappy and get my name out there. Now all these years later I have a budget, and we try to still find different creative ways to invest and drive Tarte and build up these communities and relationships for the long run.
I try to resist the urge to respond when people are being negative because I have to remember that it's like an echo chamber. There could be 100 amazing, positive comments and then there's one or two negative ones, and of course I see those and get upset about them, but overall I feel really proud about the trip and everything that we've done. Let me take a step back and say there have definitely been times in our history where we've made mistakes. For me, you know, the biggest thing is owning it, acknowledging it, apologizing, and trying to do better.
On self-doubt: 
We all have some form of imposter syndrome. I actively work to say to myself, Why shouldn't it be me, at this age, with this amount of experience? When I'm making a TikTok, I think, Oh my gosh, what am I doing? But then it goes live and people make nice comments or say, "This really helped me," and I feel good about it. As women, our first instinct is often doubt, and every day I have to actively turn that off.
On the "beauty-brand founder" title:
Being a beauty founder 20 years ago was truly my whole world. As a founder, you need to become knowledgeable about so many different things. I was always worried about something! Now my company is over 20 years old and my role as founder is more as a creator and a teacher. I have enough faith in my abilities that I can enjoy the process a little more and I will try different ideas without being wracked with self doubt. I enjoy spotting talent and nurturing it in different ways whether it is in or out of the company.
On winding down:
I walk home from work and get dinner ready. My kids are very hungry when they walk through the door; sometimes they will eat two meals a night. I'll pour a glass of wine, throw on some music, and try to set my phone down and be really intentional in cooking a good meal. I am a big believer in being where your feet are. So if I'm at work, I focus on work. If I'm at my boys' lacrosse games, I try not to pick up my phone and look at a million work texts or emails. Being present and intentional with whatever it is you're doing helps you be less stressed because, let's be honest, when you're trying to do so many things at once, you're never successful at doing any one of them. Then you just feel really overwhelmed. Or at least I do.
On the people who help her get it done: 
My all-female C-suite, who help me daily. As the business has gotten bigger, I started to have to do things that I didn't necessarily love or really want to do, like IT for example. Then I learned to surround myself with people that are way smarter than I am in those areas and trust their leadership and judgment. My Tartelettes. I feel like I'm constantly inspired and motivated by their comments and the reviews, the good and the bad. And my family, who I paid in wine and pizza in the early days.
This interview has been edited and condensed for length and clarity.