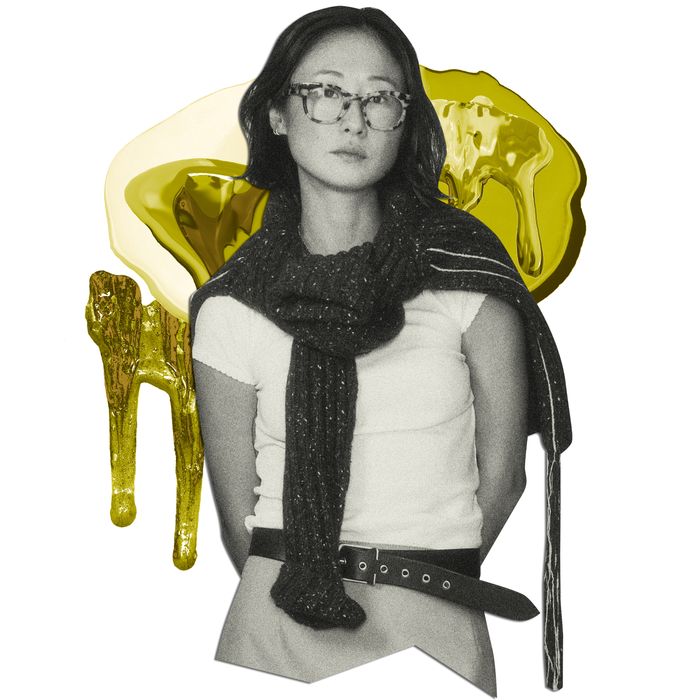 Photo-Illustration: by The Cut; Photo: Huy Luong
For this special edition of "How I Get It Done," we're asking successful women about how they're making their return to the "office" as new moms work for them.
Retail consultant Julian Paik works with some of the coolest brands of the moment, including Thakoon Panichgul's magazine-turned-brand, Hommegirls; creator of the ladylike Ana bag, Luar; and Asian American–inspired ready-to-wear label Commission, among others. She also recently gave birth to her first child, her daughter, Noon.
Being the founder and sole employee of her own business, Paik Studio, meant that Paik didn't have a traditional maternity leave — she slowed down, but worked until the day before she went into the hospital, started taking calls a week after her daughter was born, and was back in meetings after eight weeks. Her return has been gradual, though. Her daughter is now 16 weeks old, and she's just starting to "get back into the swing of things," she says. ​​"So much of the way I was raised was this concept of stability, and stability equated to working within the realm of a company and having that structure. With my experience, I was really empowered to be my own boss and manage my time and my efforts and the way that I wanted to. I feel really lucky to be able to do that." It has meant, however, that she has temporarily paused her passion project, Breadbrose, a small-scale production of made-to-order bread and bagels — but even that's coming back this spring. 
On her morning routine:
My daughter is now the alarm clock. We're basically up with her around 6:30 a.m. My husband, Robert, gets out of bed before me to walk the dog and make us coffee, which gives me some time to cuddle with her a little bit. Then we get the day started. She gets fed and changed, and I try to do my morning stretches, which I have been better about being more diligent about. And then breakfast — my husband is so great, he usually has breakfast for me. Today, he made me an egg sandwich, which was awesome.
On returning to work, when she didn't have an official leave: 
I'm lucky enough to be able to continue certain work that I was doing while I was on leave; there was no paid maternity leave for me. There was no 15 weeks off. I was definitely working with my continuous clients, taking certain meetings and calls. It's part of a bigger conversation of how our system treats freelancers and mothers who are freelancers. Everyone was super respectful, but I had to make a conscious effort to have blinders on, because I am also passionate about what I do with work. There were also definitely moments where I was like, "I want to check my email," and I did.
On how her work day has changed: 
I've become such an early-morning, late-night efficient worker. Within the first two hours of being awake, I get straight into emails and just making sure that I can get through as much as I can. I actually started working with two new clients, but it's less about taking on new brands and more about how I am navigating my time and what I'm offering in terms of services. I'm more cautious about extending myself, because my brand is very interdisciplinary, and I wanted to keep going deeper and further and take on more. That's just the nature of my work ethic. I think being able to find stopping points with work will be helpful for me, so that I can also make room for being able to do a bit more with the mom side of what I have to do.
On what's next:
Breadbrose, my labor of love, is the one thing where I'm like, I need to get myself back into that. I love making sourdough bread, and sharing it with friends and their friends. The orders took a pause when I moved from the Lower East Side to Chelsea and then got pregnant. Folks have been so understanding, but Breadbrose is taking orders again starting in April! I just activated my starter, and I'm doing the things I usually do — sourdough loaves, bagels, and scones — but my new goal is to make a focaccia that's comparable to the Eataly focaccia, which is one of my favorites, and maybe doughnuts! I am excited about getting back into my bread, and that feels really good.
On the people who help her get it done:
I have such a strong support system. My husband and I are both in the fashion industry; he's the women's design director at Thom Browne, so we end up actually being busier than usual around the same time. My mom has been super helpful. Her love language is cooking food, so she brings over big batches of Korean food — soups like miyeok guk (eaten by mothers during postpartum), jigaes (Korean stews), homemade kimchi, and meat dishes like galbi-jjim. She is pretty close, in New Jersey. I think, eventually, we'll find a nanny that can help during the weekdays, so that I can also be out in the field and traveling to different markets, but for now, while my daughter's so young, we've been able to make it work. I feel like the community of my friends who have recently become parents has unlocked this new level of bonding, which is super exciting. And it's helping me get it done almost in a less obvious way, and more emotionally.
On how she handles feelings of self-doubt:
There was this perfect storm when I got pregnant: I was at the point with my career and the brands I was working with where it all felt like it was working, so that was definitely a confidence boost. Postpartum is where I am more cautious. My husband has been really great to always be like, "Remind yourself of how much you've accomplished in so many capacities of your life." There was that moment when I was returning to work, where I just felt like, Can I do it? And I started to doubt myself and feel pressure to start cutting back on work. Talking with my husband, and having little check-ins with myself, I am actually really grateful to be where I'm at. I have a healthy baby. I have a wonderful relationship with a super-supportive husband. I have a company that feels so good, where I am really fortunate to work solely with brands that I personally believe in, and work with people that I admire and call friends. Having this solid community of people around me, I feel such humbled gratitude to be able to get this far that I need to let go of that doubt and just be like, I got here and it's a really great place. Let's see what else I can do.
This interview has been edited and condensed for length and clarity.