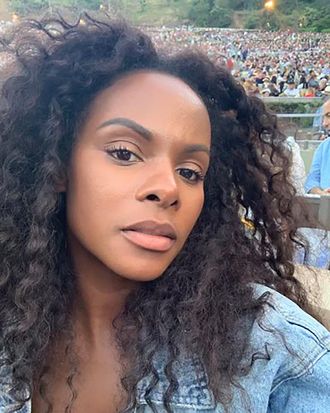 Growing up in Queens, Tika Sumpter started developing her standard of beauty in her household, which was full of bold and creative women. Her mom was kicked out of the church choir for wearing a big roller set with her hair dyed red, one of her older sisters was a music-video backup dancer, and her grandmother was an amazing seamstress. Legendary entertainers like LL Cool J and Run DMC grew up in her neighborhood, and she remembers thinking to herself, "Oh, okay, I'm going to go play down the block." Little did she know she'd make it to the big screen herself. The actress, who starred in the OG Gossip Girl, Southside With You, and most recently Sonic the Hedgehog, seemed destined for fame. To channel the creative community that raised her, Sumpter set out to start her own production company, Fort Sumpter, to build opportunities for other people.
For Women's History Month, Bloomingdale's tapped Sumpter to create a carousel featuring 50 women-owned brands. It includes pieces from Andrea Iyamah, beloved Mansur Gavriel cloud clutches, and accessories by Cult Gaia as well as self-care beauty essentials from U Beauty and Slip's sleeping mask. Sumpter is adamant about getting her rest: Her bedtime is 10 p.m. sharp for her 5 a.m. start time, a habit she picked up after reading The 5 A.M. Club. "I might be crazy, I don't know, but it does give me so much more time for myself in the morning, and I'm not chasing the day," she says. Having moments alone in the morning allows her to breathe for herself before trying to breathe for everyone else. Whether she spends those moments meditating, spending time with God, or journaling. She's not reading scripts, checking emails, getting her 6-year-old daughter, Ella-Loren, ready for school, or being pulled in every direction. Sumpter has mastered the art of just being still.
She's also mastered the art of attaining a youthful glow at 42. Her skin-care secret? Keeping it simple. "You don't need much. Less is more," she says. Sumpter has sensitive skin, so she stays away from trendy ingredients and using a ton of products: "Trends are great for who it works for, but I don't know if they work for most people. Some of that stuff is superstrong on your face." (On the list of active ingredients that are way too strong for her? Retinol.) She has her simple routine, and she's sticking to it.
Here, Sumpter's minimalist routine:
She starts with her go-to cleanser, Fresh's calming and hydrating soy cleanser with soy proteins and aloe vera. It works for Sumpter because of how gentle and soothing it feels on her skin.
At night, she'll opt for a dollop of Tatcha's rice wash to cleanse away the day's debris. The rich formula leaves her complexion looking more plump and luminous.
Once in a while, she reaches for a toner to follow her cleanser — preferably Kiehl's squalane-based one to hydrate and replenish her skin.
Next she lathers her skin with Kiehl's hydrating face cream, the moisturizer that makes her skin feel "alive." It deeply absorbs into the skin to restore the moisture barrier.
In the mornings, she finishes her routine with Kiehl's reviving concentrate, a lightweight blend of oils that boosts the skin's radiance. "A drop of the concentrate and I feel like I'm in a magazine. My skin looks like sunshine."
At night, she opts for another oil from the brand: its beloved Midnight Recovery Concentrate, a blend that restores the skin overnight and reveals a youthful and radiant glow in the morning.
On healthy skin going beyond just skin-care products.
Caring for her skin doesn't stop at the products on her shelf. Sumpter is committed to having healthy skin from the inside out. "I think what people don't realize is that your skin sometimes reflects how you eat as well; eating habits are important." For her, some of those habits look like morning fruit smoothies blended with strawberries, blueberries and ginger or cooking at home and eating out less. Is it always perfect? Definitely not. "Some days it's terrible and I need some potato chips and pretzels, but overall I think the way you eat really helps you feel your best self."
On her recipe for youthful skin.
"It's a mixture of things from eating to the skin-care regimen but also taking time to destress and doing things like saying, "I'm done with the day. I can't do this anymore," and just taking a bath. There's good stress and there's bad stress. Sometimes you have to take it in and identify it yourself and then nourish yourself from there."
On how she rehabs her skin.
Being on set to film often means a lot of makeup, but somehow Sumpter's glow withstands it all. When it's time to rehab her skin, she turns to her tools at home: her depuffing jade rollers, which she keeps in the freezer, and her personal infrared light. Since her skin is so sensitive, she can get a facial only about once every two months, but it's okay because her tools reinvigorate her along with laughing. "I try to laugh a lot because they say you use more face muscles when frowning. You're not doing yourself any favors by frowning. I have a lot to smile about and be grateful for everyday." To her, that's the best rehab.
On when she feels the most joyful.
Sumpter feels at ease when she's around people who spark joy in her, like her family — especially her daughter, who can make her smile even when she's angry. Although Sumpter is an introvert, her energy spikes when she's connected to people and they make her laugh. "I'm at such peace with who I am and where I am that, even if it's not where I want to be, I'm at peace with the fact that I don't feel like I'm missing out on anything. That peace allows me to enjoy the life that I have and enjoy those around me," Sumpter says.
On self-care habits she's instilling in her daughter.
The one mantra they always say together is "I can do anything I put my mind to." They've been practicing affirmations together since Ella-Loren was a baby. Now that she's 6, she's not into doing them as often, but Sumpter is still committed to passing on self-care habits. "I just want her to be able to take care of herself, whether it's making sure she puts on her Lubriderm lotion or that she's wearing her Chapstick," she says. Beyond that, she is teaching her how to speak up for and have time for herself. When she comes home from school, she doesn't just hop into doing homework. Sumpter allows her to take a moment: "I don't think it's just outside care, but it's also inside heart care. These are the things that empower her."