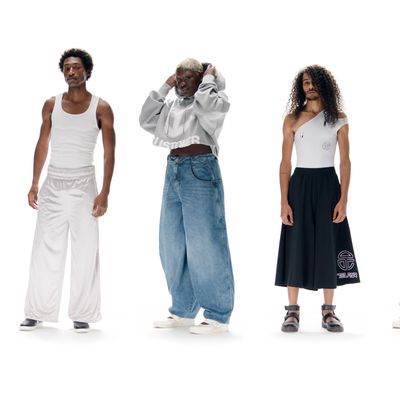 Telfar, the cool-kid brand founded by Telfar Clemens known for its Bushwick Birkin bags owned by Beyoncé, debuted a new business model that allows the customer to determine the price of every piece in its first drop. "Yesterday's price is not today's price!" said rapper Fat Joe in the most recent video campaign.
Today, Telfar dropped a collection of unisex staples starting at the wholesale price. For example, a long-sleeved top that was $300 at full-price was sold at $75; a mesh drawstring top that was normally $260 was $65; and flared pants that were $380 were now $95.05.
"It's smart, engages the customer, and creates urgency," said Reci Rich, a stylist based in Nashville, of the live drop.
And urgency there was. Mostly everything sold out. Interestingly enough, the offering with the lowest price — a black graphic tee that reads "T CUSTOMER" in a bold, white font — still remains available for purchase at $50.14. Rounding out the hour at 1 p.m., items still available included a mesh tee in oxblood and the long-sleeved top in heather gray.
"​​I had an interview at noon and all the pieces I wanted from the Telfar drop are sold out," wrote freelance editor and writer Mikelle Street. "I'm gagging."
Why would a fashion brand enlist measures to keep its prices down? Well, if you're familiar with the brand's ethos, "It's not for you, it's for everyone," then the idea isn't far-fetched at all. Throughout Telfar's existence, it has held up various practices of democracy within the luxury-fashion system. In the specific case of the live-drop model, Telfar realizes that "cool people" don't necessarily equate to rich people. And Telfar wants cool people to have access to its clothes, oftentimes cutting out the middlemen, a.k.a. retailers and brick-and-mortar stores.
This direct-to-consumer model has paid off for Telfar with its hero product, the Shopping Bag. It had huge success with its bag security program, which basically meant that shoppers could preorder bags. (And the brand even announced a mystery collaboration for blind preorder.) Last year, it started Telfar TV, which was meant to be a 24-hour TV station with live performances and breaking news on upcoming merchandise drops' exclusive "drips," or very limited drops available through QR codes.
If you didn't get anything at today's sale, don't worry; you are in luck. You can catch weekly drops of newly added apparel through April 24 on telfar.net. We love an affordable fashion option!