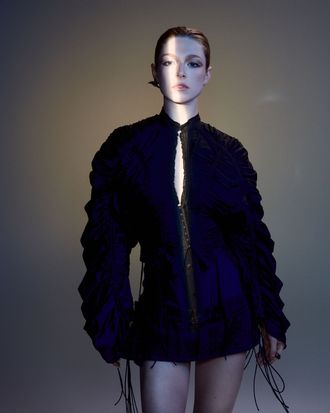 Photo: Harley Weir for Mugler
Remember when you couldn't pass by a group of girls in Juicy sweatsuits without getting a whiff of Mugler's Angel? It might have been the fragrance of the early aughts, but Hunter Schafer smells like it today, on a freezing day in New York. She's the new face of a version of the fragrance, Angel Elixir Eau de Parfum, a gourmand scent blended with pink pepper, sandalwood, and bourbon vanilla. It's a scent that Schafer says her character Jules from Euphoria would certainly wear. "She'd smell sweet and definitely floral," she said. "Jules is an Angel wearer. The notes are contrasting each other, but it's this beautiful unified scent."
Mugler Angel fragrances have been a staple scent since the '90s, with Mugler himself wanting to bring back his childhood memories of visiting French fairgrounds: "The scent of candy floss, little cakes, chocolates, and caramels." The 24-year-old Schafer has had her fair share of fashion campaigns, but this is her first fragrance campaign, and she's learned a lot, "especially about how to articulate around fragrance," she says.
What has been your personal experience with Angel?
I feel like it's a really cool take on femininity and what it means to be a woman today. The fragrance is so complex and contrasting. It has this woody, masculine base and then a sweet, vanilla elixir with like metallic spices.
Mugler's Angel is a scent that's forever reinventing itself and being modernized for the current generation. How do you reinvent yourself? 
I don't know if I reinvent myself on purpose, but taking new opportunities is really important to me and just letting myself fall into them. It's kind of how my career with acting has been; I wasn't looking for it but I kind of let myself go into it. Now I'm at a point where I can say I'm really an actress, that's what I do and I love it.
How do you feel like elements of fashion and fragrance relate?
They're both a process of adorning yourself. I think that's a really powerful thing to be able to do; it's like armor in some ways, but also decoration. It's a way for me to bring feelings from inwards to outwards. Scent is an accessory.
What do you base your scents off of when you wake up?
An ideal mood, whatever mood I want to stay in throughout the day so it can almost take control of my mood in a way.
What are your earliest memories of scent?
The earliest I can think back to is preschool; there was a very particular scent in my school. I remember going back during my teenage years and it had the same exact smell and all of these childhood memories started flooding back to me. That's what is so cool to me about scent. It's such a powerful tool to invoke feelings and memories.
If you could do one month without perfume or one month without makeup, which would you do? And why? 
As far as application goes, perfume is pretty easy. But, honestly, I don't mind going without makeup sometimes. Scent still has the power to be able to make you feel put-together in some way, so I would go without the makeup.