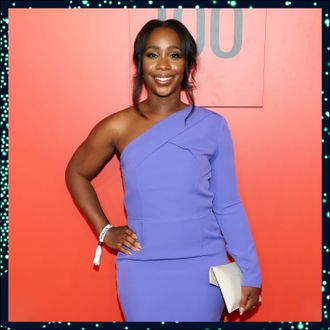 Photo-Illustration: by The Cut; Photo: Getty Images
In March 2021, CNN anchor Abby Phillip beamed on the Cut's cover; it was a time when everything in the world was shifting, and so was her life. She was pregnant with her daughter, Naomi Angelina, and nervous. She recollects the one person on set who knew she was pregnant saying affirmations in her ear that helped her push through. This week on the In Her Shoes podcast, Phillip talks to the Cut editor-in-chief Lindsay Peoples about what that cover experience was like, how life has changed within those two years, and her budding journalism career.
For what was her first Cut cover, Peoples had a vision: Abby Phillip as herself, but elevated. That's exactly how Phillip felt. She's torn between her favorite photos; she loves the image of herself in a teal pantsuit and Fendi top, but the images of her in a printed Ganni dress are near and dear to her because she feels like she can see her daughter there. Wearing beautiful clothing and showing up as her most confident self felt like an ode to the line of women she came from. "I'm my grandmother's grandchild. She would come to visit us in a floor-length dress and her heels; she was ready to go. In some ways, I'm from that line of women, so I care about what I look like, and I think when you look and feel strong and powerful. In my case, when I want to feel feminine and knowledgeable and in command, hair, makeup, and clothing are all a part of that picture," she said. She thinks that people admire the whole package of a person, but she does it for herself. Even if she can be in flip-flops on television with no one knowing, she's not. Instead, she's in Manolos, her favorite pair of heels because they're "comfortable, sexy, and classic." They make her feel confident, and whether it's on-camera or on the cover of our magazine, you can tell.
When we fast-forward to 2023, a lot has changed for Phillip. She's a mom now, and she admits it's not easy for her or any working mom to find their equilibrium. "Everything about your life has changed in some fundamental ways. Your priorities are shifting, and your focus is shifting, but also your capacity is expanding in a lot of ways. I do way more now than I did before I had a child, and that's been extraordinary to experience," she said. She doesn't know how she does it, but she just knows she does. For her cover, she was interviewed by Gayle King — the first time she met her — and now their relationship has evolved into King sometimes sending her messages at 5 a.m. just to check in on how she or her baby girl is doing.
In general, she's just adjusting to her new life. After having her baby and going on maternity leave, she spent last year reentering work and settling in. As for work, she's still on CNN, but she talks to Peoples about the hurdles that people of color still face in the industry. But, she notes, "When you're so good at what you do, sometimes they have no choice but to acknowledge that and that can work in your favor, but it does not negate the obstacles that might be in your way." For Phillip, it's been working in her favor, but she's not seeking a platform; that was never her goal. "I've never done something with the goal of seeking a platform; I seek out how I can make myself better and the end result will be the success that you're seeking," she said. Luckily for us, we get to watch her success unfold.
To hear more about Phillip's navigating her new life and reminiscing about her 2021 Cut cover, listen and subscribe for free on Apple Podcasts or wherever you listen.