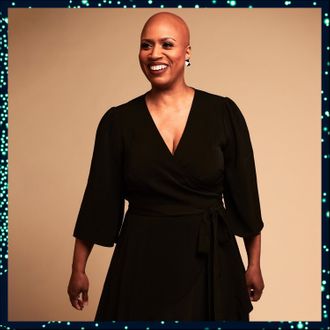 Photo: OJ Slaughter / Philip Keith
Ayanna Pressley didn't originally plan on running for office. Like many women who do, she was approached by people who thought she'd be a good fit after seeing her work as an aide in the House and Senate for 16 years. That behind-the-scenes work was what she loved. "I found a lot of honor, responsibility, and reward in being 'the person behind the person,'" she tells Cut editor-in-chief Lindsay Peoples on this week's episode of the In Her Shoes podcast. But after making history as the first person of color and the first Black woman elected to the Boston City Council and then again in 2018 when she became the first African American woman from Massachusetts to win a seat in Congress, it was clear that she was meant to lead.
As she, Alexandria Ocasio-Cortez, Ilhan Omar, and Rashida Tlaib — dubbed "the Squad" — made waves during their first years in Congress, Pressley gained new fans for her decision in 2020 to speak vulnerably and openly about the traumatic and sudden experience of living with alopecia, which she describes intimately to the Cut. "I lost all the hair on my head, face, and body in a five-week period, so this was not something I was living with for a long time," she said. Still, she made the decision to not wear wigs and instead rock a bald head, at least for now.
To hear Pressley talk about her favorite consigned shoes, not letting white supremacy win, and why she's not a fan of the word "politician," listen and subscribe for free on Apple Podcasts or wherever you listen.