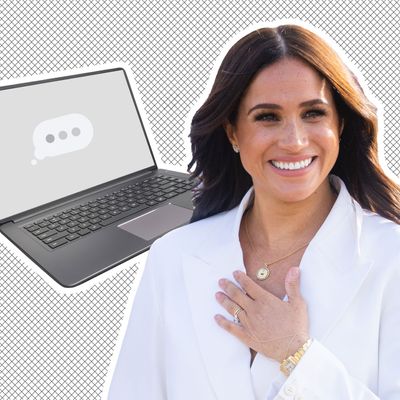 Meghan Markle is typing …
Photo-Illustration: The Cut; Photos: Getty Images
After six long years, famed blogger Meghan Markle may finally be resurrecting her defunct lifestyle site, the Tig. Markle pulled the plug on her "passion project" in 2017, shortly before becoming engaged to her partner in crimes of corniness, Prince Harry. But now? Now she may be bringing back her beloved Tig: According to the Mirror and the New York Post, Markle has filed with the U.S. Trademark and Patent Office to launch a "revamped" version of the site — covering "food, cooking, recipes, travel, relationships, fashion, style, interior design, lifestyle, the arts, culture, design, conscious living, health and wellness" — as soon as next week.
A natural next question for you to ask at this juncture would be: What is a Tig? Debuted in 2014, Markle's Tig took its name from Tignanello, the wine that finally allowed her to "get" wine and thus became her shorthand for the feeling of suddenly understanding something. Thus her site was devoted to "those Tig moments of discovery," if that makes sense to you, and also to topics like her dog, cooking, fashion, avocado toast, books and her "badass reading list," personal revelations, self-love — the list goes on. Here's her 2015 entry on Valentine's Day, via Cosmo, to give you a feel for the genre:
This Valentine's Day, I will be with friends, running amock [sic] through the streets of New York, likely imbibing some cocktail that's oddly pink, and jumping over icy mounds in my new shoes through the salted snowy streets of the West Village. But those shoes, by the way, were my gift to myself. Because I've worked hard, because I'm not going to wait for someone to buy me the things I covet (nor do I want to), and because I want to treat myself as well as I treat those dearest to me. Because I am my own funny Valentine.
Before you get too excited about Tig 2.0, I will simply caution you that its author has renewed her trademark on the site in the past (in 2019, for example) not to revive it, but to prevent frauds from posting under her byline. That said, our funny Galentine is in a different position now, having taken her final curtsy as a working royal three years ago. She and Harry preside over a burgeoning entertainment empire, which includes a podcast and books and Netflix docs and a lot of oversharing. No better way to best the media than by becoming the media, so why not add a blog to the roster? Why not feed us informative posts on how to pack up your royal cottage in one fraught weekend after your husband's estranged family evicts you via email? Why not give us tips about how to host a children's birthday party that doubles as a "proxy war" in the ongoing beef with your in-laws? Why not tell us how to deal when your husband tells millions of readers around the world about his frozen penis? Live laugh love, girl! Live laugh love.