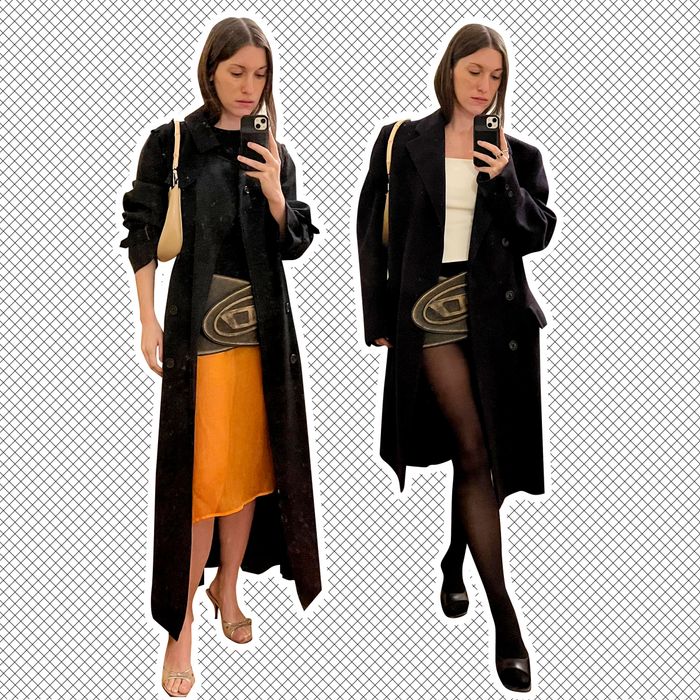 Photo-Illustration: by The Cut; Photos: Laura Reilly
For those who somehow missed this chapter of Fashion Outrage Online, the Diesel B-Berny belt skirt, a.k.a. the Diesel belt — a crackled-leather, logo-bearing wraparound miniskirt from Glenn Martens's third collection as creative director for the brand — went viral on TikTok. And not good viral but messy viral. Adrienne Reau shared a review of the skirt, lamenting that it fastens by velcro rather than snaps and isn't size-inclusive and that she had to come home after wearing it for 20 minutes, because she couldn't sit down. Why? It's mini — a "consider a bikini wax" mini. The whole thing is only 9.25 inches long, offering none of the usual courtesies of a garment so abbreviated — like built-in briefs. And it's $1,400.
During New York Fashion Week last month, there was a lot of discussion about viral fashion and its place at the shows, and since a 59-second TikTok video can often lack critical context, I set out to see what would happen when I wore the skirt in the real world: Would people stare? Would they be outraged? Would they even know I'm wearing theeeee viral skirt?
I decided to debut the belt skirt on the night of a J.Crew event, mainly because it seemed funny. (I can't think of a brand more anathema to Diesel's grimy, sex-centric, youth-driven ID that holds down the other end of the Zeitgeist than preppy J.Crew.) Regardless of whether I realized it, my goal was to stick out — partly because if I didn't, it'd mean the story I'd pitched would be moot, but also because I yearned to play a small role in an act unfolding on fashion's stage. What better way to draw attention than by flouting a dress code?
The night of the party, I decided to layer the belt skirt over a longer skirt (a sheer, orange Dries Van Noten midi) with a knit top and heels. The final additions were a vintage Gucci bag and a long, navy Burberry trench that riffed cleverly with the skirt — its front-wrapped side peeking past the coat's gabardine edge.
After a bearable Uber ride (yes, I had to wriggle the stiff skirt up to my waist), I arrived at the Odeon and waited for someone to notice the skirt I had already drafted so many words about in my head. For a few beats, it didn't come. I thought that I might be so terminally online that no one around me was as acutely aware of micro-dramas surrounding dysfunctional $1,400 skirts as I was.
And then it began. The first person to notice it was accessories designer Emily Dawn Long. She did a double take: "Is that the Diesel skirt?" "Yes," I replied. "Like, from the TikTok?" At this point, she was fully helping herself to my outfit, pushing back my coat and pinching the foamy leather material of the skirt. "Uh-huh," I said. "But, wait, can you sit in it?" She leaned back to see it from a lateral angle, ostensibly checking out the point at which my scant coverage dead-ended. I said, "It's complicated."
After the party, I realized that the skirt's most hazardous qualities, i.e. the lower half of one's butt potentially hanging out, were blurred by the layering piece beneath. For a night spent formally documenting it for such a precise reason, it felt like a cop-out. I had worn it as a belt.
So I devised a second chapter to this tale — one in which I cracked the skirt-as-skirt code — and it begins about a week later, buying tights at CVS a block from my apartment instead of on my way to a reservation that I'd almost certainly be late to. I had made plans to go to the club at Public Hotel, where Honey Dijon would be DJ-ing: a vibe-aligned backdrop to the rebirth of the Diesel skirt.
Despite having spent the last few days applying Jergens gradual tanner and shaving my legs up to the hinge, I abruptly determined that I must wear tights and that my Sheertex were simply not the "right" denier, so off to the drugstore I went. It was a much fussier getting-ready process than the first — without the crutches and comfort of layers. But once I stopped resisting the skirt's intrinsic coquettish party-girl look and embraced my spiritual early-aughts Paris Hilton, my look snapped into place and my mood followed. The skirt, the tights, a strapless white top, vintage D&G heels, and (incidentally) another navy-blue coat and the same Gucci bag as last time, and I was g2g.
Before heading up to the club on the top floor, our group was meeting for dinner at Public Hotel's restaurant, Popular, where we discovered that we were seated a table over from the male cast of Gossip Girl. Undeterred, I decided to keep my plan of unfastening the skirt throughout the meal, effectively experimenting with the Bottega Veneta breed of questionable dressing: tights instead of pants. (I had practiced sitting in front of the mirror at home before leaving and decided that this was a sensible option.)
Once the first round of martinis hit the table, the skirt came undone to the delight of a friend sitting opposite me. Within seconds of the quiet sound of velcro detaching, she pushed back her chair, crawled below the table, and snapped a film photo of my pantyhose-laden lap — the flash alerting our fellow diners to the scandal taking place. I'm not saying Evan Mock saw my undressed lower body at this moment, but I'm not saying he didn't.
The Gossip boys finished their meal and headed upstairs — our group in tow shortly thereafter. One blessing of a nightclub is that no one expects you to sit down, so for the most part, my reaffixed skirt could do its thing uninterrupted: look hot and draw compliments. It did both swimmingly — friends and strangers alike offering up their praise albeit hand in hand with TikTok-seeded questions: "Why wear the skirt if you'd already seen the viral video?" It seemed as though some people felt the final word had been spoken. But, obviously, not everyone.
Between Martens's brilliant, materials-investigating, youth-quaking dominion at the brand and Reau's combustive TikTok that couldn't be put back into Pandora's box, the Diesel skirt had been reduced to a magnetic yet unfairly maligned victim of the viral echo chamber. The skirt is perhaps demanding, but that's nothing compared to its pent-up lore! I was riding high from having had the affair and feeling lucky for the chance to wear this spontaneously polarizing piece from one of my favorite designers — an experience I'd undergo again no matter the curious seating arrangements. By the end of the night, I was relieved to un-velcro the designer brace off my body.