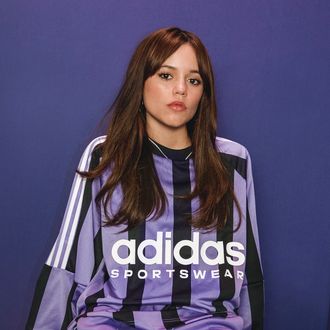 Photo: Courtesy of Adidas
For more of the Cut's favorite fashion, beauty, and home finds, sign up for the weekly Cut Shop newsletter.
"My main priority is comfort right now," Jenna Ortega tells me as I sit down to chat with her via Zoom in one of the conference rooms of Adidas's newest offices in Los Angeles. She adds, "Nice shirt." No surprise, it's one from Adidas Sportswear's latest drop, which Ortega herself is the face of. It's lilac, so Wednesday Addams might not wear it, but Ortega would.
The world might know Ortega for playing the sardonic protagonist in the highly acclaimed Netflix series Wednesday or for her recent horror-movie characters in the Scream franchise or X. However, when it comes to her personal style, Adidas has always been a constant in her wardrobe, whether that be when she was on the soccer field or during her first auditions (she's been in the acting game since she was 11).
We caught up with Ortega and chatted about this full-circle moment with the German brand, her days as a soccer player, and how she manages expectations as a Latina in Hollywood.
Do you feel like you incorporate the style of the characters you play into your own?
It depends on the character. When I was working on Wednesday, I suddenly only ever wore black. I didn't know why. For some reason, my closet just lost all its color. But I have played characters where, no matter how good or at ease I felt in the clothes, it's just not something I would typically wear or I think is a good representation of myself.
Tell me more about becoming Adidas's latest ambassador and about the new Sportswear drop.
It's really, really exciting for me and my family as well. We were a really big soccer family, and we would have our little competitions on the weekend. And we always wore Adidas to practices. Even going on sets for the first time, and you're just looking for something that feels like pajamas, I would put on some joggers, and it was just my go-to look. So signing on to Adidas and to be the face of their new line is a really, really surreal moment. It's one of those ones where you realize how lucky you are and how crazy life can be.
I like the purple pieces. Maybe it's because, after Wednesday, I just don't wear a lot of color. Now I feel like I do tend to stick to darker and more earthy tones, so I like them because I feel they look really good on everyone but also kind of push me to try something new.
Which skills from soccer have you learned to apply in your career?
Well, I don't know if I was directly inspired by soccer. I'm not necessarily competitive with other people, only myself. And I think that remains to be very, very true. I am so happy to watch people succeed. And it's really wonderful when you're able to work on a project and you all can celebrate something together. But if there's anything that's going to put me in a bad mood, it's if I feel like I'm not pushing myself or doing the best I possibly can. And it was the same way when I was younger playing soccer. We could lose or we could win, and it would be fine. But the fact that I didn't do what I could have done? I was distraught.
We are our own worst critic.
Yeah!
You went into the role of Wednesday with fans who had expectations from Christina Ricci's portrayal and in general, not to mention all the expectations of what a Latina should look like and what roles they should play. How do you manage these expectations?
It goes back to the "your own worst critic" thing. Nothing anybody else could say is gonna bother me as much as something I could say. When it comes to Latina expectations, it's so easy for me to brush those off because the people who are in positions of power right now or who have been in positions of power for so long in the industry, a lot of them are out of touch or just not necessarily familiar because they grew up in a very different time. So I think that I personally have so much fun pushing the boundaries and doing all of the things that, you know, the Latina character "shouldn't" do. We were never the hero of the story or the lead of the story, and I love to be able to push back on that.
As far as expectations with something like Wednesday, you just have to realize that you can't fight nostalgia. All you can do is just lean into it a bit. As long as you've got a few undertones of acknowledging and respecting what's come before you, I think you have more freedom to put your own taste and style in there and still make it fresh and new.
For the last one, we have a rapid-fire question: What is the weirdest thing you might find in your bag right now?
I have a passport from when I was like 13 in there because I recently had to get a read down and I haven't taken it out since. Hold on, let me see. I clear my bag often. Yeah, I feel like that's maybe the weirdest thing in there. And I have somebody's Parisian business card. But I forget the specifics of it all. Never mind — I know who that's from. But that's it.