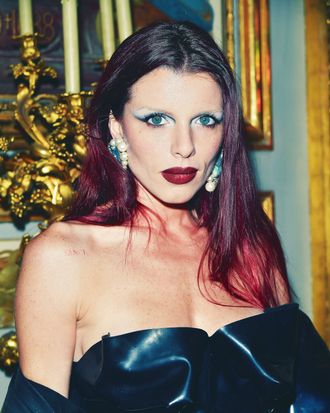 Photo: Dominique Charriau/WireImage
Ozempic, the injectable diabetes medication that is popularly used off-label for weight loss, is reportedly everywhere in Hollywood. For the most part, though, the only times we hear about it from celebrities themselves are when they're swearing up and down that they haven't taken it. This week in celebrity semaglutide denials, Julia Fox provided a take on the genre that did not involve insisting she "works hard" for her body.
Fox and her Forbidden Fruits podcast co-host Niki Takesh sat down for an interview with Entertainment Tonight in which they were asked about a series of "hot topics," including "celebs on weight-loss injections." Fox responded:
All these people are coming for me saying that I take the weight-loss things … people are saying that I'm taking Ozempic or whatever it's called. I'm not, and I never have. I would never do that. There are diabetics that need it.
Takesh reiterated, "It's a diabetes medication, and there's people that actually need it."
While Fox has always been one for radical transparency, she and Takesh were much more chatty when it came to discussing the mice (correction: mouse) in Fox's apartment. Fox referred to her forever houseguest as a pet. At least one thing's for sure: The woman knows how to spin.