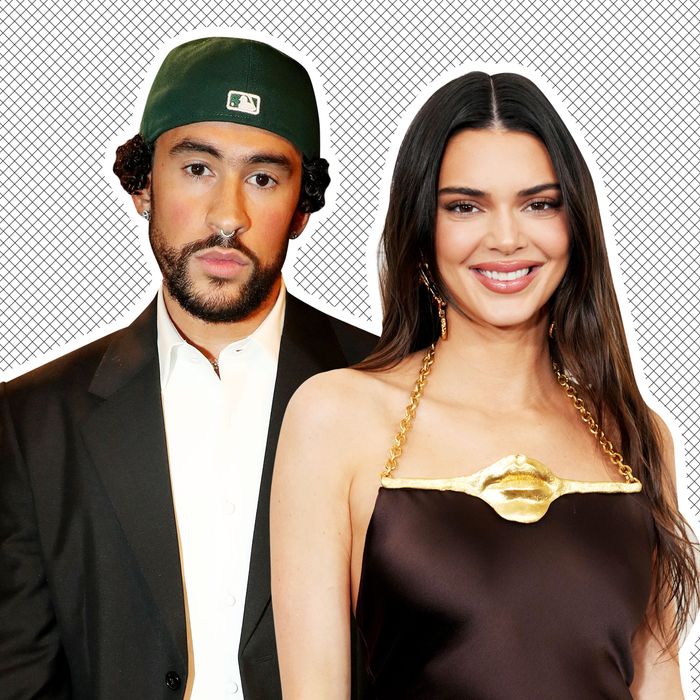 Photo-Illustration: by The Cut; Photos: Getty Images
Despite my best efforts, it's getting very hard to ignore the fact that something is going on between Kendall Jenner and Bad Bunny. I don't want to talk about it, you don't want to talk about it, but the only way out is through.
Back in February, several DeuxMoi contributors claimed to have seen Jenner and Bad Bunny making out at a club in L.A. and then leaving in the same car. A few days later, they popped up at the same restaurant where Justin and Hailey Bieber also happened to be eating, leading tabloids to speculate they all went on a double date. Adding more fuel to the fire, Entertainment Tonight asserted that Jenner and Bad Bunny had a "flirty vibe."
It gets worse. On Wednesday, Jenner and Bad Bunny were photographed displaying some heavily flirtatious body language while leaving a sushi dinner in West Hollywood. The photos show Jenner saying good-bye to Bad Bunny while getting into a car, and, by all appearances, they are — brace yourself — kissing.
Since the photos were taken from behind Bad Bunny, it's a little hard to say for sure what's going on, but Jenner's hand is intimately hooked behind his neck while she lingers in the door to her SUV, and they are, in the words of TMZ, "touching bods." Whatever bod parts are touching, it certainly looks steamy. Behold these images at your own risk.
On Sunday, they took things even further, going so far as to enter the same vehicle together (!) while leaving Jay-Z and Beyoncé's Oscars after-party. Something tells me they were not just taking advantage of the carpool lane.
:(