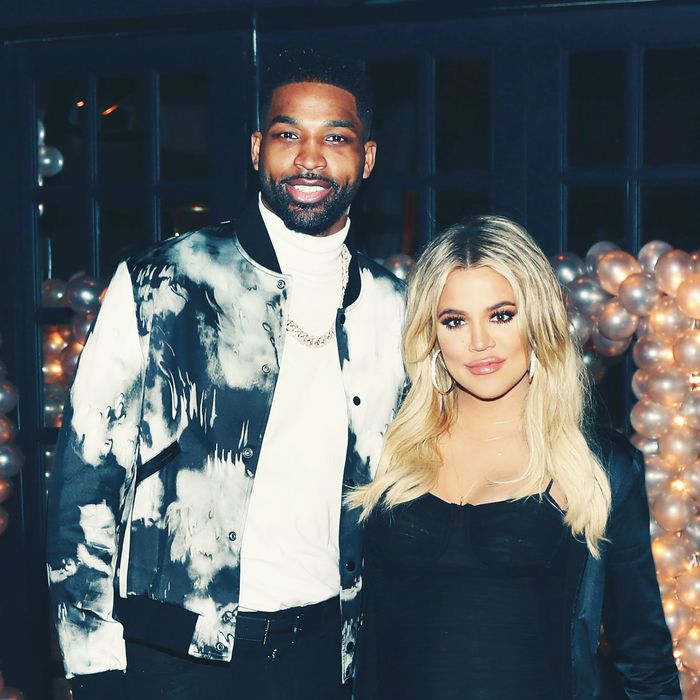 Photo: Jerritt Clark/Getty Images for Remy Martin
If you're like me and feel extremely stressed out any time you see a headline with the names Khloé Kardashian and Tristan Thompson, apologies in advance for adding new chaos to your life.
Kardashian brought her problematic ex back onto her Instagram grid on Monday, when she posted a series of photos of him with the children they have together and the children he has with other women, wishing him a happy 32nd birthday. The post, which was accompanied by a caption declaring that Thompson is "truly the best father, brother & uncle," sent fans into a spiral as they begged her to stay away from him. Kardashian turned comments off on the post.
While some people interpreted the post as being a simple, kind show of appreciation for the father of their two children — True and a son whose name has not been shared publicly — others assumed the post meant that Kardashian and Thompson are back together.
Kardashian's relationship with Thompson has unfortunately been well chronicled on TV and social media over the years. In December 2021, leaked court documents from a paternity suit showed Thompson admitting he had sex with fitness model Maralee Nichols in March of that year. Kardashian found out at the same time as the rest of the world and said the experience was "humiliating." A month later, Thompson and Kardashian revealed they were having a baby together via surrogate. And all of this happened two years after it came to light that Thompson had cheated on Kardashian with several women.
On Instagram, Kardashian said her birthday wish for Thompson was that he continue to "crave change, healing, and transformation." For her sake (and everyone else's), I hope so, too.