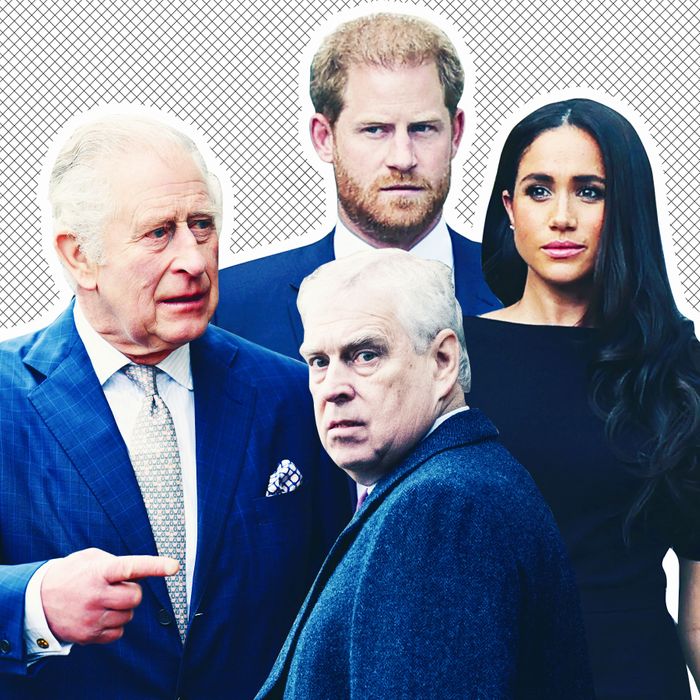 Another royal real-estate drama is afoot …
Photo: Getty Images
Just one month after he reportedly lost his teddy-bear collection and the Buckingham Palace apartment where he kept it, Prince Andrew may be getting ousted from his 31-bedroom Windsor mansion and downgraded to the measly five-bedroom cottage once occupied by Prince Harry and Meghan Markle. What's more, it's Andrew's own brother who is said to be doing the ousting at the expense of his estranged son, who currently holds the lease on said cottage. Harsh, and also, atrocious optics.
According to the Sun, "King Charles is evicting Prince Harry and Meghan from Frogmore Cottage," the royal residence Queen Elizabeth gifted the couple as a wedding present and that they renovated to the tune of £2.4 million in taxpayer funding. (Since repaid, thanks.) Not only is Charles unceremoniously booting the Sussexes, the Sun reports, but he "has offered it to Prince Andrew" instead. Prince Andrew! The accused rapist, stripped of his HRH title and royal duties owing to credible allegations that he committed sex crimes against a minor! Allegations that have irreparably damaged his reputation, largely driven him from public life despite his best efforts, and prompted his brother (according to the Telegraph) to slash the annual £249,000 allowance that buoyed his otherwise shambolic financial situation! Without that money, some have speculated that Andrew won't be able to hold on to the 75-year lease on the Royal Lodge that he bought for £1 million in 2003. Although he reportedly pays just £250 per week (or £13,000 annually) to live in the Lodge, and though he has a roommate (his ex-wife, the romance novelist Sarah Ferguson), his lease obligates him to subsidize its upkeep. That may cost an estimated £400,000 per year, so the math wouldn't seem to be working in Andrew's favor these days.
As for Harry and Meghan, maybe you are asking yourselves, Don't they famously live in Montecito, California, where their estate boasts a pair of romantically conjoined palm trees and a desk large enough to accommodate two working media moguls at once? The answer is, of course, "yes," but they retain Frogmore as their U.K. residence and last stayed there when they attended the queen's Platinum Jubilee. According to a 2022 report by the Sun, Harry and Meghan signed a 12-month extension on their lease to the cottage last April, and this April is coming up sooner than anyone could have foreseen. That could mean the cottage is not only unoccupied but potentially transferable to another royal, which appears to be the plan. A representative for H and M tells "Page Six," "We can confirm the Duke and Duchess of Sussex have been requested to vacate their residence at Frogmore Cottage." We have also contacted Archewell for comment and clarity on the situation and will update if we hear back, but in the meantime, details about their supposed eviction are leaking out.
The Sun reports that the Sussexes' removal has been hashed out in "a flurry of letters and emails between Buckingham Palace" and Montecito, presumably owing to the fact that Harry and his family aren't speaking. The tabloid says they were initially given just a few weeks to pack and ship their belongings, but according to Omid Scobie — a royal reporter and biographer of Harry and Meghan — Haz and Meg now have until "at least the coronation" (should they choose to attend) to collect their things from Frogmore, while Andrew is being advised to downsize by August. Apparently, the decision was made 24 hours after the publication of Harry's memoir, Spare, the latest in a string of tell-alls in which the Sussexes have painted the royal family in a distinctly unflattering light. All told, the loss of Frogmore "feels very final and like a cruel punishment," Scobie quotes a friend of the couple as saying. "It's like [the family] want to cut them out of the picture for good."
For Charles, however, cutting short the Sussex lease is said to feel like wiping the slate clean. "Charles wanted to start after his Coronation with the issues of Harry and Meghan and Andrew put to bed," a source told the Sun. "The situation has dragged on far too long and he wanted to act decisively and quickly." By rolling the most complex relationships into the Windsor family into one messy ball and simply punting it off of his plate? It's certainly a bold strategy. And to think that Charles has (reportedly) also agreed to foot the bill for Prince Andrew's security, something Harry claims his very rich dad has refused to do for him. A possible double standard somehow working in the alleged pedophile Prince Andrew's favor? No wonder no one wants to play the king's big party.
This article has been updated.