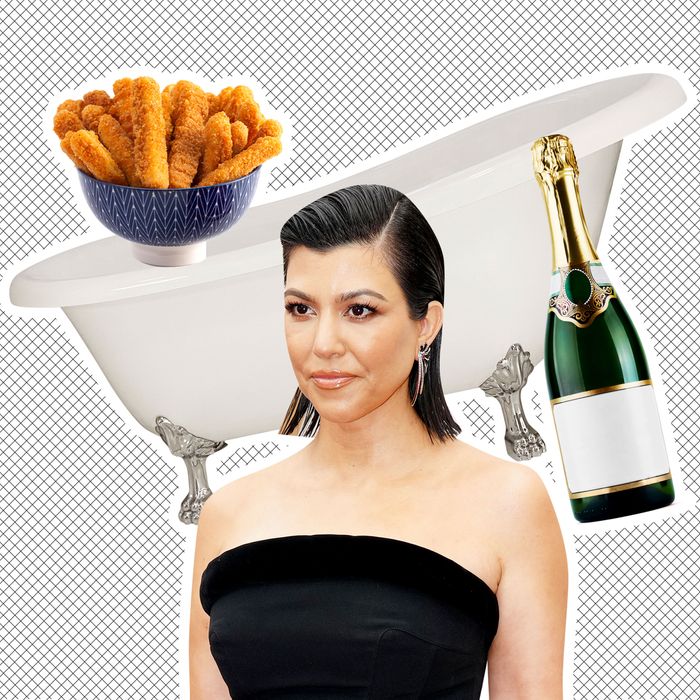 Photo-Illustration: by The Cut; Photos: Getty Images
As a society, we will never not be fascinated by celebrity bathrooms. For most of us, bathrooms are a place to shower, relieve ourselves, and apply face oil. But celebrities, it seems, treat the bathroom as more of an all-purpose space. Some of them get engaged there; others record podcasts. Kourtney Kardashian goes nuts for a good bathroom photo shoot — the more urinals, the better. She recently shared another lavatory-centric Instagram photo dump, and the frankly overwhelming assortment of activities she conducts in there has caused an uproar in her comments section.
Captioned with a bunch of spiral-eye emoji, the series begins with a photo of Kourtney in some lacy lingerie drinking water from her sink with a cupped hand. Is this an unexpectedly effective hydration technique? A tongue-strengthening ritual? Who's to say? After that, there's a bubble-bath selfie — passably normal as far as bathroom activities go (except for the body butter from Travis Barker's vegan CBD wellness brand strategically placed behind her.)
The next slide really made people lose their minds: It's an aerial shot of a blue-tiled bathroom where it appears that someone (I can only presume Miss Poosh) has set up a buffetlike spread of food to eat during bathtime. The bathwater is a deep, Jolly Rancher–esque shade of pink, and clustered around the tub are upwards of 12 plates, platters, and other types of vessels piled high with food. The assortment includes a half-eaten burger (on top of the toilet, naturally), a standing Champagne bucket, a mound of strawberries, a mound of chicken fingers, three macarons, a big-ass salad, and a bag of frozen plant-based grilled-chicken strips. Two discarded towels lie crumpled on the floor amid all of this, though I cannot understand how anyone can even step through the maze of weird snacks to get into or out of the tub. With all due respect, what the hell is going on here?
A lot of Kourtney's followers had the same question. Most commented on how Kourtney was presumably eating food that had been kept very close to the toilet. Fair, but also: What's in that bathwater? Is anyone going to defrost those chicken strips?
Kourtney addressed absolutely none of these questions in her Instagram Stories, where she reposted the bathroom image and wrote, "the comments about this photo," followed by even more spiral-eye emoji. That's at least an accurate reflection of my state of mind after trying to process this destabilizing tableau.