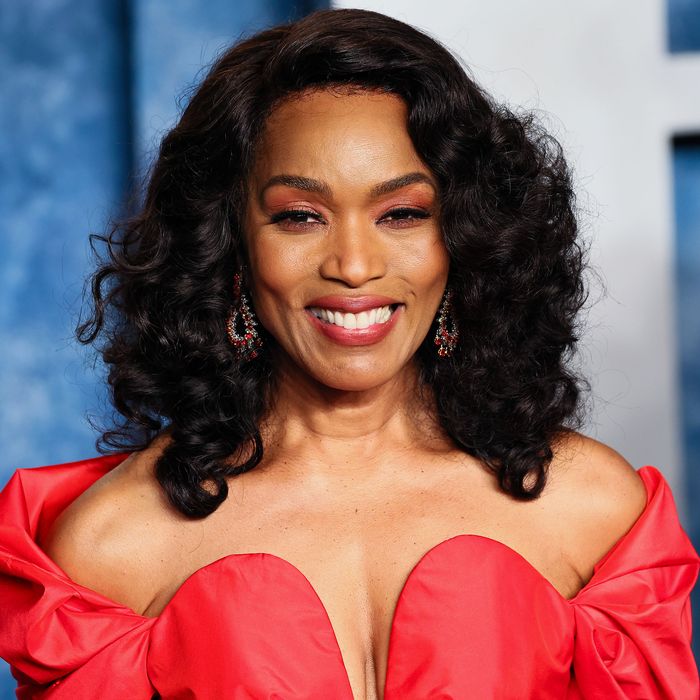 Photo: Leon Bennett/FilmMagic
When Jamie Lee Curtis won the Oscar for Best Supporting Actress on Sunday night, the cameras panned to show the other nominees' reactions. While Hong Chau, Stephanie Hsu, and Kerry Condon smiled, clapped, and stood for Curtis, Angela Bassett looked ahead, didn't smile, and remained seated.
Bassett, who had been a favorite to receive the award for her role as Queen Ramonda in Black Panther: Wakanda Forever, especially after winning the Golden Globe in January, was clearly disappointed about the loss. Unsurprisingly, that prompted some people to call her a "sore loser," "entitled," "kinda shady," and "not classy."
As the night went on, fans came to Bassett's defense. And during the show, actors Michael B. Jordan and Jonathan Majors gave her a shout-out when they got onstage to present the award for Best Cinematography.
"Hey Auntie," Jordan said, in a nod to his famous line in the first Black Panther movie. Majors added, "We love you." The moment was a touching show of solidarity and a highlight for Bassett fans who were disappointed that she lost.
On Twitter, fans pointed out that Bassett merely showed her disappointment and was authentic in her reaction, not disrespectful. The reactions calling out Bassett were a reminder that women, and Black women in particular, are expected to be joyful, grateful, and gracious in moments of sadness and loss. Even though it's not rare for a Black woman to be snubbed at an awards show, it's still hard to watch and accept it. All Bassett did was remain seated. She didn't roll her eyes or curse, like white actors have done for decades. She just sat there looking amazing and minding her business.
This was Bassett's second Oscar nomination. I'm keeping my fingers crossed that one of these years, we'll get to see her onstage with a statue.