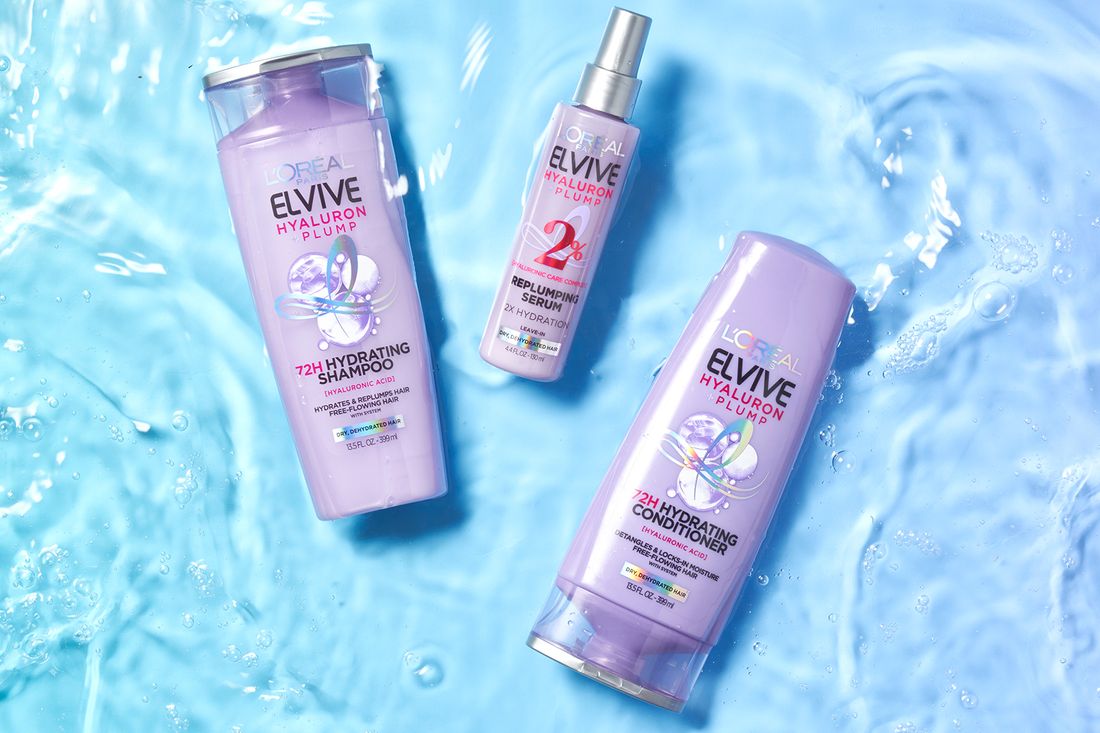 I'm a maximalist through and through with my beauty routines and one product that I truly can't ever be without is hyaluronic acid. I used to be upset about having dry skin until I finally accepted it was out of my control and can be managed with the right products, like a hyaluronic acid serum. Hyaluronic acid in your skin-care routine is nothing out of the ordinary, but one place where I really notice the power of its hydrating and plumping abilities is in my hair-care routine. For a little context, I love switching up my hair color and I won't ever deny myself of heat styling. I can be mad about my dry skin because it's out of my control, but my dry hair is completely my fault. That said, I notice a huge difference in the way my hair looks and feels when I incorporate hyaluronic acid into my hair routine.
In case you were wondering, no, I don't apply my HA serum to my hair. But I do take cues from my skin-care routine for my dry hair with the L'Oréal Paris Elvive Hyaluron + Plump Hydrating Shampoo, Paraben-Free, the L'Oréal Paris Elvive Hyaluron + Plump Hydrating Conditioner, Paraben-Free, the L'Oréal Paris Elvive Hyaluron + Plump Moisture Plump Serum Paraben-Free, and the L'Oréal Paris Elvive Hyaluron + Plump Flash Hydration Wonder Water, Sulfate-Free. It's a four-part hair-care system powered by hyaluronic acid to revive frizzy, dull, and dry strands that are begging for moisture.
Hyaluronic acid acts as a sponge when applied to the skin, drawing in moisture, which helps to hydrate the skin, while simultaneously plumping fine lines and wrinkles. It makes your skin look and feel good, but you don't have to be patient to see results. Unlike most active ingredients, hyaluronic acid can make an impact quickly and doesn't require an extended period of use, like retinol.
On the hair, hyaluronic acid has the same plumping effects and helps to lock in moisture, leading to a softer, bouncier, and silkier hairstyle. Not only does it work to hydrate dry strands, but it also helps to tame frizz and increase body for those with flat, thin hair. I like to think of it as a boost of moisture from the inside out that can save my hair from some of the most common hair nuisances.
The Elvive Hyaluron + Plump system can be beneficial for all hair types and textures. Whether your hair is naturally dry or a result of not-so-healthy hair habits like mine, it helps to enhance moisture retention. As a result, my hair not only looks better, but it also feels better and it's much more manageable and easy to style.
If you're like me and try to wash your hair as little as possible (both for the sake of my dry hair and because it's truly a process), using this hair-care system once a week is enough to make a difference. I wash with the shampoo and follow up with the conditioner as usual. They gently cleanse and moisturize without weighing down my hair. Rather, my hair looks bouncy, clean, and full.
In my humble opinion, the standouts in the system include the L'Oréal Paris Elvive Hyaluron + Plump Moisture Plump Serum, Paraben-Free and the L'Oréal Paris Elvive Hyaluron + Plump Flash Hydration Wonder Water, Sulfate-Free, two hair treatments that help to promote hydration between washes. The Elvive Hyaluron + Plump Moisture Plump Serum is comparable to the HA serum you apply to your face every morning and night; it's the much-needed maintenance that keeps your dry hair hydrated. Simply spritz it onto your hair in between washes to revive your style while reintroducing moisture. It also helps to boost shine, but it never makes my hair look greasy or feel heavy.
The Elvive Hyaluron + Plump Flash Hydration Wonder Water is the true secret weapon in my lazy hair routine. It locks in moisture, detangles, and smooths the hair in just eight seconds. Gone are the days of applying your hair mask, getting out of the shower, and awkwardly sitting there wet and shivering for 10 minutes as you wait for your mask to take effect before you can rinse. Apply Wonder Water after you rinse out your shampoo, massage it into your hair for eight seconds, and rinse again. It makes my hair feel instantly softer and eliminates tangles. It also allows my hair to dry with less frizz, more noticeable shine, and a silky feel. Dry hair is prone to frizz — it's one of my biggest hair concerns besides dryness, and I find that this treatment really helps with that.
There once was a time when I thought that my shampoo and conditioner didn't make much of an impact on my hair and looking back, I cringe at how wrong I was. If your hair is weak, dry, or damaged, the first place you should address those concerns is with your shampoo and conditioner. I was already a fan of hyaluronic acid and this system has grown my love for the hydrating ingredient tenfold. It's like a skin-care routine for my hair and any product that makes good hair days a more frequent occurrence in my life has my loyalty.
This advertising content was produced in collaboration between Vox Creative and our sponsor, without involvement from Vox Media editorial staff.