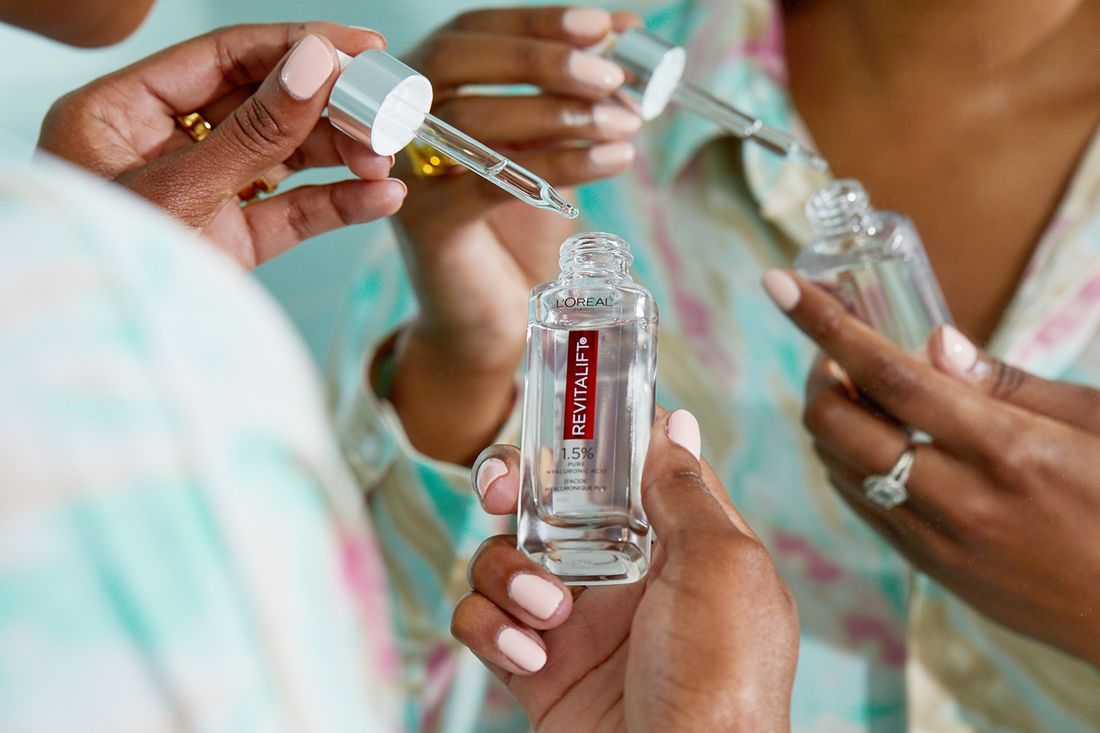 As someone who has always had dry skin, I've learned that not only does it affect the way your skin feels, but also the way your skin looks. It's a complexion that feels tight and itchy, it's visible dullness, and it's flakey, dry patches that make it really hard to wear makeup. My skin (and my life) got exponentially better when I discovered hyaluronic acid. It may be a state of mind, but when my skin behaves, everything in my life somehow falls into place. In all seriousness, adding hyaluronic acid to my skin-care routine helps me to avoid that aforementioned dry, itchy, and tight feeling that those with dry skin know all too well. It's uncomfortable enough to experience once in a while, so imagine how distressing it is on a daily basis. Luckily, when I use hyaluronic acid, I no longer have to deal with that.
Over the years, I've learned that not all hyaluronic acid serums are made equally, and a bigger price tag doesn't always mean better results. I've tried serums with cult followings and three-figure price tags that felt just alright on my skin and hardly worthy of their steep charge. But I've also tried serums that cost roughly the same as my morning latte fix, which felt watery and ineffective. Because of this, I knew that finally finding a quality serum that delivers noticeable results without breaking the bank would be difficult. I just didn't expect it to be making-your-way-through-the-minis-section-in the-Sephora-checkout-line-without-buying-anything difficult.
With a little determination, a few flops along the way, and knowing that plump, glowy, hydrated skin was waiting for me on the other side, I persevered and found The One. The best part is that I found it at the drugstore. It's the L'Oréal Paris Revitalift Derm Intensives 1.5% Pure Hyaluronic Acid Serum, a non-greasy hydrating serum with a dose of pure hyaluronic acid in the formula — but I just like to think of it as the hydrating love potion that my dry skin drinks up.
The texture of this hydrating serum stands apart from other hyaluronic acid serums: It's fragrance-free, lightweight, and absorbs into the skin almost instantly. Harsh scents, lingering sticky or greasy formulas, and pilling are major turn-offs that make me swear off a product almost immediately, and this serum is free of all of those things.
The formula of this serum includes a combination of high and low molecular weight pure hyaluronic acid. In less science-driven speak, this means this serum can lock in moisture at the skin's surface for a visibly hydrated complexion. It easily absorbs into the skin and is able to penetrate deeper, resulting in plumpness, a noticeable glow, and bounce — the long-lasting effects of skin hydration.
As I mentioned, having dry skin has taught me that perpetual dryness affects the way your skin looks and feels. This serum targets both: It can treat visible signs of dryness, like dry patches, dullness, and rough skin tone, while it takes away the tight, itchy feeling that also accompanies dryness. Having used this serum for the past three months, (in the middle of winter when my dry skin is at its worst), I've noticed a healthier-looking complexion with a glow and bounce that many would associate with a good skin day. My skin is softer, it's better hydrated, and I really notice a difference in the way my makeup applies — everything is so much smoother.
Most pure hyaluronic acid serums on the market go for triple the cost of this one. This makes it that much better of a find in my book because I never feel like I'm sacrificing the formula to accommodate the price. For the ample hydration this serum provides, the quality of hyaluronic acid, the non-greasy slip, and the way it makes my skin look and feel, I've become a loyal enthusiast. I may have regularly dry skin, but you would never know it if you look at my complexion, and it's all thanks to this serum.
This advertising content was produced in collaboration between Vox Creative and our sponsor, without involvement from Vox Media editorial staff.